Various Artists | New Year Killing Spree 2011
by Alissa Ordabai
Staff Writer —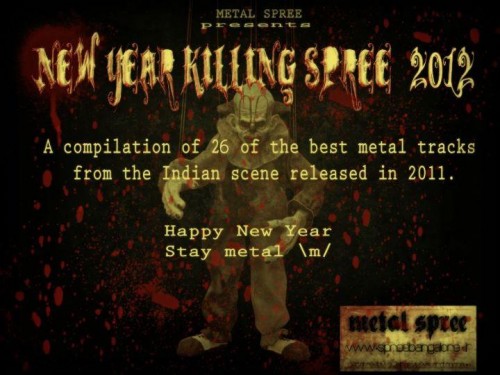 AA country with a vast and incredibly diverse cultural heritage, India – strangely enough – offers rather slim pickings when it comes to metal. Or at least this is what this compilation of 26 metal tracks is suggesting.
Ambitions and budgets range from demo quality renditions of 80s thrash to post-modernist exercises in combining everything that's ever existed in metal. But more often than not the imitations of what was in the charts 20 years ago sound tired and inorganic, and the attempts to mix and match them with something else – be it with symphonic metal or rap-metal – come through as empty recitations aimed at proving some sort of metal literacy as opposed to conveying inner realities.
There are, however, exceptions on this record – bands which succeed in mixing thrash, death, power groove, or whatever else, to such a convincing and finely balanced effect that you immediately connect with the genuine feeling behind the accomplished chops. Halahkuh, Grimmortal, Vile Impalement, Deafen, Dark Octaves of Sin, Crystal and the Witches, and Dead Calm Chaos are all to be named as the ones making an effort in the originality department and trying to think outside the box.
It is unfortunate that India's richly variegated traditional music is making little impact on the bands featured in this compilation. Grimmortal is one outfit which successfully taps into the country's musical heritage and for that stands out a mile from the rest of the record's offerings.
Other bands – such as Provissk, Plague Throat, and Azure Delusion – receive kudos for exactly the opposite, i.e. direct borrowings – in mood and in sound – from the likes of Lamb of God, Napalm Death, or mid-80s Metallica. They may borrow and even directly recite, but do it in such a studious, powerfully laconic way, that you instantly realize that here inner matches the outer, otherwise none of it would work. And when imitation reaches this level of competence, there is a hope that the next step for those bands will be something truly original.
Genre: Metal
Track Listing:
1. Bestial Murder – Slaughtered for Sanctity
2. Arihant – Why So Serious
3. Blurred Haze – Hope
4. Arcane Deception – Arcane Deception
5. Mutiny in March – Without the Second
6. Dark Desolation – Futile Dogma
7. Exalt – Kill with Me
8. Forsaken – Unsterblich
9. Slain – Here & Beyond
10. Azure Delusion – Apocalypse
11. Aughad – Desgtroying the Creator
12. 1883 AD – Who Will Kill
13. Verses – Threshold
14. Provissk – Bounded to the Sacred
15. Scarface – Salvation Denied
16. Crystal and The Witches – Alter of Hipocrites (sic).
17. Exiled Sanity – Redesigning Humans – I [The Uprise]
18. Dead Calm Chaos – The Ladder
19. Dark Octaves of Sin – Blasphemy
20. Deafen – Fate of Misery
21. Plague Throat – Present Chaos
22. Vile Impalement – Cremated Remains
23. Intoxicate – Give Me Mercy
24. Halahkuh – Sacrilege
25. Grimmortal – Resistance
26. Dream Diabolic – Necromenser
Online: http://spreebangalore.in/?p=590
Label: Metal Spree
Hardrock Haven rating: 6.5/10