Breaking It Down with Chad Szeliga of Black Label Society
by Cameron Edney
Guest Staff Writer —
One of the most anticipated bands to play on this year's Soundwave Festival line-up is none other than Zakk Wylde's Black Label Society. Having last toured Australia in September 2006 fans have been eagerly awaiting the bands return and with them will be a brand new member, best known as Breaking Benjamin's drummer Chad Szeliga will be dawning on his leather vest and bashing the skins. Known as one of the world finest and most diverse drummers Chad has toured and recorded with a number of rock bands including Switched and Hourcast.
In 2010 when Breaking Benjamin announced an indefinite hiatus rumours started to circulate around the possibility of Chad joining Avenged Sevenfold. Chad had denied the rumors via Facebook later saying he had spoken with the band briefly but felt they would stick with Dream Theater's Mike Portnoy. Breaking Benjamin fans were crused to learn of the band's hiatus and with Chad now a full-time member of Zakk Wylde's Black Label Society hope withers a little more in their hearts but all hope may not be lost.
I had the pleasure of speaking with Chad recently about his upcoming Australian tour with Zakk Wylde's Black Label Society, how he became the bands new drummer, drumming and the future of Breaking Benjamin. This is what Chad had to say…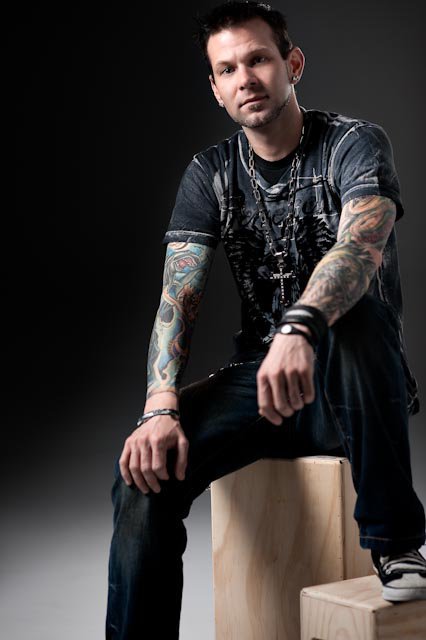 Hardrock Haven: Hi Chad, thanks so much for taking the time out to answer the following questions for our readers. How's everything going?
Chad Szeliga: It's going great real busy with the upcoming Australian tour and teaching drum lessons on Skype all over the world. Loving life and things are great!
Hardrock Haven: Late last year you became the new drummer for Zakk Wylde's Black Label Society, did you sit through an audition process for the gig?
Chad Szeliga: No, I didn't have to audition because I toured with them and hung out with JD and Nick every day. We just clicked, the chemistry was there and they got to see what I brought to the table. I paid them a lot of money to get me the gig [laughs].
Hardrock Haven: [Laughs] Before joining what were your impressions of the band, were you a big fan of what they'd done?
Chad Szeliga: Unfortunately I only knew a couple of their songs before I joined. In actuality, when I first toured with them they scared me [laughs].
Hardrock Haven: [Laughs] And now that you're out there on the road with them has your impressions of the guys changed much?
Chad Szeliga: My impressions of the guys were totally different impressions to what they are on stage and off. They're one of the friendliest; kind hearted, group of men I've ever worked with. They are my boys for life! There songs are amazing and I can't believe I didn't know much of the band. So excuse me while I slap myself in the face [laughs].
Hardrock Haven: Before we get into your background and drumming let's first talk about your upcoming Australian tour with Zakk Wylde's Black Label Society! You must be excited to be heading our way?
Chad Szeliga: I have never been to Australia so yes I am stoked and looking forward to rocking out!
Hardrock Haven: You're heading here of course as part of the Soundwave Festival bill which showcases an awesome line-up for this year's event; will you be putting a lot of time aside to check out the other bands on the bill?
Chad Szeliga: Yes, even though I've been doing this for so many years I still enjoy listening and watching other people play when I am not performing. I love music and everything that comes along with it.
Hardrock Haven: It's been almost six years since Zakk Wylde's Black Label Society last played in Australia, so fans are certainly eager to catch your live sets, what can they expect this time around when you hit the stage?
Chad Szeliga: Wow six years huh … Get ready to hear a great rock and roll band and we bring it every time we hit the stage! We're going to be playing a lot of stuff from the new record and not to mention an amazing guitar solo that comes along with it.
Hardrock Haven: You've played many festivals over the years, are you a fan of doing the large festival bills or do you much prefer the smaller more intimate club shows?
Chad Szeliga: I love playing small venues because I feel like I can interact with them on a personal level better, but don't get me wring playing big festivals and arenas have their perks as well. The only downfall of playing huge venues is your in and out quicker and not so much interaction. I always try to take the time out to spend with the fans. If it wasn't for them there would be no me!
Hardrock Haven: One of the coolest things about the upcoming Australian tour is that there is some off days in between so you get a chance to kick back and see the sites, do you have much planned for this trip besides playing the shows?
Chad Szeliga: I would actually like to go out with the crew and venture out and see more of the scenic atmosphere than your typical mall. I will be also teaching Skype lessons while I am out on the road.
Hardrock Haven: Chad you're certainly a phenomenal drummer, these days before a show is there anything specific you do to warm up and prepare?
Chad Szeliga: Well thanks so much for the compliments; it means the world to me that people do find me as a decent drummer. What I do for my warm ups backstage, is I like to play about four to five hours a day practicing time, rudiments, showmanship and speed; driving the BLS crew and band crazy [laughs]!
Hardrock Haven: You're currently endorsing a fantastic brand of led light drums called Urban Underflow; this is a company I can see many drummers getting behind as time goes on! How did you become involved with these guys?
Chad Szeliga: I am great friends with one of the guys that work at the company. His son Jason Waaugh introduced me to his father. I am very blessed to know them as family.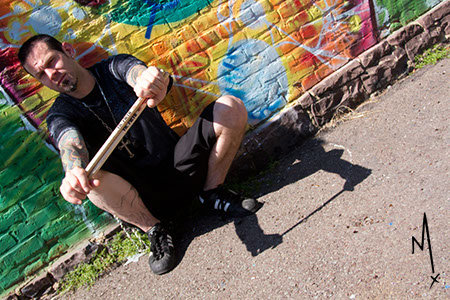 Hardrock Haven: I grew up influenced by many great rock drummers such as Eric Carr, Tommy Lee and Vinny Appice, in the beginning who were your main influences and how have your influences changed over time?
Chad Szeliga: Everybody to me in the drumming community that is a drummer or a musician inspires me to better myself but my main influences that got me where I am at today are Gregg Bissonette , John Bonham ,Tony Williams , Steve Gadd , Manu Katche, Stewart Copeland , Neil Peart Dennis Chambers , Vinnie Coliatua, and the list goes on and on and on.
Hardrock Haven: You have worked with many artists from OurAfter to Breaking Benjamin and now Zakk Wylde's Black Label Society, and you've played many different styles over the years; do you feel doing so has helped create the drummer that you are today?
Chad Szeliga: Absolutely it has molded me into who I am today, because learning all the styles that I've acquired it has helped me in my eyes a unique musician.
Hardrock Haven: Over the years you have played to some fantastic crowds, and you certainly have the best seat in the house to witness everything that happens in the crowd whilst playing. What comes to mind as some of the most outrageous / crazy things you've seen happening whilst playing?
Chad Szeliga: I've seen people spit up in the air and it land in their hair; I've seen people rip their pants. I've heard people crack voices when they sing. I've seen people fall on and off stage. I've heard people say the wrong place of the venue that we were playing at, and lastly I have heard people forget lyrics [laughs]. I just thank God everyday that I have there middle seat to watch all the madness and fun unfold. I wouldn't want it any other way!
Hardrock Haven: Just before we wrap this up Chad, although you have just joined a killer heavy metal band, Breaking Benjamin fans want to know what happening… are you guys talking about any new material?
Chad Szeliga: I am just looking to get back in the studio with Breaking Benjamin… Yes, I'm answering the question that everybody asks me every day… Breaking Benjamin is still together. We will definitely and hopefully be doing another record in the future!
Hardrock Haven: That's great news mate! Well Chad, thanks again for your time and enjoy the Australian tour! Do you have any last words for our readers?
Chad Szeliga: I'd like to thank everybody in the world that has given me the time of day to live a dream and to play drums for all of you that are reading this, it means the world to me; hopefully I'll see you at the show.