Darren Wharton of Thin Lizzy
by Marija Brettle
Staff Writer —
January 23, 2012 @ De Montfort Hall, Leicester, UK
Darren Wharton was a young keyboard player in a Manchester nightclub, when he auditioned for Thin Lizzy. By the time he was 18 he was recording with Thin Lizzy at Good Earth Studios in London, where the band was working on Chinetown album. The following year, during the recording of Lizzy's eleventh studio album, Renegade he had become an official member of the band, co writing the opening track with Lynott, "Angel Of Death." In 1983, Wharton continued with the band on the follow-up album Thunder and Lightning. Unfortunately, this was Thin Lizzy's last studio album.
In January 1986, sadly Phil Lynott died of pneumonia, depriving massive army of followers from his remarkable writing and performing skills, but also leaving the legacy of true Hard Rock music with his band Thin Lizzy. Twenty-five years later, the world has changed, but the amazing body of work that is THIN LIZZY still retains all of its vibrancy and influence.
Following their last reincarnation in 2010, Wharton and the rest of the band have since been extremely busy touring across the world with great success, taking Thin Lizzy music to a whole new generation of music fans. As Scott Gorham, proudly states: "Phil wrote so many classic songs, and people still love hearing them. And playing them with this band is an incredible experience."
In mid-January this year, Thinn Lizzy, led by three members of the classic line-up; guitarist Scott Gorham, drummer Brian Downey and keyboardist Darren Wharton, as well as the singer and guitarist Ricky Warwick, bassist Marco Mendoza and newly recruited guitarist Damon Johnson, take off on their new European tour, once again celebrating the music and the legacy of their ex-frontman, the iconic Phil Lynott.
During this tour, before their show at the De Montfort Hall venue, we caught up with Thin Lizzy's keyboard player, Darren Wharton to talk about the band getting back on tour and their reasons to carry on without Phil Lynott, why the new frontman Ricky is the best choice for the band, future plans and much more…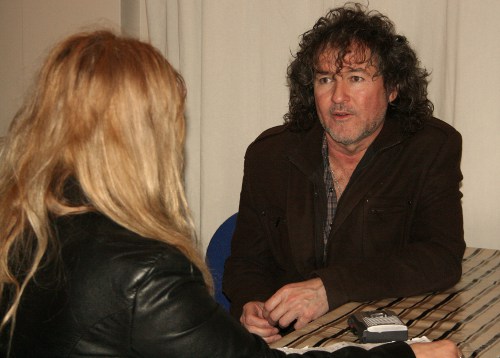 Hardrock Haven: Hi Darren, thank you for making time tonight for Hardrock Haven. I just been reminded by your manager, that we have – only 10 minutes for the Interview! (Laughs)
Darren: (Laughs) Not much to do with me! It's all down to this guy! (Ace, the band's tour manager)
HRH: Great to see you back in Leicester… How do you feel tonight considering that this is the third time for Thin Lizzy, playing at this same venue in the last three years?
Darren: Yeah, very exciting time for the band. I mean, it's great to be back and be appreciated!
HRH: Well, once again it feels like 'The boys are back in town' at least for me tonight! Last time Thin Lizzy played this venue it was a storming evening, from start to finish. What we can expect tonight from Lizzy and the new guitarist, Damon Johnson?
Darren: Another storming night, if you don't mind me saying! (Laughs) With Scott and Brian's support, Ricky is doing an amazing job on vocals and Damon is doing a great job on the second guitar! Obviously we are headlining tonight, so it's much more exciting… much more satisfying for the band. Last year we were touring with Judas Priest and Black Label Society in America, which was by any mean very successful, very good! We had great crowd, amazing experience, but genuinely, we all enjoy more while we are headlining! So yes, it's great to get back in UK with our own tour!
HRH: I hear you had a brilliant reception in Glasgow, up in Scotland…
Darren: Oh, yeah. We had a very loud and very excited crowd there! (Laughs) I mean the response was overwhelming. It was the first show for us with this tour and obviously it was kind of good start for our confidence.
HRH: Not that you're really lacking in any confidence?
Darren: Crowd in Scotland always been genuinely very good with us! They just got that broad energy. So yeah, it was fantastic show. Well, we were out on the road for like eight weeks in America before we started with this tour, so… we're pretty much tight as a unit! Well, at this stage, we're all in great form! We're quite comfortable with each other pretty much, which is kind of obvious while on stage.
HRH: Since 2010, the band toured extensively and some would say the new Lizzy line-up was put to the ultimate test in front of long –standing fans. And so far, there's been some overwhelming evidence of old and new fans who are delighted to see you back. But then, there are also some negative comments from people who are strongly opposing the whole idea of Lizzy's new line-up to carry on without a band's key member, Phil Lynott?
Darren: Yeah. The thing is…in the last few years, new fans come on board in huge numbers, and we do get back our old fan base. Now that people can see our shows, performance and all that, there is a certainly different feeling about the band going back touring. Obviously it's different vibe now without Philip in the band. But then, nobody more than the band wishes Phil was here with us tonight. Having a blast-like we use to! People miss him obviously and we understand that. You know, we think about him all the time, and in spirit he is always with us. So… this is our way to carry on his music legacy and make him proud! Therefore, this is as good as will ever gonna get without him. More to the point, we tend to get that general reaction from the fans, saying they love our live performance.
HRH: When Thin Lizzy first reunited in 1990's, some hardcore Lizzy fans accused you of cashing in on Phil's music legacy? What would you say to this people?
Darren: Let's get one think strait, no one can ever replace Phil Lynott! If anything, all we have done so far is honoring Phil's legacy! I mean, it's that simple! (Laughs) We do as much as we can to make sure people won't forget Philip for what he really was an incredible talented and amazing musician. So this is our way to say to Phil, we're thinking of him. Unlike most reunited bands out there, Thin Lizzy never was in it for the money. Never!
HRH: Maybe the ones, who still doubt you, should come and see one of your shows. (Laughs)
Darren: Well, the fact is, in the last two-three years, we're getting more fans -than ever-that have seen the original Lizzy with Lynott. And I can tell you, they are still coming back to see us! Then we have people, coming to us, saying how they are blown away by our performance! I mean that's all we wanna know! So in that respect I thing we are doing an excellent work in what we do. We also meet fans every night that have never seen Thin Lizzy with Philip…and they love our shows! So… genuinely, it's very exciting time for the band. It's not the same, but this is the closest it can be with three original members. I mean, we all know in our hearts it'll never be the same without Phil.
HRH: Back in 1996, at London's Brixton Academy, I remember seeing Thin Lizzy with John Sykes as a front-man, playing hits from the band's back catalog. And I can say firmly everybody was enjoining that night. But then, the very next day, you were accused by the British press critics for using Phil's music. Was it hurtful for you then- knowing-in your hearts, that you were just keeping Phil's music alive?
Darren: Well, there will always be people who would say there is not Thin Lizzy without Phil Lynott. Or he was the heart and soul of this band. I can understand why people would say that because it's like Queen without Freddie Mercury! At the end of the day, as far as we're concern we keep the name and the music of Thin Lizzy alive, but also we're doing our best to honor Philip's memory.
HRH: And you are doing an amazing job in that respect…
Darren: If we could wish Phil back we all would, because like many Lizzy's fans, we also miss him terribly. Every night, we just get up there on stage, marking our respect to Philip! We all strongly agreed that his songs deserved to be played… then why not go out there to play them and have a great time! We all love music, and we're not too old … yet! (Laughs)
HRH: Since Ricky joined the band, there is a general feeling from people that he is doing a brilliant job and great justice to Phil's music and the band's sound. By many fans out there, he's been quoted as one of the best ever choice as a Thin Lizzy front-man, since the John Sykes era. What is your take on this?
Darren: Absolutely! Having Ricky in the band now, and is not just me personally, but I think the general public; fans would agree that it was the best think we did for the band. Ricky definitely puts back a lot of passion and new dynamic in the band with his performance. Knowing this gives us all that extra confidence every night. I mean, we are all aware that Phil is simply irreplaceable, but also we know that Ricky is doing an amazing job- in doing Phil very proud of us! We all have a great time on this tour, already.
HRH: I am sure many would agree that Ricky Warwick's voice, stage confidence and charisma are spookingly similar with Phil's stage persona and unique vocals?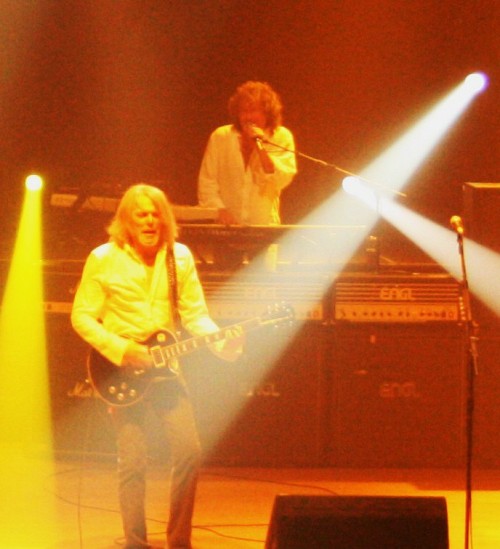 Darren: (Laughs) Yeah! He's got that Irish charm, that Irish twist which obviously helps. I mean, he's got that nice humbleness about him. Phil was really this humble guy. I mean for all his charisma and his rock star image, he was really humble person, if you know him better. And I think Ricky s got that front-man quality as well, which is very nice and great for the band.
HRH: Would you agree that since John Sykes era, this is the best- ever Thin Lizzy line-up so far?
Darren: Oh yeah, absolutely! We are all great friends and I think that comes across on stage as well. There is no tension, no animosity within the band, and that really helps us to get the music across, in our best way as we can. We all just have such a great time up there. It's really hard not to! (Laughs) We kind of feed of each other… the music, the excitement, all comes together. I've seen various reincarnations of Thin Lizzy over the years, and without a doubt, this is definitely the best thing ever for Thin Lizzy without Phil!
HRH: I assume you heard all about the latest 'treasure' find of nearly 700 unreleased Thin Lizzy recordings? (According to The Guardian, a mysterious benefactor has emerged with hundreds of unreleased Thin Lizzy songs stored in secret… dated back from 1986.) Were you aware that Phil handled these songs to a trusted Lizzy fan for safe keep?
Darren: No, I don't know anything about this… Do you know anything about this? (asking his manager Ace)
Ace: I know that there were 70 songs… and then, there was some talk about this original project… that really has nothing to do with the band.
HRH: I hear that Universal Music is planning to release a selection of these recordings in June, this year. I was just wondering how much you, Scott and Brian were informed about this find and do you have any 'saying' in the process of choosing the songs- as one of the original band members?
Darren: No, we don't… I don't know much about this.
HRH: Well, it is all out in the news… I just assumed that this news reached to you and the rest of the band?
Darren: (Laughs) No, I have no idea about the whole think. I think what would happen – if anything, Scott and Brien would listen through to see if there is anything which is salvageable, and would be good for releasing. I think in those days, Phil, Scott and Brian were working on these songs, and if I was involved in any of the songs… I don't know, if there are any songs I was involved in. But then, if those songs haven't been released for a good reason, and if Phil wasn't happy releasing the songs when he was alive, why we should be happy to release then now!? I am not too fussy for these songs to come out any time soon. (Laughs) That's all I would say about it.
HRH: Yeah… good enough for me, but then, there are so many hardcore Lizzy's fans, who already showed great interest in the releasing of this songs?
Darren: You know, there are people releasing Dare (Darren's own band) songs, demos that have been handed out over the years and been put out on the Internet. And you know what…I get that a lot and I really hate that! I don't want people to hear our rubbish demos…you know. I get annoyed about that. I am sure Thin Lizzy songs are cool and sound great, but whether or not Phil would want them to come out…I don't know that either.
HRH: I hear you are in the process of writing on your new Thin Lizzy materials?
Darren: Yeah, we're always writing! We have six great writers in the band if you don't mind me saying! (Laughs)
HRH: Yeah, and the incredible writers too!
Darren: I mean, it's pretty difficult not to come up with some new lyrics and new melody. So we're constantly working on some new different ideas, while we're out on the road, or in a dressing room. (Laughs) But then it's one of those things where it has to be wanted by the Lizzy's fans… as the management would like to say. (Laughs) It has to be politically correct. The songs got to be right. At the same time, this is not that easy thing to do… would the fans be happy with it, you know? We will see… I know we gonna carry on writing the new songs between us, but I don't know how that's gonna comes together. I mean I am sure we will have something out at some point. I think it will be just delicate stuff to do. As well as doing it – in a right way that's respectable to Phil's memory.
HRH: Thank you Darren again for taking the time for this Interview. Best with the show tonight!
Photos appear courtesy of Jadranka Jade