by Mark Allen
Staff Writer —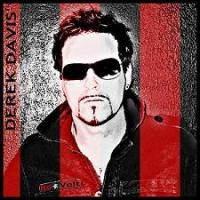 Derek Davis' name may not be as familiar to hard rock fans as, say, Bret Michaels, but he also fronted a hair metal band back in the day. But whereas Michaels and Poison sold 25 million records, Davis and Babylon A.D. sold… not 25 million records. They were latecomers to the commercial metal scene, enjoying a brief run of mild popularity before grunge took a big, down-tuned piss all over the hairspray heroes that had dominated the market for so long.
On their first two albums, Babylon A.D. contentedly hopped on the hair metal bandwagon; in fact, if you listen to their early demos, you can hear the band was originally more melodic and AOR-tinged and changed to a heavier sound for their debut in order to capitalize on what was popular in '89. By the time their third album came out in 2000, the darker sound of alternative metal was all the rage and once again, in keeping with the times, Babylon A.D. altered their sound to accommodate the mainstream.
Now, a dozen years later, Davis has resurrected onto the rock scene and said to hell with trend chasing. Re-Volt is an album rich in raw, rewarding honesty that exhibits a stubborn, captivating refusal to cater to any crowd. Those hoping for a retro-reincarnation of that Babylon A.D. style will be as disappointed as an erectile dysfunction sufferer discovering his Viagra pill is actually just a placebo, but Davis refuses to dwell in the past just as much as he refuses to pay much attention to the popular music of the present. This is a pure powerhouse rock album untainted by mainstream pandering and though it is not flawed, even the missteps are evidence of the fact that Davis didn't give a damn about what anyone wanted to hear and instead wrote the music he wanted to write.
Threaded through this music are veins and arteries pulsing with sonic blood that beats to the rhythm of a central hard rock heart but each with their own unique flavor. There are songs that have a modern vibe ("Re-Volt"), there are songs that pummel you with vicious beats and menacing power chords ("Bad Man Cometh"), there are songs reminiscent of Babylon A.D. ("Tied Down and Hammered"), there are songs designed to rip your face off with no apology ("Judas Kiss"), and there are catchy melodic rockers designed to get your body moving ("I Love U 2 Death"). Such diversity means there is something here for everyone, but the tradeoff is a slight lack of cohesiveness.
Where the album really fails, at least from the perspective of hard rock fans, is the ballad department. "Troubadour" is particularly problematic, an acoustic, Spanish flavored song that perhaps some folks would call beautiful but most hard rockers will call boring. "The Promise" doesn't fare much better and will have head-bangers scrambling for the Skip button. But all is not lost, because the one ballad that does work is "Desperate," a reworking of the song that first appeared on Babylon A.D.'s debut. It was a great song in '89 and it's a great song now.
Derek Davis covers a wide range of topics on this album, but what Re-Volt is mostly about is revolution. He is revolting, not against gods or governments, but against the corporate-fisted crap that passes for rock music these days. Re-Volt, flaws and all, is the inner essence of a man sitting in solitude and writing rock 'n' roll the way it used to be done, from the heart and gut and soul, with zero regard for whether or not the mainstream sheep or label suits will care for it. Rock music was, is, and always should be rooted in rebellion and that, more than anything, is the underlying message of this album. Derek Davis has risen up from seemingly out of nowhere and given rock music a good hard kick in the ass.
Genre: Hard Rock
Band:
Derek Davis (vocals, guitar)
Loren Turner (lead guitar)
Eric Pacheco (bass)
Jamey Pacheco (drums)
Track Listing
1. Re-Volt
2. Bad Man Cometh
3. Tied Down and Hammered
4. Troubadour
5. American Jihad
6. Hollywood Heartbreak
7. The Promise
8. Judas Kiss
9. I Love U 2 Death
10. Love Star
11. Desperate
Webpage: www.derekdavismusic.com
Label: Apocalypse Records
Hardrock Haven rating: 8/10