Diamond Eye | Sound of the Guns
by John Kindred
Staff Writer —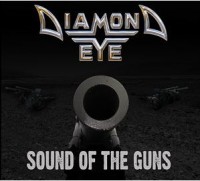 Who doesn't love their hard rock or metal from down under? Australia, that is, which has given us bands like Airbourne and AC/DC, now delivers up Diamond Eye. Formed in Perth, Western Australia in 2007 by vocalist Will Kelly and guitarist Greg Faucet, the duo recruited bassist Chase Cameron and Danny Torre on drums to complete the band. Their debut EP Sounds of the Guns highlights five songs that, in the bands own words, "…captured" the essence of Diamond Eye.
Sounds of the Guns was produced by Matt Gio, and while reflecting the band's influences, the compositions are a creative canvas that is exclusively Diamond Eye. The band combines those influences into a bag of tricks that features all that we love about Melodic Hard Rock; memorable hooks, great vocals, bombastic guitar solos, heavy bass and tight percussion.
"Waiting For Me" opens Sound of the Guns with the band's signature crunchy-driven hard rock sound. Kelly's vocal are clean, audible and extremely listenable. The band uses harmony vocals to thicken up the choruses. The song breaks into the solo in dramatic fashion. Faucet takes his first opportunity to impress with flashy-melodic chops that embellish the song. "Waiting For Me" truly is a good starting point for Diamond Eye to showcase their talent. "Closer to the Sun" gets started with a heavy riff and a melodic twin harmony solo. Torre shows his skill, throwing in double-bass kicks in the first verse. Again, Faucet unloads with a blistering solo with plenty of aggression and attitude. "Atlantis" lives on the back of driving percussion and a heavy riff. The song features a cool rhythmic breakdown before the solo. More of the same from Kelly, at this point, it would be nice to hear a little more diversity and dynamic to his vocal presentation.
Kelly achieves this, if ever so slightly, on the next song "Machine." The opening riff has an eerily familiar groove, which isn't good if you're trying to sell your own originality as a band to a new audience. It has a heavy, grinding and grooving vibe. Kelly's vocals, again, are beefed up with additional harmony vocals during the choruses. The title track, "Sounds of the Guns," closes the EP. Opening with a acoustic-electric arpeggiated melody and melodic solo, the song quickly kicks in gear. Moving into a distorted rhythm, the song shifts into an up-tempo rocker. Torre, again, puts double-kick drum in play. The chorus has a big anthem like feel, which is very dramatic. The song continues to increase the momentum as it pushes to the finale. Kelly and Faucet, both, take the song to its conclusion with a solo performed alongside the finale chorus.
Here is a band that visually gets it right; long hair, decked out in black and members who have the attitude and sound to back up their presentation. They have room for growth and improvement, but Sound of the Guns is an impressive independent studio release. With the EP available now on their website and upcoming album, which will be recorded and released in 2012, Diamond Eye is poised bring its message and musical vision to the world.
Genre: Melodic Hard Rock
Band:
Will Kelly (v)
Greg Faucet (g)
Chase Cameron (b)
Danny Torre (d)
Track Listing:
1. Waiting For Me
2. Closer to the Sun
3. Atlantis
4. Machine
5. Sound of the Guns
Website: www.diamondeyeofficial.com
MySpace: www.myspace.com/diamondeyerocks
Hardrock Haven rating: 7/10