Doors | Mr. Mojo Risin': The Story of L.A. Woman
by John Kindred
Staff Writer —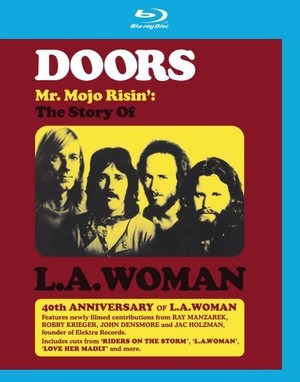 Celebrating the 40th anniversary of the release of L.A. Woman, the Doors and Eagle Rock Entertainment have released Mr. Mojo Risin': The Story of L.A. Woman on Blu-ray and DVD. This documentary tells the story of the making of L.A. Woman through interviews with living band members; Manzarek, Krieger and Densmore. Interviews with original band manager Bill Siddons, engineer/co-producer Bruce Botnick, Elektra Records founder Jac Holzman and many other industry insiders lend a broader and balanced perspective to the recording sessions and events that were happening during this time period.
Featuring live and studio performances and rare footage of the band in high-definition video, fans are treated to a comprehensive snapshot of time within historical timeline of the Doors. Chronicling L.A. Woman from writing, recording and releasing the album up to the untimely demise of Jim Morrison, this perhaps is the most informative documentary of the band from a specific time period ever released. Most of the previous documentaries cover the entire history of the band and never provide as much detail as Mr. Mojo Risin': The Story of L.A. Woman.
L.A. Woman, released in 1971, produced timeless music that is as relevant today as it was 40 years ago. Including the title track, "Riders of the Storm" and "Love Her Madly," the album became the band's second best-selling studio album and explored the band's root influences, including R&B and Jazz. The album included additional support from guitarist Marc Benno and bassist Jerry Scheff, who beefed up the overall sound. The lyrics hinted at the departure of Morrison, and before the album was mixed, he left for Paris. The rest is rock 'n' roll history.
Along with the release of the Blu-ray and DVD, Rhino Records is releasing L.A. Woman (40th Anniversary Edition). This is a two-disc CD release that includes a newly discovered song "She Smells So Nice" and eight never-before-heard versions of songs from the album.
Band:
Jim Morrison
Ray Manzarek
John Densmore
Robby Krieger
DVD and Blu-ray Track Listing:
MAIN PROGRAM
Intro 

Early Doors


The Changeling


Been Down So Long
The Miami Effect


The Doors Workshop


Crawling King Snake


Love Her Madly


L.A. Woman


The Wasp (Texas Radio & The Big Beat)


Riders On The Storm


Cars
Hiss By My Window
Jim In Paris


Hyacinth House


Closing Doors
BONUS FOOTAGE –
John Densmore On L.A. Woman
Riders On The Storm

The Doors Guide To L.A.

Thoughts On Performing Live

Crawling King Snake
Blu-ray Disc Features:

Note: An Additional 35 mins of material previously unseen on TV
Previously unreleased track "She Smells So Nice" accompanied by newly created picture montage

Widescreen –
1.78
Audio:
Dolby Digital 5.1 – English
DTS HD Master Audio – English
PCM Stereo – English
Subtitles – English, French, German, Spanish
Label: Eagle Rock Entertainment
Hardrock Haven rating: n/a