Glenn Five Former Anvil Bassist
by Alex Barbieri
Staff Writer —
No Expectations, Just Possibilities: An Interview with Former Anvil Bassist, Glenn Five
Bassist Glenn Gyorffy (a.k.a. Glenn Five or G5), powered the Canadian metal power trio, Anvil, for 16 years. In late January 2012, news hit the rock press that G5 was leaving Anvil for various reasons. Here, Glenn Five—one of the most underrated and inspirational bassists in rock — opens up to Hardrock Haven on why he left Anvil, his favorite memories of the past 16 years, and his musical plans for the future.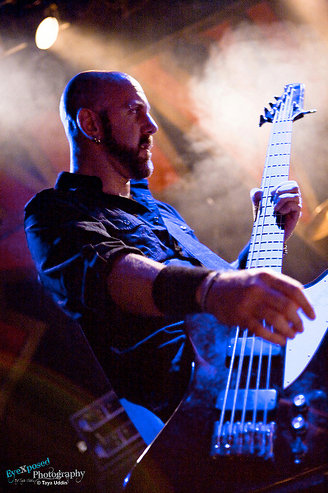 HRH: Glenn, thank you for reaching out to Hardrock Haven. We're honored to be one of the websites you have chosen to talk to. Before we discuss more positive topics, let's get it out of the way … what happened in Anvil that made you want to leave after 16 years?
G5: To begin, let me thank you, Alex, for once again opening up the pages of Hardrock Haven to me and allowing me the chance to share my words with your readers.
I wouldn't say anything in particular happened that made me want to quit Anvil. It's been an ongoing thing for many years. Basically, it was getting a bit stale for the artist inside me and I simply wasn't fulfilled playing in the band anymore. As many people know there was a wonderful movie made about Anvil ("Anvil! The Story of Anvil") that re-ignited a flame in the band, not only in the public eye, but also in ourselves. When the film started to receive critical acclaim and we started this amazing ride on the film festival circuit, we found ourselves very inspired like we hadn't been in a long time. The success of the movie also brought with it the interest of the industry and we obtained proper management for the first time in decades—certainly the first time in my long tenure with the band.
With that management came tours all around the world and a chance to experience many new things. It was very inspirational and we found ourselves writing and recording Juggernaut of Justice, the best album the band has done to date. The truth is before the film maker, Sacha Gervasi, came back into Anvil's life and made a brilliant movie about a great story of perseverance, the band was in a downward spiral. The music just wasn't making a difference and creatively speaking we were at a bit of a stand still. This changed with the prospect of a film and a chance to once again record with Chris Tsangarides on the This is Thirteen album. That album, because of the movie, received a lot of attention and was picked up and distributed by "big time record companies like Sony in Japan and Vh1 in the United States.
That feeling of renewed creativity continued on with the Juggernaut album, but unfortunately the interest of the record companies didn't, and in my opinion the album hasn't been given the chance to shine like it deserves and Anvil have found themselves once again in a position of irrelevance. The music just isn't making a difference in today's marketplace. The movie was sort of a band aid over the inevitable, and in my opinion, Anvil is now on its way back to the same position as it was back in 2005 before the filming of the movie began.
HRH: That said, you have a lot to be proud from your time in Anvil. You helped sustain Anvil through periods of relative obscurity, helped fuel the success of the movie, "Anvil! The Story of Anvil," and helped create an absolutely crushing album, Juggernaut of Justice.
What are some of your favorite memories and experiences from the past 16 years with the band?
G5: Well, it's all been great. My entire time with Anvil has been a great ride. I've learned a lot, experienced some amazing things, got to travel the world and meet some amazing people along the way. Two very wonderful experiences for me took place in England.
The first was the recording of the This is Thirteen album. Not only to work with a great producer like Chris Tsangarides, but also to spend nine weeks in the village of Kingsdown where Chris' studio is located. Kingsdown is a small village in Kent in the South East of England. The local villagers are among some of the greatest people I've met and they welcomed us with open arms. I made some really great friends there that I consider my extended family, and I have been back to visit a couple of times. The second was when we went to London for the London Film Festival. The premier of our movie was awesome, complete with being joined on the red carpet by Sarah Brown, the wife of then Prime Minister, Gordon Brown.
But the best part of that particular trip was meeting the love of my life, an amazing woman who is a publicist at The Works, the company that distributed the Anvil movie. I lived the dream professionally with Anvil, but all the other things that came with it mean a great deal to me, and maybe more so at the end of the day. I don't play in Anvil anymore but the relationships remain and I couldn't be more grateful for having such wonderful people in my life.
HRH: Is there anything you want to say to your ex-bandmates, Steve and Robb to clear the air?
G5: Actually there is nothing that I would say to them in this forum. One day, when our paths cross again, there will be things to say. For now, I just wish them well and continued success.
HRH: What are your musical goals for the future? Do you have a new band in the works yet that you'd like to announce?
G5: Nothing I'd like to announce at the moment, Alex. I've got a few things on the go and I am entertaining offers. I'd like to join another band. I enjoy the band atmosphere, the brotherhood and common goal between bandmates is a strong thing.
I want to record some of my songs as well, but I'm not sure that I would want to put a band together to play only my stuff. I much rather collaborate in a band setting, than just dictate what I want. Basically at this point in time, I'm leaving my options open and having fun and feeling creative again. Something I can say I didn't feel in Anvil for the past year or so. Other musical goals include producing and musical directing. I've had great collaborating moments with great producers and have been encouraged that I can in fact be a producer. Also, I would like to get into session work. That would be a great way to widen my horizons and meet other musicians and producers. Session work would be a good opportunity to play different styles of music.
HRH: You're a songwriter with a wide taste in music. How would you describe your style of writing, and who are some of your primary influences, songwriting-wise?
G5: That's an interesting question—I've never really had to describe my song writing style. I've always just written from my heart and soul, and what comes out is usually an indication of where I was and how I was feeling at that point in time. I've always believed that the song is there and you just need to find it. I think it was Bono from U2 who said, "Just get out of the song's way," and that's the way I feel too. The song will write itself—you just need to guide it where it wants to go. I believe the best songs are the ones that just happen, usually quickly and effortlessly. A couple of my influences would be Paul McCartney and Sting, not a coincidence that they are both primarily bass players. I also believe that bassists make good musical directors as well as song writers, as the bass is the glue between rhythm and melody.
HRH: What non-musical activities are you into lately? Tell us a bit about the man behind the music.
G5: Well lately, I've been spending much more time with family and friends. I've been on the road a lot for the last few years, and although I have great people in my life all around the world, it's nice to spend time with the people at home whom I always miss when I'm away. As far as activities, I enjoy going to movies and watching English football. I support Arsenal, a team based out of North London. Go Gunners!
HRH: What movies, music and books are you into? Anything you want to recommend to the Hardrock Haven audience?
G5: When reading, I go through phases between biographies and action novels. For obvious reasons, I enjoy biographies about my favorite bands and musicians. I've recently read bios on Dave Grohl, Dave Mustaine, and am currently reading a pretty good Metallica bio called "Metallica: Enter Night: The Biography."
When I'm reading my action adventures, I enjoy Dan Brown and Raymond Khoury, but I mostly read Clive Cussler books. He has a few different series that he collaborates on with different writers including "The Oregon Files," "The Kurt Austin Adventures," and the Dirk Pitt novels. For those soccer fans out there, I've read a great book called "Damned United," about one of the greatest managers in the history of the sport, Brian Clough.
I don't have a particular favorite genre of movie, I just love a good film. If a movie can take me on a journey, then I'm willing to take the ride. Recently I've been finding that French movies have a certain cleverness to them that we don't really get here in the North American blockbusters.
As far as music, that also spans a broad range of genres. Of course I love my hard rock and metal, but I also enjoy many different things other than just the hard stuff. Some newer music that I've been enjoying lately is Foo Fighters – Wasting Light, Megadeth – Thirteen, Mastadon – The Hunter, Elbow – Build A Rocket Boys, Coldplay – Mylo Xyloto, Pearl Jam – Backspacer and Kings of Leon – Come Around Sundown.
HRH: Let's do a bit of word association. What are the first thoughts that come to mind on the following:
HRH: Your time in Anvil.
G5: Proud to be a big part of the history. Other than Lips and Robb, I have spent more time than anyone in the band.
HRH: The success of the Anvil documentary.
G5: A wonderful experience and the greatest promotional tool a band has ever had.
HRH: Touring the world.
G5: Living the dream!!
HRH: Opening for AC/DC.
G5: Completely a thrill for me to share a stage with one of the greatest bands in the history of music. Plus, an amazing thrill to play stadiums, especially the historic Giants Stadium.
HRH: Metal fans.
G5: A brotherhood, a family. Metal fans are among the most passionate of music listeners. They choose their faves and stay with them forever. Even if their interests change and they listen to other things, metal remains in the soul and never dies.
HRH: Playing music.
G5: Something I and many other artists need to do. I've said it before, but we don't choose to play music, it's the music that chooses us to play it.
HRH: The future.
G5: I will share a mantra that has guided me well through the past few years: No expectations, just possibilities.
HRH: Glenn, thank you again for your time and for opening up to Hardrock Haven. We wish you happiness and success, and look forward to hearing your music in the future. How can fans stay in touch with what you're up to? Any websites or pages you want to promote?
G5: Thank you for all the support Alex. I appreciate it very much. There is a website under construction at the moment, it is glenn5ive.com and people can also find me on Twitter@GlennFive and on Facebook at http://www.facebook.com/glenn5.
HRH: Thanks again, Glenn, and please stay in touch!
Like Glenn Five on Facebook:
http://www.facebook.com/glenn5
View a Glenn Five photo slideshow on YouTube:
http://www.youtube.com/watch?v=MM6mrskvGM8