Mad Max | Another Night of Passion
by Mark Allen
Staff Writer —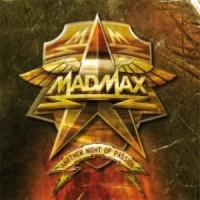 It is a travesty of '80s rock justice that this German band was never given their crack at the U.S. market. As the disheartening tale is told, Mad Max recorded their career-defining Night of Passion album in '87 and were on the cusp of getting that crack when record company shenanigans shot their chances all to hell. Opportunity sabotaged, the band has been relegated to cult status ever since, adored by the discerning melodic rock underground but never able to expand their parameters of acceptance.
Twenty-five years later, the present looks to the past for inspiration. Mad Max's original lineup has reunited for Another Night of Passion, seeking with singular focus to recapture the sonic sorcery and create a companion to the album that should have made them a household name. This is a hearty meal of red-blooded, meat-and-potatoes commercial hard rock served straight up, no frilly garnishments, with nary a ballad in sight to interfere with the band's goal of nonstop rocking.
While Mad Max take advantage of advances in production technology, there is nothing modern about this album; it is slick, polished, retro '80s hard rock. Don't be fooled by the 2012 release date; Another Night of Passion will slot very nicely, from both a sonic and stylistic standpoint, between your well-used (at least, they should be well-used) copies of Bonfire's Fireworks and Dokken's Under Lock and Key.
The band sounds like they're having a blast, each member giving it their all. Voss turns in one of the best vocal performances of his life, capable of golden smoothness one moment and snarled attitude the next. Jurgen Breforth cuts loose on the six-string with sizzling solos and snappy licks and all the whammy bar abuse you would expect on an album that resurrects the spirit of 1988. Meanwhile, Axel Kruse hammers the drums as if driving nails into the coffins of the record company execs that screwed them over all those years ago.
But enough about the sins of the past. Mad Max have had a quarter-century to bury their bitterness but they have never relinquished their love of '80s style hard rock. Showing no interest in reinventing the wheel, they resolutely stick to the accepted formula: melodic vocals, loud guitars, big hooks, catchy choruses, and gang vocal harmonies. Sometimes calling a band formulaic is a criticism, but this is not one of those times, because this formula is exactly what fans want to hear when they grab a Mad Max album. For those fans, listening to Another Night of Passion will be like getting reacquainted with an old friend that still looks, sounds, and acts the same as they did two decades ago.
There is a little filler scattered about, but for the most the album is loaded with strong tracks. "Metal Edge" should come with a label that says "Warning: Spontaneous Head-Banging May Occur." It opens with a massive sonic boom drumbeat and stomps its way to a sing-along chorus with gang vocals shouting "Whoa!" and really, an '80s hard rock album without a gang vocal "Whoa!" or two would be like a strip club with no nudity. "You Decide" is a badass barn burner that cranks along like a cheetah with its tail ablaze and sports a hook big enough to snag a locomotive and stop it dead in its tracks. And so it goes, one solid song after another, resulting in a very consistent effort.
The band has released several other albums with revolving personnel since 1987, but this is the true and worthy successor to Night of Passion. Fans should not even try to resist the temptation to spend another Night with Mad Max and don't worry, you'll definitely still respect yourself—and the band—in the morning.
Genre: Melodic Hard Rock
Band:
Michael Voss (vocals)
Jurgen Breforth (guitars)
Roland Bergmann (bass)
Axel Kruse (drums)
Track Listing
1. Rocklahoma
2. 40 Rock
3. Metal Edge
4. You Decide
5. Welcome to Rock Bottom
6. Fallen From Grace
7. Black Swan
8. Back and Alive
9. The Chant
10. Fever of Love
11. True Blue
Webpage: www.madmaxofficial.de
Label: SPV Records
Hardrock Haven rating: 8/10