Queen | Days Of Our Lives
by Kathy Kindred
Staff Writer —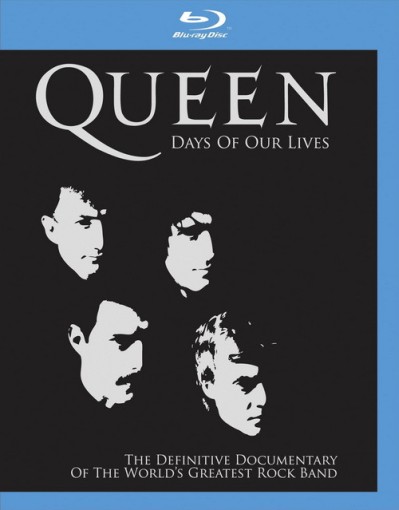 In January, Eagle Rock Entertainment/Eagle Vision released a two-part documentary, Queen: Days of Our Lives, which was produced by two lifelong Queen fans and collaborators, Simon Lupton and Rhys Thomas, and directed by Matt Casey. The legendary rock band asked Thomas and Lupton to do the almost impossible; condense four decades of Queen into a comprehensive, compelling historical documentary to celebrate the band's 40th anniversary.
Days of Our Lives chronicles the collective lives of Freddie Mercury, Brian May, John Deacon and Roger Taylor through 40 years of Queen – the good, the bad and the ugly. Part one of the documentary covers the beginning of Queen, when the four college students met in 1970, and continues up to 1980. Part two chronicles the band from 1980 to today. It is the most definitive Queen documentary to date and comprises much more than outtakes, scenes from the cutting room floor and never-before-seen or heard music and film footage.
It is obvious that Lupton and Thomas took great pains during the yearlong making of Days of Our Lives to ensure that Queen's entire story was told in an honest, compelling and interesting manner. The band's story is told by in-depth interviews with Brian May, Roger Taylor and Jim Beach, Freddie Mercury's manager, archival footage, a never-before-seen television performance and Queen's spine-tingling performances at Wembley Stadium. Perhaps the most compelling and inspiring part of the documentary focuses on Mercury during his HIV diagnosis, progression to AIDS and his final days. Mercury was musically driven and recorded solo tracks for songs that he knew he would never live to hear. It it particularly interesting how the last three albums were put together.
During his final days, Mercury told Beach, "Do anything you want with my music dear, but never make me boring!" Days of Our Lives is anything but boring and leaves viewers wanting more; more of Freddie Mercury's Queen, the band that forever changed the landscape of rock and roll. For Queen fans, the 40th anniversary documentary is a must-have. In Days of Our Lives, Queen tells its story in the band member's own words, and viewers will end up having a greater appreciation for Queen and perhaps listen to their music with a different perspective.
Genre: Rock
Band:
Freddie Mercury
Brian May
John Deacon
Roger Taylor
'Queen: Days of our Lives' Blu-Ray & Standard DVD content descriptions:
Documentary Part 1 – 59 mins.
Documentary Part 2 – 59 mins.
STANDARD DVD: 

Format: DVD-9
Standard: NTSC
Region Code: Playable in all Regions
Audio: Dolby Digital Stereo (documentaries) LPCM (Videos)
Selection #: EV304009
Catalogue #: 801213040094
MSRP: 14.98
Duration: 164 minutes
BLU-RAY : 
 

Format: Blu-Ray 50
Standard: (NTSC)
Region Code: Playable in all Regions
Audio: LPCM
Selection #: EVB334079
Catalogue #: 801213340798
MSRP: $19.98
Duration: 221 minutes
Product Details:
ADDITIONAL VIDEOS – Blu-Ray and Standard DVD (24 mins):

Seven Seas Of Rhye 2011: A compilation of all four Top Of The Pops and Rainbow Live performances from 1974 – all unseen

Killer Queen 2011: A compilation of two Top of The Pops performances, one the familiar 1974 Christmas Special, the other – discovered in the late British comedian Dick Emery's private collection, hasn't been seen since 1974, the original master tape wiped from the BBC archives.

Somebody To Love 2011: This is a new edit of the video using the four takes shot on the day, most of which has never before been seen.

We Are The Champions 2011: In 1977, cameras filmed Queen recording a new version of the song for the promo video. This video shows the band performing and mixing this unreleased version in two live takes. An instrumental version of this closed Part One of 'Days of our Lives'. Here for the first time the video can be seen in its entirety.

Crazy Little Thing Called Love 2011: A new edit of the video compiled from the rushes including outtakes and unseen angles.

Under Pressure 2011: A new video intercutting Queen's first live performance of the song in Montreal 81 and Queen + David Bowie at the Freddie Mercury Tribute.

Radio Ga Ga 2011: This new video includes unseen color footage from the 1984 Radio Ga Ga video shoot plus rushes and outtakes.

BONUS SEQUENCES – Blu-Ray (59 mins) / Standard DVD (21 mins only):

Queen: The Beginning: A detailed look at how Queen formed in 1971. Covering Smile, finding John Deacon, and the early struggles of the band.

Queen On Tour 1974-5: Featuring Queen at the Rainbow and unseen footage of the band touring Japan for the first time. Includes excerpts of 'Now I'm Here', 'Killer Queen' and 'In The Lap Of The Gods' live.

Bohemian Rhapsody: Brian reveals how John Deacon made a cut in 'Bohemian Rhapsody' for the record company, only to be dismissed by Freddie: "Either it's released in its entirety or not at all!."

Working Together: The Band discuss their working relationship, including unheard archive of Queen having a 'creative discussion!'

Leaving John Reid: An in-depth account of how the band left manager John Reid and set up Queen Productions – plus the revelation that Freddie was not sober during the making of 'Spread Your Wings'/'We Will Rock You' in Roger's back garden.

Don't Stop Me Now: Brian and Roger discuss 'Don't Stop Me Now' and the 'Guitar Version' discarded by Freddie.

Flash Gordon: A short sequence on the making of Queen's first film soundtrack, 'Flash Gordon', plus an alternate promo video.

Making Videos: The band discuss the video making process, featuring lots of unseen outtakes.

Scrabble Wars: A hilarious sequence about Queen and their love of Scrabble. You will just have to watch!

From Magic to The Miracle: In the three years between A Kind Of Magic and The Miracle, the members of Queen went through some life changing experiences in their working and personal lives. This chapter sheds light on what went on behind closed doors.

Going Slightly Mad: The Making of Innuendo: In 1991 Queen hit the charts with a No.1 album and single, "Innuendo." Creatively the band were reinvigorated, their material better than ever, but beneath the surface, they all had to face the fact that Freddie was seriously ill and time was running out.

Made In Heaven: Roger and Brian talk about the making of the last Queen album, Made In Heaven, working with Freddie in his final weeks, as well and working with the material he had recorded after he had passed away and the emotional distress it caused.

Return To Imperial: Brian returns to Imperial College and shows us around the college where he and Roger first met, formed Smile and ultimately Queen.

BONUS INTERVIEWS – Blu-Ray (19 mins). Not included on Standard DVD: The Bonus Interview section contains various interesting, funny and insightful footage that didn't fit into any particular sequence but was too great to leave on the cutting room floor.
Official website: www.queenonline.com
Label: Eagle Rock Entertainment
Hardrock Haven rating: n/a