Stéphan Forté | The Shadows Compendium
by Alissa Ordabai
Staff Writer —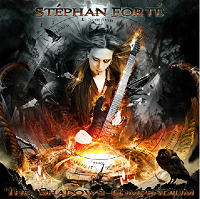 Dismissing the stereotypical presumptions about instrumental rock guitar albums as myopic self-indulgences, the Adagio guitarist's first full-length solo release is anything but an exercise in fretboard solipsism. It's all about spectacular splashes of tonal color, dynamic, racy melodies, cascades of high voltage neck-break runs, unexpected changes in time signature, and sudden harmonic detours that genuinely take you by surprise.
Forté's chops are highly commendable, but not to the point where they obscure the compositional purpose. The standout "The Prophecy of Loki" is a quintessence of his approach where A-grade technique helps realize the compositional plan. Here the songwriting is what it's all about, with dramatic juxtapositions of moods and almost theatrical sweeps of emotion.
And when it comes to technique, the 33 year-old Frenchman is a smooth operator, at times dizzyfyingly fast and extremely accomplished. But where other players like to show muscle, grit and versatility in articulation, Forté likes to give an impression of an effortless flow, with a light technique and a propensity to rely on effects to diversify his tonal palette.
Forté occasionally misfires in the good taste department, and at times manages to sound profoundly meditative and shallowly superficial both within one track (see his rendition of Beethoven's "Moonlight Sonata"), but any such slip-ups are made up for by his fierce temperament, the dramatic audacity of his vision as a composer and his refreshingly unselfconscious approach to neo-classically-inspired rock guitar which for decades has remained a mainstream taboo. So kudos the young virtuoso both for his courage and for his contribution to maintaining the public's interest in high-tech guitar in such an imaginative way.
Genre: Instrumental Guitar Rock
Track Listing:
1. The Shadows Compendium (Guest: Jeff Loomis / Nevermore)
2. De Praestigiis Daemonum (Guest: Matthias IA Eklundh / Freak Kitchen)
3. Spiritual Bliss
4. Duat (Guest: Glenn Dover / Megadeth)
5. Sorrowful Centruriode (Guest: Derek Taylor / solo artist)
6. Prophecies of Loki XXI
7. I Think There's Someone in the Kitchen (Guest: Daniele Gottardo / solo artist)
8. Improvisation on Sonata no. 14, C# minor – Op. 27 no 2
Online: http://stephanforte.org/
Hardrock Haven rating: 7.5/10