Angel Witch | As Above, So Below
by Justin Gaines
Staff Writer —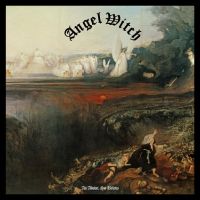 There's been a noticeable trend in recent years towards darker, traditionally-minded heavy metal. We've seen it in bands like Portrait, Witchcraft, Blood Ceremony and especially Ghost, and when you look for a common denominator one of the bands that seems to influence them all is the seminal New Wave of British Heavy Metal (NWOBHM) band Angel Witch, whose self-titled 1980 debut remains a metal milestone. It's only fitting that Angel Witch is back with a new studio album, their fourth overall and first in more than 25 years.
Their latest release is called As Above, So Below, and it's a monster. It fits effortlessly into this new wave of dark traditional metal bands, and at the same time stays true to the classic Angel Witch sound. It has the the heavy, doomy rhythms offset by subtle melodies, Kevin Heybourne's somber, otherworldly vocals, and of course that signature dark energy. The lyrics remain dark, but they're a bit smarter and less focused on Satanic imagery this time around. There are only eight songs on this one, but not one of them counts as filler. As Above, So Below is one fantastic metal song after another. "Dead Sea Scrolls," "Witching Hour" and "Guillotine" are highlights, but the whole album has classic written all over it.
With this album Angel Witch makes a triumphant return and proves they are still very relevant all these years later. As Above, So Below will not disappoint any old school Angel Witch/NWOBHM fans, and it ought to be a real revelation to those who have been endlessly spinning the Ghost debut. Actually, what we really need is a Ghost/Angel Witch tour. The bottom line is that As Above, So Below is a welcome return from a classic band, and one of the strongest metal albums 2012 has to offer.
Genre: Heavy Metal, Traditional Metal, NWOBHM
Band:
Kevin Heybourne (g) (v)
Will Palmer (b)
Andy Prestridge (d)
Track Listing:
1. Dead Sea Scrolls
2. Into the Dark
3. Geburah
4. The Horla
5. Witching Hour
6. Upon this Cord
7. Guillotine
8. Brainwashed
Label: Rise Above
Website: http://www.facebook.com/angelwitchofficial
Hardrock Haven rating: 9.25/10