Chris Shrum of Benedictum
by Deb Rao
Staff Writer —
Benedictum recently wrapped a very successful North American tour in support of their latest release Dominion on Frontiers Records. The San Diego based band fronted by Veronica Freeman is making a great impact on music fans from the East Coast to West Coast. Benedictum have a distinctive hard edge '80s sound reminiscent of Dio and Savatage. Bassist Chris Shrum recently checked in with Hardrock Haven to discuss Dominion.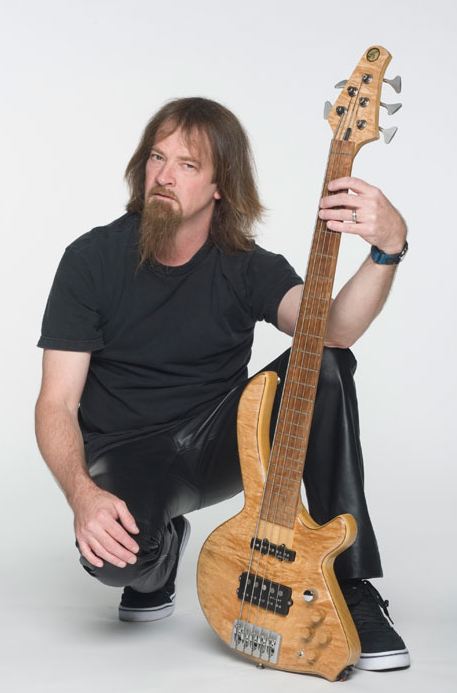 HRH: Thank you for checking in with Hardrock Haven. The band has a new album out called Dominion. Tell us about the writing process for this album.
Chris: It was basically a little bit of everybody pitched in on it. We all kind of came in and shared riffs basically. Veronica put her polish on it with her incredible vocals. She is such a great lyricist. She is a really good writer. She writes really good topics and good story like lyrics. Everything just kind of came together really well. We were working with a new producer on this Cd Ryan Greene. He did really well for us on it.
HRH: How do you think it differs from the band's two previous releases?
Chris: It is a little raw. As far as tone wise. There were some good messages on there also. It was a little bit more upbeat with different drum styles. We had a new drummer on this CD, Micky Pannone. It was kind of a new twist to everything. This was actually my first CD with Benedictum also. I have been with the band for four years now. Micky the drummer has been with the band for two and a half years.
HRH: You also have some interesting guest stars on this album including Jeff Pilson. Jeff produced the band's first two releases. What was it like working with Jeff Pilson?
Chris: Right! He does a really cool duet kind of an acoustic kind of thing between him and Veronica. They do some really cool harmonies.
HRH: You also have Rudy Sarzo appearing on the song "Bang."
Chris: Yes, he came on for a bass track on there and tore it up.
HRH: Are Jeff and Rudy two of your favorite bass players form the '80s? Benedictum kind of has a hard edge '80s influence to the sound like Savatage.
Chris: Yes, that is when we all grew up. It kind of shows. We all kind of have a little bit of different influences but writing wise our styles really coincide well together.
HRH: How did you come up with the title Dominion?
Chris: I would say at that point when we were working on the album we were going through some stuff personally and business wise. With a label at the time that had some problems and ended up going bankrupt basically. If you listen to some of the lyrics, some of the stories are very true to heart with what we were going through as far as the musical point in our life. It came from within.
HRH: It is awesome that you have a girl fronting the band. It adds a lot to the music. Veronica is such a great songwriter.
Chris: She is such a powerful persona onstage. Her vocals and everything comes off so big.
HRH: The band recently wrapped up a North American tour. I know you recently performed in Vegas. What were some of the highlights from the tour?
Chris: We started down in Orlando and worked our way up the East Coast ending up in Baltimore, MD before heading home. There were a lot of really good shows. It was strange because we started out in Florida and it was really hot. Then we went to the North East part of the coast and it was freezing cold. It was a tour of weather also. (Laughter) We meant a lot of really cool people. We played a lot of really great clubs. We worked with a really great band out of New York Des Demon. Also a female fronted band.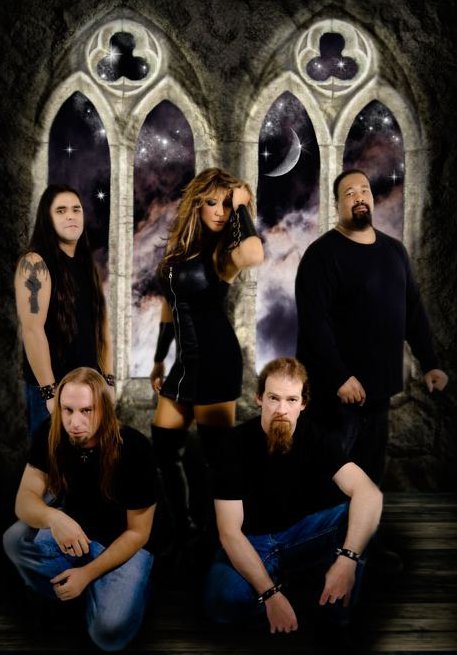 HRH: What are your future touring plans? Are you going to hit the road again soon?
Chris: We sure hope so. Things are in the works right now. Actually, at this time we are working on some new material for our upcoming CD. Jeff Pilson will be back producing this album.
HRH: As a new band on the rise. What do you hope to accomplish in the music industry today?
Chris: That is a big question. More or less getting out there supporting our new CD. Dominion is fairly new. We still need to get back to Europe.
HRH: How was the European tour?
Chris: That was more of a short tour thing. We were in and out. That was in October for the Metal Female Vocal Festival. That was a must. We had to go back. We played it before in 2008. It was a great show and incredible venue. Everything over there the European crowds and the people, the stage crew was a whole another level of production.
HRH: Is there anything else that you want to say about Dominion?
Chris: There is a lot to listen to on it. It is a good example of what we are shooting for. We will be working with Jeff Pilson again. He has such finesse with arrangement and production. I am really excited to work with him on this one. Ryan Greene was a great producer to work with also. The ways things worked out Jeff wasn't available to work with at that point and Ryan was for Dominion. It turned out really well. But Jeff will be available for our upcoming release.
HRH: That is awesome. Thank you for checking in with us Chris.