George Gakis and Friends | Too Much Aint Never Enough
by Nikiforos Skoumas
Staff Writer —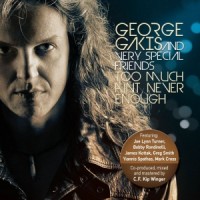 Though not quite a household name of the Greek rock/metal scene, singer George Gakis has been active since the early '90s serving such styles as bluesy hard rock and melodic rock. In recent years he has supported, and in many occasions has provided, a backing band for such artists as Kip Winger and Doug Aldrich when they visited his home country.
It would be fair to say that over the years Gakis has developed solid artistic bonds with certain leading forces of melodic hard rock such as Joe Lynn Turner, Bobby Rondinelli, Greg Smith and James Kottak, a fact which obviously played its part in Gakis being signed by the U.S. label Perris Records subsequently releasing Too Much Aint Never Enough.
All the names mentioned above perform on this album with the exception of Kip Winger who actually produced, mixed and mastered the product; and that is a huge plus, almost a guarantee, of the sound quality of the release. But what is the musical orientation of Too Much Aint Never Enough?
Well, George has always been a fan of Whitesnake which has a direct impact on the style of his music. Vocally the singer sounds like a mixture of Kip Winger and Paul Sabu with a fair bit of David Coverdale. The music is a groovy/melodic mix of Winger-meets-modern Sabu with a clear orientation towards the subject of love and fame.
In terms of vocal performance, even the strictest would have to admit that George has never sounded better. He goes through this 11 track selection very convincingly and seemingly without effort. Songs like "Street of Broken Dreams," "Days of Rock n' Roll," "License for Love" and "Rebellious Love" are solid slices of '80s hard rock, if not strikingly original.
Overall, if you are a fan of the artists mentioned above or, even better, have enjoyed the majority of Perris Records releases of the past three years, you should definitely try George Gakis' latest offering.
Genre: Hard Rock
Line up:
Nick Zouros: Guitars/Keyboards
Mark Cross: Drums
Kostas "Jo" Tzounis: Bass
Diamandis Karagiannakidis: Keyboards
Track List:
1. I married trouble
2. Fame
3. Street of Broken Dreams
4. Days of Rock 'n' Roll
5. When Opposites Attract
6. Too Much Aint Never Enough
7. License For Love
8. Under my skin
9. Rebellious Son
10. It ain't Over Till it's over
Label: Perris Records
Web: http://www.georgegakis.gr/
Hardrock Haven rating: 7/10