Hysterica | The Art of Metal
by Justin Gaines
Staff Writer —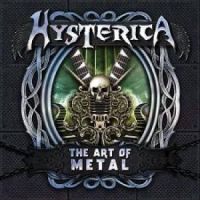 Hysterica, Sweden's self-proclaimed "girls made of heavy metal," are back with their second full-length album, titled The Art of Metal. The all-girl traditional metal band may have garnered attention by being, well, an all-girl traditional metal band, but that only goes so far in a genre where the metal has to do the talking. Fortunately Hysterica's brand of heavy metal speaks quite loud and clear and proves that this band is more than just a collection of pretty faces.
The Art of Metal continues the in your face heavy metal style we heard on the debut Hysterica album (2009's Metalwar). It's all bombastic guitar riffs, chugging rhythms, fantastic melodies (they are from Sweden after all), and shout-along choruses about kicking ass and being a warrior for metal. The vocals are mostly clean – a mix between softer singing and a more forceful style – but there's also a measure of death metal growling (quite similar to Arch Enemy's Angela Gossow) that adds an extra metal punch to a few of these songs. Highlights include "Breaking the Walls," "Fighters of the Century," "Hysterica" and the closing anthem "Daughters of the Night," but the whole of The Art of Metal is really rock-solid. You're going to bang your head to this one.
While there's an undeniable "gimmick factor" at work with this band (they're certainly not downplaying their gender or looks in the promo photos after all), you can't deny the fact that Hysterica has the musical chops to back it up. The Art of Metal is a very solid slab of traditionally minded heavy metal that's on par with recent releases from White Wizzard, Cauldron, Enforcer and Benedictum. It may be cheesy, but it still kicks ass!
Genre: Heavy Metal
Band:
Hell'n (d)
Bitchie (g)
SatAnica (b)
Anni De Vil (v)
Marydeath (k)
Track Listing:
1. Breaking the Walls
2. Fighters of the Century
3. Live or Die
4. Spirit of the Age
5. Message
6. Fear of the Light
7. Force
8. Heels
9. Hysterica
10. Daughters of the Night
Label: Black Lodge
Website: www.hysterica.se
Hardrock Haven rating: 8/10