Jimi Bell & BJ Zampa of House of Lords
by Alex Barbieri
Staff Writer —
Mission Accomplished: House of Lords on their 2012 European Tour
When you get to know House of Lords—singer James Christian, guitarist Jimi Bell, drummer BJ Zampa and bassist Chris McCarvill—you become aware that loyalty is very important to them … loyalty to each other, loyalty to their melodic rock sound, loyalty to the quality of their live shows, and, of course, loyalty to their fans.
On the return of their 2012 "Big Money" European Tour (the band is barely unpacked as this interview takes place), guitarist Jimi Bell and drummer BJ Zampa debrief Hardrock Haven about their latest trip across the Atlantic: Why they enjoyed this tour so much, why you shouldn't trust a GPS when driving through the Swiss Alps, and more.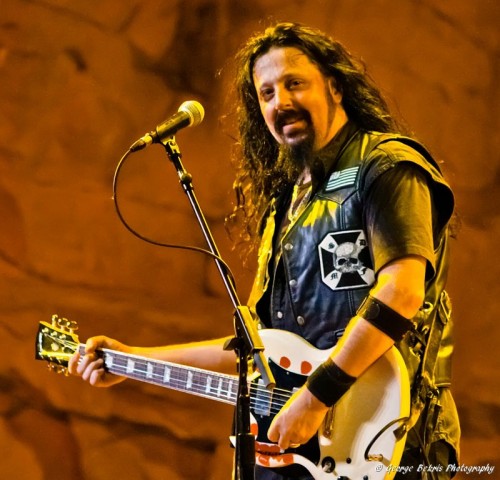 HRH: Jimi and BJ, welcome home and thanks for talking to us about your latest European tour. What are some of your favorite memories and experiences of the tour?
JB: Thank you, Alex. Well the first scary experience was when our connecting flight from Portugal to Germany for our 1st gig stopped in the middle of the runway. They discovered our planes landing gear was not working. We all looked at each other and said, "HERE WE GO!!!" So we de-boarded and they put us on another plane.
By the grace of God, that was the only bad thing on this tour. Too many great memories to list, although on our 2nd gig in Austria, well let's just say Chris had a great time with his good friend Jack Daniels!!! It was great not to be the one this time!! (Laughs out loud.)
BJZ: Just getting out and seeing all our friends over there and also making new ones, but the best thing was playing with the band again live—we haven't done that since … my god, I think it was 2008 with Jimi.
HRH: Why does HOL make a commitment to tour Europe every year, or for every new album? Is it that your record company (Frontiers Records) is located in Italy? Or is it that Europe is still such a stronghold for melodic rock and HOL fans?
JB: They are the melodic rock market and that's where we sell the most records. The HOL fans in Europe are just awesome. But the other reason is we love to tour and perform live. I can't speak for the rest, but I could do this non-stop. It's in my blood and has been since I was a kid. This is all I ever wanted to do.
BJZ: Well, I would have to say we have a better foothold over in Europe because of the Melodic Rock thing, but in all reality House of Lords is an arena rock/hair metal band from the '80s, and as of late we have a much heavier, darker vibe going on now.
HRH: Logistically, what goes into planning a European tour? Can you give us an idea of what has to happen to make the tour happen?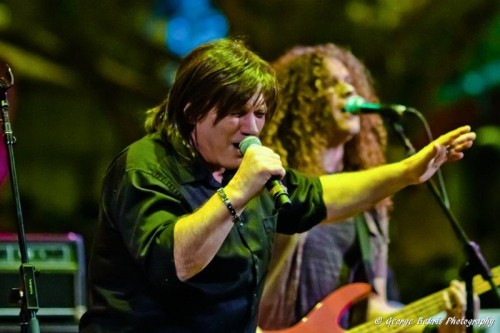 JB: That a question for James Christian because he's the one putting all this together with promoters from all over Europe. He really did an unbelievable job planning this tour. With the exception of some long travel time, there wasn't one thing to complain about and that's a fact!!!
BJZ: There is a whole lot of stuff that has to happen, and it all has to happen at key times. Right off the bat, you need to get shows booked and try to make them make sense logistically. On top of all that, the shows have to be booked early enough to get your deposit money in. Generally, you need to have all the deposits in two months before the first show. The deposit money then is spent on travel—you know, plane tickets, buses, rooms on days off—I think you get the idea. Then just when you think you're done, you need backline amps and drums. Now, you have to get all of your backline from point A to point B all before the first show. To plan a run of Europe takes about a good six months of your time and that is 24/7. If you drop the ball on one little detail, it can affect your whole tour and mess up your budget. That means nobody gets paid!
HRH: You played in 12 different countries in less than 30 days. What were your travel conditions like? Was it a lot of driving? Was it freezing cold and snowing? Take us back to the tour bus with HOL.
BJZ: A whole bunch of driving!!!
JB: Well like I just mentioned, some long drives, but not a lot of them. What really made this for us was how the promoters and James took care of us. We pretty much had four- and five-star hotels with our individual rooms each time. We ate like we never ate on tour before. Just amazing food, and the fans I can't say enough about. Just great all the way around.
HRH: Why did your sound man, Marty Weiand, keep taking pictures of the Swiss Alps? (Just making a joke here.)
JB: Because our GPS kept taking us into the Swiss Alps. BJ kept saying, "DONT GET OFF THE HIGHWAY" but NOOOOO!! Did we listen? It's a GPS … how can it be wrong??!! HMMMM. (Laughs out loud.)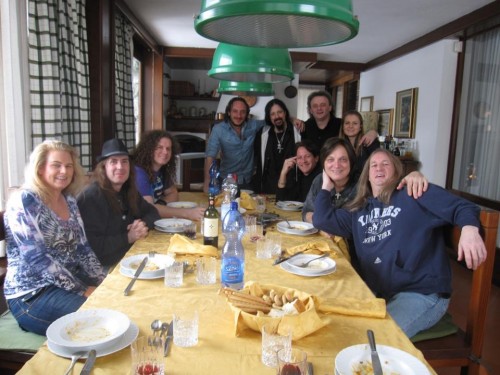 BJZ: What else could you do driving 15, 16 hours a day? It's either that or … ahh, never mind, we'll keep that for another time. Ha ha.
HRH: On Facebook, some of you mentioned that this was a very enjoyable tour—maybe the most enjoyable. What was different this time compared to previous tours?
BJZ: It was all of the above. The rooms were great, the food was out of this world and the fans are always great, but even better this time out. Everything worked out perfect.
HRH: Jimi, you have mentioned, proudly, that you were clean and sober throughout the entire tour. How is playing and traveling different for you now, compared to years past?
JB: I loved being sober for this, and the band did too. And I didn't have the desire to drink—not even once. I was just SOOOOO HAPPY to be on the road again and performing. That's all I cared about. I do want to clarify that on past tours with HOL, I never drank and did a show. I would have never done that to the band. It was only after. And on this tour, if I was going down it would have been the 2nd gig in Austria. The whole venue was sponsored by Jack Daniels and that was my drink of choice.
HRH: What bands opened for you in Europe, and anyone we should know about and be listening to?
JB: For most of the tour we had the same band called Sandalinas from Spain. Great bunch of guys and great musicians. Then when we got to Spain, we were joined by Jorge Salan who was amazing on guitar and had a great band with him as well. They're Jeff Scott Soto's band when he tours there.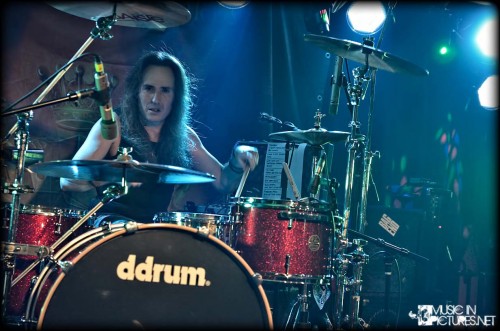 BJZ: Yeah, Sandalinas are a great bunch of guys and real troopers.
HRH: Regarding Europe, where are some of the most rabid HOL fans? Most beautiful women? Best food? Most impressive scenery and architecture?
JB: As far as women go, you can't answer that. There are beautiful woman all over the world. As far as food goes, I don't remember having a bad meal anywhere and we didn't get to see much except out the windows as we were driving but Chris (McCarvill, bassist) and Marty (Weiand, sound man) took a lot of pictures. Chris is putting together a DVD of the whole tour. (You read it here first Hardrock Haven readers! – Ed.)
BJZ: As Jimi said, there are beautiful women all over the world, but when it comes to food you have to give it to Italy and then Spain, but that's not saying the food wasn't good in other places, but if I had to pick personally, I would go with Italy and Spain.
HRH: What are some of the "comfort items" you each bring on tour with you? Things you bring from home to make the tour go easier.
JB: NOTHING!!! I was lucky to get my guitars on the plane. The weight restriction for flying is just crazy. One bag, 50lbs or less. Try packing for a month or two month tour and keeping the weight to 50lbs. Don't forget, besides clothes I had two guitars and my pedal board, 40 sets of strings, all that shit adds up. BJ had sticks, pedals mixers. It's insane.
BJZ: Not much! Since they only let you bring 50lbs on the plane, you can't bring too much. And you never know if you will be able to wash your clothes, so I think you get the picture.
HRH: Last question: Is there anything you'd like to say to your European fans?
JB: We love you and appreciate all the support you give us past and present and we can't wait to come back and see you next year!!
BJZ: Thank you all so much for coming out and supporting HOL. For without you, we would not exist. We are here for all of you and we will continue to give you all we got every time we step onto a stage or go into the recording studio. Thank you, thank you, thank you, 'til we meet again.
HRH: Guys, thank you again—this has been a lot of fun! Please keep us posted on what HOL is up to.
House of Lords is:
James Christian (v)
Jimi Bell (g)
Chris McCarvill (b)
BJ Zampa (d)
House of Lords 2012 "Big Money" European Tour
February 1, 2012, Munich, Germany
February 2, 2012, Innsbruck, Austria
February 3, 2012, Weert, Netherlands
February 4, 2012, Essen, Germany
February 5, 2012, Obermarchtal, Germany
February 6, 2012, Wuppertal, Germany
February 8, 2012, Trieste, Italy
February 9, 2012, Genk, Belgium
February 10, 2012, Lodi, Italy
February 11, 2012, Trofarello, Italy
February 12, 2012, Prateln, Switzerland
February 14, 2012, Budapest, Hungary
February 15, 2012, Prague, Czech Republic
February 16, 2012, Jonkoping, Sweden
February 17, 2012, Vaxjo, Sweden
February 18, 2012, Trolhatten, Sweden
February 19, 2012, Stockholm, Sweden
February 23, 2012, Madrid, Spain
February 24, 2012, Valladolid, Spain
February 25, 2012, Sevilla, Spain
February 27, 2012, Lisbon, Portugal
Like House of Lords on Facebook:
http://www.facebook.com/houseoflordsofficial
Watch the official video for "Someday When"
http://www.youtube.com/watch?v=Va6gk6GYgfs&ob=av2e