by Ron Higgins
Staff Writer —
Frontiers Records is proud to announce the release of a brand new album from Sunstorm, vocal great Joe Lynn Turner's popular AOR side project with German/American producer Dennis Ward. EMOTIONAL FIRE was released on February 28th in North America. EMOTIONAL FIRE features production and mixing by Dennis Ward (Pink Cream 69, Place Vendome, Angra) and a track listing rounded out with songs written by the likes of Soren Kronkvist (Crash the System, Issa), Tom and James Martin (Vega, Sunstorm, Khymera) and Daniel Palmqvist (Xorigin, The Murder of My Sweet).
Joe Lynn Turner's impressive career features more than 60 album credits. From his early days with Fandango to the success he later enjoyed with (Ritchie Blackmore's) Rainbow, Deep Purple, Yngwie Malmsteen and an 11-album solo career, the New Jersey-born singer has covered a wide number of musical styles with his inimitable vocals. He has also fronted several star-studded projects including Brazen Abbot, The Hughes-Turner Project (with ex-Deep Purple's Glenn Hughes), Mother's Army, the "all-star" group Big Noize and many others.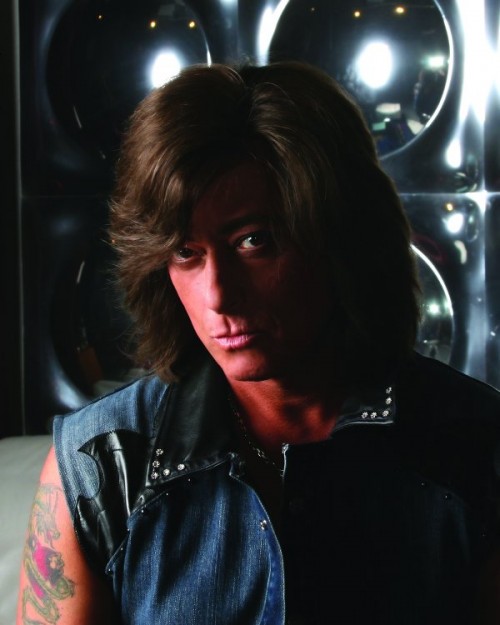 Hardrock Haven: Hi Joe. Thank you for taking the time to speak with us today. It's an honor speaking with someone who has been such an integral part of the world of rock music.
Joe Lynn Turner: I thank you for your kind words.
HRH: I've been listening to the new record now for several weeks and I really love it. Right from the opening track, "Never Give Up," it grabs you by the throat and doesn't let go. It's the perfect cruising-with-the-top-down kind of album. What kind of feedback have you gotten so far?
JLT: The fans seem to love Sunstorm once again! The guys at Frontiers had a great concept and the fans are keeping it going!
HRH: The first two Sunstorm albums consisted of songs you wrote back in the '80s, whereas this third album is primarily a collection of songs that featured you as a background singer for other artists. Interestingly, three of the songs were written by Michael Bolton. "Gina" was originally featured on Michael's 1987 album The Hunger and the title track "Emotional Fire" and "You Wouldn't Know Love" both appeared on Cher's 1989 album Heart of Stone. Although it may seem strange to some that this album features three Michael Bolton songs, anyone who is familiar with Michael's early work knows that he was basically a hard rock singer on his first couple of solo records before switching to the Adult Contemporary work that made him famous.
JLT: Thank you for pointing that out. So many people do not know this. Bolton's rock material was played on many AOR stations, especially in the Northeast/USA. He had a major hard rock following in his early years.
HRH: In fact, prior to his solo stuff he was a member of a hard rock band called Blackjack. Are any of the other songs on the record songs you sang backup on for other artists or just the three Michael Bolton tracks?
JLT: On this 3rd Sunstorm, there are the two Bolton tracks and one Cher track. I sang back up vocals on those songs in the '80s. As for the others, I did not originally sing or collaborate on those. Frontiers picked them out because they go along with the Sunstorm sound and concept and fans seem to like them.
HRH: I found it interesting that the new record has two songs named after women, "Gina" and "Emily." Do you know if these songs were written about anyone in particular or what the inspiration was for them?
JLT: I do not know about Emily, but Gina was supposedly part of Bolton's life at one point.
HRH: From the feedback I've seen so far people really seem to be enjoying this new record. It's probably too early to ask, but do you think there will be a 4th Sunstorm album?
JLT: I sure hope so! I did not get a chance to contribute any of my songs from my archives this time. My hard drive was packed away during a move in the USA while I was in Turkey on both business and vacation. The guys at Frontiers were on a deadline. So… maybe I will bring out some of those other songs in the 4th Sunstorm (if a 4th one is recorded).
HRH: Are there any plans to do any kind of touring to support this record? I realize that it's a project so a tour probably isn't very likely but maybe you could do a one-off show for a festival or two. What are your thoughts?
JLT: Touring? I wish! I hope! But, we would need some serious financial backing from either the record company or sponsors. If we were offered a festival spot, if it made good business sense and if the guys who played on the record, including Dennis Ward, were available… sure that would be great!
HRH: Speaking of the amazing Dennis Ward, he seems to have a golden touch when it comes to melodic AOR releases. Tell me about your relationship with him. Did you get to know him through Frontiers or did you have a relationship with him before that?
JLT: I had been familiar with his music with Pink Cream and other projects but, no, I did not know him before Sunstorm. However, I do want to mention that I am really glad we connected because he is one of the best producers out there…maybe a bit underrated by those who have not heard of him.
HRH: Many people may not know that before you focused on being a singer you were actually a guitarist. So did you teach Ritchie how to play or Yngwie?!
JLT: LOL… No… I did not teach either to play anything! They are both brilliant!
HRH: Seriously though, do you play any guitar on the new album?
No, I did not play guitar on this or any of the Sunstorm CDs. The Sunstorm musicians are all superb so there is no reason to do so… I just concentrate on my vocals.
HRH: Growing up in the video age of the 1980's I vividly remember the tremendous impact videos had on music. Specifically, I remember learning about Rainbow from watching some of your videos. I still can't walk past a bunch of mirrors without thinking about the video for "Stone Cold!" And "Street of Dreams" was really trippy with the psychiatrist kidnapping his patient's girlfriend or something like that. Are there any plans to do any videos for this new record?
JLT: Thank you for enjoying those memories. I agree, Rainbow had some good videos including one that won an award. There are no plans to do a video for any of the tracks on Sunstorm at this time.
HRH: I saw you at the first MelodicRockFest back in 2007. One of the highlights of the night for me and many of those in attendance was hearing you and Jeff Scott Soto singing "Since You've Been Gone" together. Do you have any special memories from that performance or that event?
JLT: It was a great event! I saw so many people I had not seen in a long time so it was like a "lovefest."
HRH: Several years ago I transcribed an interview for a friend of mine from Down Under between him and you. One of my favorite parts of the interview was when you talked about saving Yngwie Malmsteen's life. That was some crazy stuff! What, if anything, is your relationship with Yngwie today?
JLT: It is civil. We did end up working together on a cover CD that he did several years ago and then we both played in Russia for the Prime Minister's cabinet in a command performance concert.
HRH: That's great to hear. Many singers' voices seem to degrade over time but yours sounds exactly the same if not better than it did way back in the early days when you used to sing for Fandango. What do you do to keep your voice in such great shape?
JLT: I eat very healthy, stay hydrated and I get a lot of sleep. My management will often negotiate a day off between every two tour dates because more than two in a row can really stress your voice out. It's better to do two on, one or two days off, preserve the voice and give the fans who go to the shows a better show.
HRH: I've heard you refer to yourself as having a chameleon-like voice with the ability to sing different styles and with different techniques (head, chest, throat). Have you always been able to sing like that or is that something you've trained yourself to do over time?
JLT: It has developed over time to a degree but also comes from imitating other singers to stretch out and challenge myself.
HRH: Three or four years ago you did a really cool version of AC/DC's "Back in Black" with Phil Collen of Def Leppard on a tribute album (Thunderbolt). You pulled off some amazing gravelly vocals that sounded nothing like the smooth tone we usually expect from you. You were definitely giving Brian Johnson a run for his money!
JLT: Several fans tell me they like my interpretation of "Back In Black" because it sounds similar to Brian Johnson but also has my own personal stamp on it. The greatest compliment I did receive was from Roger Glover when he said, "Joe Lynn Turner has found his OWN voice."
HRH: I know that you guys are friends so I'm curious if you've had a chance to read his new book?
JLT: Thank you and no, unfortunately I have not read his book yet but I did get to sit in the Formula One racing car!
HRH: That's awesome! By the way, can he really make his voice sound like classic crooners like Dean Martin?
JLT: Absolutely! I do Frank (Sinatra) and he does Dean (Martin) when we get together and have a few drinks.
HRH: Ha Ha, that's great. I'd love to hear that! As your fans are well aware, I'm sure, you, along with Ritchie Blackmore's son Jürgen and other former members of Rainbow, formed a band called Over The Rainbow a few years ago and it was quite popular, with 15-20,000 people watching you at Sweden Rock Fest. What is the status of OTR right now?
JLT: Over The Rainbow is on hiatus for now. We all have other projects we are working on. We could come back for a show or festival if it was the right situation, financially, and if everyone was available. So, I do not want to rule that possibility out.
HRH: Okay, good to know. Even if this project is temporarily or permanently on hiatus, is there any chance there will be a studio or live album from this project?
JLT: That is not a part of the plan right now.
HRH: Got it. I loved the story of your initiation into Rainbow and how you thought it was a joke when Ritchie Blackmore first called you. What is your relationship with Ritchie today?
JLT: It's very polite, courteous. I sent him and Candace well wishes on the birth of their child. We exchange messages off an on.
HRH: Cool. I read in one of your interviews that you actually received a few phone calls from the President of Russia, President Medvedev. That's pretty interesting. Can you tell us what that was all about?
JLT: Just to clarify… he did not call me on the phone. I performed for him/his staff.
HRH: Oh, cool. Thanks for clarifying. What is on your mp3 player these days? Any newer bands?
JLT: Johnny Lang is amazing! I also like Nickelback, Papa Roach, Apocalyptica and I especially enjoy Rammstein while working out.
HRH: Do you have any plans to do any more HTP stuff with Glenn Hughes? I assume he's pretty busy with Black Country Communion and of course you're busy so I'd be surprised if you guys were working on anything. I will say, it's nice to see Glenn having such success with BCC. He's an incredibly talented guy and the acclaim is well deserved. Joe Bonamassa is amazing too. I know you worked with him on some of your early solo stuff. Did you always know that he'd be such a big success?
JLT: No immediate plans but it would be great to do another HTP record. He and I are both really busy with other things. I agree with you… Bonamassa is amazing. I was always in his corner, hoping his music would take off and be successful. The business is crazy sometimes in that it does not always reward people with enormous talent. I am glad he has had a lot of success.
HRH: Me too. Mother's Army released three albums back in the '90s. Is there any chance we'll see a 4th album?
JLT: I wish! The boxed set came out and then there was some talk about a 4th but the financial situation was not right… it's an unfortunate state of the industry right now.
HRH: You also worked with a Norwegian bassist Jan Holberg (The Jan HolbergProject), what can you tell us about that?
JLT: He contacted me. I liked his material. He was great to work with both in the collaboration/recording process and on tour. We did several shows together. It looks like we will be joining forces for more songs on his next record and more shows.
HRH: Great! Do you have any plans yet for your next solo album?
JLT: Nothing concrete at this moment.
HRH: You did a cool version of "Street Of Dreams" on the Blackmore's Night album The Village Lanterne a few years ago (2006). Is there any chance of more collaborations between you guys?
JLT: I don't think so but if they asked me again, I would certainly consider it.
HRH: Throughout your long career you have traveled the world over many times. What have been some of your most memorable experiences from traveling the world?
JLT: Too many to list or describe! I could write a book! It's just the overall experience of everything from tasting new foods to experiencing another culture. I lived in Turkey and Russia for long enough to feel a bit like a resident. I think everyone should do as much traveling as he or she can afford. It makes you a much larger person…the best education ever.
HRH: As a man that has been around the block a time or two, you look great and you sound great. Is there any advice you can give our readers for staying young at heart?
JLT: Yes… never surrender to conformity based on your or age, decade, etc. Youth is a state of mind… young hearts are free.
HRH: Great advice! I really like the concept behind your Big Noize project too, which featured Carlos Cavazo (Quiet Riot/Ratt), Vinny Apice (Black Sabbath), & Phil Soussan (Beggars and Thieves). Is this project still active?
JLT: It's not "active" at this moment in that we have no confirmed shows or new "news" to pass along but that is because we also have other things we are working on now. If the right situation was proposed to us and if we were all available, we may get together for it… a show, festival or other offer.
HRH: "Battlefields" is a cool song so it would be great to hear some more original stuff from you guys.
JLT: Thank you. As I say… never say never. I love working with the Big Noize guys and we could definitely write more material if the situation and our schedules allowed.
HRH: Who are your vocal and guitarist inspirations?
JLT: Vocally, Paul Rodgers is my main influence. Guitar? Hendrix, of course!
HRH: Do you have any final thoughts or comments you'd like to share?
JLT: I would like to thank the fans for their continued support of my solo and other projects such as Sunstorm. They help keep me young and passionate about the music! I would also like to thank Hardrock Haven for your support.
WORD ASSOCIATION:
• Deep Purple – My favorite classic rock band
• Rainbow – My 2nd favorite classic rock band
• Ritchie Blackmore – Brilliant
• Yngwie Malmsteen – Intense
• MTV – Video killed the radio star
Favorites:
• Restaurant – Biaggis in Colorado Springs
• Sport – American Football
• Soda – it's poison; I do not drink it
• Singer – Paul Rodgers
• Band – (artist) – Johnny Lang
• Song – Try a Little Tenderness from Otis Redding
• Actor – Al Pacino
• Drink – Martini Bianco
• Sight – My wife naked
• Smell – My wife
• Possession – guitars
• Fast food restaurant – poison; I do not eat at those places
• TV Show – Fashion Police (I do not watch a lot of TV shows)
• Cartoon Character – Tasmanian Devil
• Saying/Quote – "Angels Can Fly Because They Take Themselves Lightly"
Either/Or:
• Pepsi or Coke? – neither
• Domestic or Import? – import
• Football or Soccer? – Football (American)
• Radio or Television – It depends on what is on
• Beach or Mountains? – On the beach where you can also see the mountains.
• Dogs or Cats? – Dogs!
• Ocean or Pools? – Ocean
• Summer or Winter? – Summer
• Sunrise or Sunset? – Both are magical
• Chocolate or Vanilla? – Chocolate
• Big Mac or Whopper? – I don't eat either
• Beer or Wine? – Peroni Beer
• Coffee or Tea? – Coffee
• Mary Ann or Ginger? – Ginger
• Sammy or Dave? – If you mean Van Halen…Sammy.
Complete The Sentence:
• Never in my life have I been… "with" a man.
• When I'm nervous… I talk a lot.
• The last song I listened to was… something by Johnny Lang.
• When I was 5… I was the person I am now (according to my Mother)
• Last Christmas… I flew home from Russia and made it just in time for my daughter's Christmas dinner.
• The happiest recent event was… my marriage.
• If I were a character on TV I'd be… Al Jolson…I love to Singa!
• By this time next year…I will be rocking (and rolling).
• My current gripe is… GMO (genetically modified organism) food.
• I have a hard time understanding… what's going on with the state of the world right now.
• You know I like you when… I tease you.
• If you visited the place I was born you would find… very humble beginnings.
• The world could do without… war and greed.
• The worst job I've ever had is… as a construction worker on a building working with concrete.
• The best job I've ever had is…mine!
• Most recent thing someone else bought me was… an inspirational book by David Spangler called "The Call."
• The last book I read was… "The Call"
• The best book I've read was "The Biggest Secret" by David Icke.
• The last movie I saw was… Hugo.
• The best movie I've ever seen was… Apocalypto.
• My hidden talent is… cooking.
• One thing you probably don't know about me is… I am hysterically funny.
• Something I miss from when I was a kid is… innocence.
• My pet peeve is… greedy, phony, arrogant people.
• The best advice I ever got was… to never give up!
HRH: Thanks, Joe. We really appreciate your taking the time to speak with us today. Best wishes for continued success in all of your musical endeavors!
For more information, please visit: www.joelynnturner.com.