Overlorde SR | Medieval Metal Too
by Justin Gaines
Staff Writer —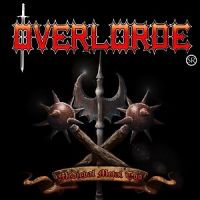 Heaven & Hell Records went deep into the vaults for the sixth entry in their Lost Relics reissue series. North Carolina's Overlorde (now operating under the Overlorde SR moniker) was active from the early part of the 1980's, releasing just one demo – the 3-song 1987 release Medieval Metal – before fading away entirely… at least till now. With the new Medieval Metal Too collection, fans of cult heavy metal can finally hear one of the era's best-kept secrets.

Medieval Metal Too features the original songs from the Medieval Metal demo, along with the version of "Keeper of the Flame" that appeared on the Metal Massacre VIII compilation as well as four additional previously unreleased recordings. Overlorde SR may have got their start as a circuit rock covers band, but it's clear from their early recordings that what truly inspired the band was Iron Maiden and the rest of the New Wave of British Heavy Metal Scene. The hard-charging guitars, melodic focus, sci-fi lyrics and pure heavy metal energy bring to mind the best of Praying Mantis, Quartz and Satan, but with that early American power metal edge.
The songs on Medieval Metal Too are all classic examples of why the '80s underground metal scene had so much to offer. Any one of these songs will get the blood pumping and heads banging, from the epic "Keeper of the Flame" to the anthemic "Knights of the Realm" to the sci-fi "In the Year 2525," and while the production values are a bit rough (despite a solid remastering from the available source material), that rough and ready sound only adds to the album's aesthetic. It's like a Neat Records 7" hitting the turntable. You're instantly transported back 25 years.
It's always great to discover previously forgotten heavy metal bands, especially when they're this good. If you're a serious fan and collector of '80s American heavy metal, especially bands like Obsession, Blacksmith and Savage Grace, Medieval Metal Too is a must-have release.
Genre: Heavy Metal
Band:
George "Wildman" Koerber (g)
Darrell Collins (b)
Steve Sosa, Jr. (v)
Larry Bledsoe (d)
Stanley Draughton (g) (tracks 1-4)
Lewis Hernandez (g) (tracks 5-7)
Robbie Green (g) (track 8)
Track Listing:
1. Full Speed Ahead
2. Keeper of the Flame
3. Enchantress of the Night
4. In the Year 2525
5. Knights of the Realm
6. So Be It
7. Trouble
8. Keeper of the Flame (Metal Massacre version)
Label: Heaven and Hell Records
Website: www.facebook.com/OverlordeSR
Hardrock Haven rating: 8.5/10