by Nikiforos Skoumas
Staff Writer —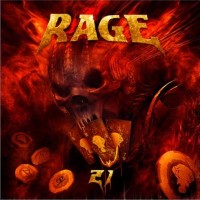 German heavy-melodic-metal legends Rage are back with their brand new album 21, that's how many studio works they have put out since their formation in 1985. One has to hand it to Rage, they have been through the various twists and turns of the music industry for the better part of 27 years and despite changes in line up, contracts and popularity standards, they have been undeniably consistent in their releases putting out a studio album almost every year, or, every second year.
21 is the third studio album to feature the established line up of founder bassist and vocalist Peter Wagner, long serving guitar virtuoso Victor Smolski and drummer Andre Hilgers.
During the world-tour for their previous album Strings to a Web, Wagner made clear that Rage will be following a new business, artistic model in the way they put out music. It goes something like this; each year they will be marketing a straightforward heavy metal album (in their traditional '80s, early '90s style) followed by a second album which will feature all the symphonic, experimental elements that have become a key part of their identity since the late '90s.
Well, as you would expect, 21 falls in the first category being a full-on heavy metal attack that takes no prisoners. It is just about the thickest and heaviest release Rage have come up with, though thankfully not obscenely fast in tempo. 21 is strictly a guitar-bass-drums-vocals affair with minimal use of background keyboards and no orchestral arrangements. Still experimentation seems to be in Rage's DNA so clearly the trio tries to make the best out of these four instruments.
It is perhaps surprising for one to find that Hilgers is the one pushing the envelope further on this new album. Andre comes up with really unconventional drum patterns and fills while retaining the metal-drumming identity and this effectively grants 21 a musical personality of its own. On the other hand, 21 is far from Victor's best guitar performance, baring in mind his virtuoso status, while Wagner is back to the usual vocals/bass business while choosing to sing one of the songs on growls (which clearly does not do the tune any justice). That is not to say however that 21 does not feature standout material; "Concrete Wall," "Black and White," "Destiny" and the superbly melodic "Feel my Pain" are prime examples of Teutonic heavy metal a-la Rage.
Bottom line: 21 will definitely not let down long term fans of Rage, particularly those who have followed their career over the decades. On the other hand new admirers might be startled at the rawness of 21, that's Rage after all.
Genre: Heavy Metal, Melodic Metal
Line up:
Peter "Peavy" Wagner – vocals, bass
Victor Smolski – guitar
André Hilgers – drums
Track List:
1 – House Wins
2 – Twenty One
3 – Forever Dead
4 – Feel My Pain
5 – Serial Killer
6 – Psycho Terror
7 – Destiny
8 – Death Romantic
9 – Black And White
10 – Concrete Wall
11 – Eternally
Label: Nuclear Blast
Hardrock Haven rating: 7.5/10