Zero Down | Looking to Start a Riot
by Derric Miller
Staff Writer —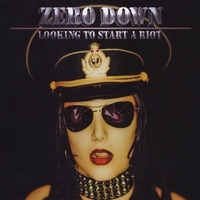 Hailing from what is purportedly one of the Top 10 most miserable cities in America — Seattle, Wash. — the smiling, crazy, energized, fun as hell guys in Zero Down should probably be a larger part of that whole calculation, because when you hear their new studio album Looking to Start a Riot … you will grin like mad. In a good way … not in an insane way. Ahem.
The third studio album from this razor-edged quintet continues their penchant for penning testosterone-fueled Metal anthems, ripping guitar solos, a sense of humor few bands portray, and over-the-top vocals from front man Mark Hawkinson, aka Hawk.
While obesely heavy — the music! — Zero Down still somehow manage to create memorable hooks in every track you hear on the new release. Starting with "Dead to Life," the searing riffs remind you of why Zero Down's music is so refreshing. They somehow hearken back to the days of Dio and Priest but bring a lot more … grit. Some of this is due to Hawk's snarling vocal style; it's part shouting on-key and part screaming in a scratchy falsetto like Udo, also on key though. The guitar solo from Lenny Burnett impresses, and if you have had the pleasure of seeing them live (Hardrock Haven has) then you'll know this is no studio magic — the guys can play.
"Year of the Rat" leaps forth and gallops into your temple with the same fever as the opener. One thing you'll notice is that while the band wields a lot of talent, "nuance" isn't one of them. The music just slaps you in the teeth, and your bloody smile is better off for it. If these guys ever made it over to Wacken Open Air, you'd see 10,000 new Zero Down fans be baptized within one track. That's the kind of (mostly) European Classic Metal vibe Zero Down oozes.
The next few songs were written with the same amounts of napalm, so when you come to "Last Days of the Crow/Knockout Bridge," which is also the longest song on the release, you get to catch your breath, slightly. At least for the first 1:30. As mentioned … not much nuance. But you can see the band branching out into new areas here with a more complicated opening and not just riffing away at your skull. Of course, with lines like "Fortress of fire! Light my fuse!" it's still Zero Down.
By the time you land on "Battle at the Battle of the Bands" you should be frothing nicely. And they end the riot act perfectly with the heaviest, fastest, most rabid composition here. Drummer Tyler Lindsley must lose about five pounds every time he practices this song; it's not just the fills, it's the frenetic tempo that never lets up. "Two bands enter, one band leaves! Zero Down enters … no band leaves!" If you wondered if they have a little Manowar-style bravado in them … yeah, they do.
Zero Down has been a Hardrock Haven favorite since the first time they sent in an album for review. They keep improving while somehow devolving into the purest sound they can unleash. It's not only that they are getting "better;" it's that they are getting more "Zero Down-ish." This is who the band at its core, and Looking to Start a Riot is the band finding their basest musical identity and puking it onto vinyl/CD/MP3 for you to relish.
Track listing:
1. Dead to Life
2. Year of the Rat
3. The Vulture
4. Broken
5. Last Days of the Crow/Knockout Brigade
6. Sweet Revenge
7. Snake Eyes
8. Battle At the Battle of the Bands
Band:
Lenny Burnett, Guitar/Vocals
Ronnie Banner, Bass/Vocals
Mark "Hawk" Hawkinson, Lead Vocal
Fred Speakman, Guitar/Vocals
Tyler Lindsley, Drummer
Genre: Heavy Metal!
Online: www.zerodownrocksonline.com
Hardrock Haven rating: 8.1/10