Atkins/May Project | Serpents Kiss
by Ron Higgins
Staff Writer —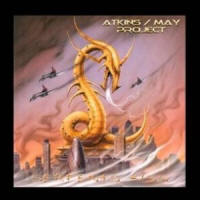 Serpents Kiss is the first album from the unlikely duo of original Judas Priest vocalist Al Atkins and Christian metal guitarist Paul May. Although this is their first full-blown collaboration, May has appeared on some Al Atkins solo albums in the past. So the question is, does this two-man project work? Does Bret Michaels like bandanas?
Al Atkins brings some name recognition, to a degree, thanks to being an original founding member of British heavyweights Judas Priest. He has also released six solo albums and is currently fronting the band Holy Rage. May on the other hand is lesser known despite being a fairly prolific session musician (recording on over 50 albums) and playing in bands A.N.D. & Temple Dogs. Although Al brings the name to the project, it's May who really shines on this release. Not only is he the primary songwriter but his guitar slinging is top-notch. People who have never heard of Paul May will certainly know his name after this one.
To those who aren't familiar with Al's vocal style, this release might appear to be somewhat novel. However, this is by no means a novelty record. This is a legitimate heavy metal record. So how do the vocals sound on this record? Do they sound anything at all like The Metal God? Well, not really. He mostly sings in a lower register with a bit of a growl. He does hit some high notes but it sounds strained at times. He's not bad but he's no Halford. But then again, who is? He can definitely sing though but it's a bit like comparing Bruce Dickinson to Paul Di'Anno. They can both sing but they're not in the same league. But you have to give credit to anyone who helped contribute to the seminal Judas Priest song "Victim of Changes". What about the guitar work? Absolutely blistering throughout. Very impressive.
This straight-ahead metal record kicks off in interesting fashion with "The Shallowing." The song starts with a slow, crunching riff layered with sounds reminiscent of warnings being sounded prior to a missile attack, which is quite apropos as this tune kicks off an auditory assault of pure metal about 60 seconds in. For those who may never have heard Halford's predecessor, this album teases like a married stripper feigning interest while being plied with $20 drinks, making the listener wait a full minute and a half before finally hearing Mr. Atkins's musical snarl. The track pounds along for the rest of the song but slows back down towards the end, firmly establishing a rather dark and gloomy mood.
Although this is a solid record all the way through, as usual, there are several standout tracks. These include "Dream Maker", "Signz", "Fight ", and "Betta Than Twisted". "Dream Maker" has an infectious driving rhythm. And you have to love a song that starts off with a gong. It's like a law or something. This is a slower but heavy groove song with impeccable guitar wizardry, which is prominently featured throughout the album. The double-bass drumming is a nice touch too. "Signz" is another pleasant chugger with some cool high/low vocal multi-tracking that would make Axl Rose proud. The spiritual lyrics that pervade this album shows up in full force here with lyrics like, "better watch and pray, it won't be long, gotta keep the faith bold and strong, and when the prophets say I Am The One the warning signs have just begun," which are both spiritual and apocalyptic, adding to the dark, doom-like atmosphere of this release. "Fight" may be the best song on the record, which is no doubt why it was chosen as the first single and also has a cool video. Van Halen could take a hint from such a radical marketing decision. It has a classic metal riff with lots of testosterone-filled machismo lyrics like, "You can't break me, you won't shake me, you don't have what it takes. In your mind, you will find, you've made a big mistake. I'm a fighter and I'm delighted to take you … you better run, because I'm a loaded gun, don't walk in my sight because I'm a troubled man and I'll make my stand." The chorus upholds the swagger, advising, "You better fight, you can stand your ground, you better fight because I'm taking back my ground." An absolute beast of a song. Finally, "Betta Than Twisted" has another catchy riff and employs more spiritual lyrics, comparing the song's antagonist to the ultimate betrayer Judas.
Another interesting tune is a cover of the KISS classic "Cold Gin." It's not as good as the original but Al's growl is similar to Gene's so it actually works pretty well. The most interesting element of the song is a surprise addition towards the end of the song where they start playing a few bars of another KISS classic, "God of Thunder." Merging these two songs together is a bit of unexpected creative brilliance.
The album ends on a high note with an eight and a half minute track called "Theatre of Fools". Although it's slower at times it has more exceptional guitar work that leaves the listener with no doubt that this guy can seriously shred. It's a worthy closer to this fine album.
Overall, this is a very good album that is sure to please any fan of classic metal. Some of the songs aren't as strong as others but they're all decent. The biggest complaint is that this release only features 10 tracks, one of which is a cover tune so only nine true Atkins/May songs are on offer here. However, it's clear that this is a partnership that works and hopefully they decide to collaborate again in the near future. If the intent was for the metal world to stand up and take notice… mission accomplished.
Genre: Heavy Metal, Classic Metal
Band:
Al Atkins – Vocals
Paul May – Guitars
Track Listing:
1. The Shallowing
2. Traitors Hand
3. Dream Maker
4. Can You Hear Me
5. Signz
6. Fight
7. Judge
8. Betta Than Twisted
9. Cold Gin
10. Theatre of Fools
Website(s):
atkinsmayproject.com
AlAtkins.com
PaulMayMusic.co.uk
Label: Gonzo Multimedia
Hardrock Haven Rating: 8/10