Dennis Develin | Tip of the Tongue
by Hardrock Haven
Staff Writer —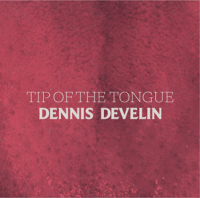 There's some music in life that is custom made for romance, for love, for candlelight interludes and Harlequin fairy tales. And then there's the music made by Dennis Develin, a flat out love-hating tat-covered ass kickin' SOB who just happens to sound like he has Lemmy's blood in his veins. On his new album Tip of the Tongue, Develin brings you into his world of violent love, men who are so browbeaten they can't "perform," sheer anger at the world around you … and of course an ode to all of the beautiful harlots of the '80s. Yes, it's as good as it sounds …
"All You Got" kicks things off, a nice little tale about one-night stands and giving women nicknames like "Head Queen." If any of his music is taken from his actual life, Gene Simmons will be jealous. The music is as sleazy as the story, a grinding, pumping anthem with Develin's sneering gritty vocals singing "Give me all you got, cuz it's been itching, down her kitchen, all night!" As the song comes to a close, Develin mocks women's incessant need for marriage after fornication. It's really honest and cutting—he isn't wrong.
The next track continues the ravenous sexuality, "Backseat Fighter." Basically, it's a song about lovely lass named Gina (pronounced Ji-na) and that tells you about as much as you need to know. "She fits like a glove, she's one of a kind, she lives for the night …" You can hear the idiot experts on shows like American Idol saying "you know who you are as an artist; be true to yourself." Well, if that's the key component to artistry, Develin has every other artist in the world beat.
"Can't Die Fast Enough" is heavy … duty. It's all carnal pumping and the riffs from Jonas Roxx cut to the chase. "I got a gun, I got a knife. A rope and a noose and an alibi … you can't die fast enough." Yeah … perchance all of this tainted love is creating "anger issues." If you are pissed at the world, turn this up to 11, thrash around, scream your head off, and use it as a cathartic way to stay out of jail. It's truly vicious … and awesome.
If you thought a song like "Never Let You Go" would be a step back from the aggression, especially based on its mid-tempo pacing and melodic guitar leads, you'd just be wrong. Develin takes the edge off his voice and opens with lines like, "I have waited all my life for a girl like you," which seems positive. And Develin plays no studio tricks with his vocals; if you catch him playing live it'd sound just like this final cut. It's honest, earnest singing and it matches the song to perfection. Of course, it's Develin, so the happy story ends with "Sometimes I hurt you; that's the name of the game. We will be together … until the end of the days."
But don't fret—it's not ALL dark and gloomy. "Ladies of the Eighties" was first heard on Perris Records compilation Hollywood Hairspray 7. When you hear the opening guitar refrain you'll be thinking "Summertime Girls" or something that poppy, that lighthearted and the song is all of those things. It's really a nostalgia track, an anthem about how it used to be so easy for men and women to copulate without all the aftershocks. "I miss the fire; today, there's no desire! I miss the ladies of the eighties!" Develin has a hell of a sense of humor too, especially on lyrics like, "Today we got the Internet, and we're only touching ourselves!" This final track is the bonus cut, and Develin did well by placing it on the release, if only to offset the visceral messages heard before it. While it veers far off course from tracks like "Can't Die Fast Enough," it's believable … because it's about sex, after all.
Tip of the Tongue is not a carefree, summertime driving album. This is what you listen to when you walk in on your lover cheating on you … when you find out your child isn't really your child … when you are in the middle of a relationship so toxic you just want the lights to go out … and finally, when you are at a kick ass rock 'n roll show surrounded by beautiful, overly-hairsprayed women. The great thing about Develin's music is that it is so authentic—you know it's him as soon as you hear the music. "Different" doesn't always equate to "better," but in this case, it surely does …
Track listing:
1. All You Got
2. Backseat Fighter
3. Afraid
4. Can't Die Fast Enough
5. 2805
6. MF Man
7. Pussy As a Friend
8. Never Let You Go
9. Birds of Fire
10. Ladies of the Eighties
Genre: Hard Rock/Metal
Label: Perris Records
Online: www.develin.dk
Hardrock Haven Rating: 8.1/10