Dragonforce | The Power Within
by Nikiforos Skoumas
Staff Writer —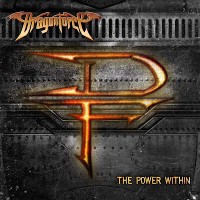 It took them a few good years but they are finally back! Dragonforce the British-French extreme power metal group shook the rock and mainstream world on numerous occasions during the previous decade; from 2003 to 2008 Dragonforce put out four genre-defining albums (statement holds no exaggeration) the last of which hit the Billboard top-100 at position 18! When was the last time a Euro-power band entered the US top 200, one can not say, yet as the members themselves are quick to point out, Dragonforce play extreme power metal rather than simply power metal.
Ever-present melodic guitar lines, complicated guitar/keyboard harmonies, outrageously technical power metal rhythm section plus traditional vibrato-based vocals are defining elements of the Dragonforce musical mix.
Dragonforce have been through a good number of line-up changes, but always retained a very high musical/technical standard- still- the loss of lead singer ZP Theart delivered a significant blow to the band, if one is to judge by the time-gap intervening between the previous album and The Power Within. The established line up of founding guitar-duo Herman Li and Sam Totman, bassist Frederic Leclercq keyboardist Vladim Pruzhanov and drummer Dave Mackintosh are joined by new vocalist Marc Hudson.
Obscenely fast tempos once again lay the foreground for a barrage of guitar arpeggios, and vicious riffs; balancing the equation are the melodic vocal lines, which remain attached to clearly defined verses, choruses and main bodies. In addition the keyboards, though remaining substantially in the background, reinforce definition within each song – changes in key signify the move from a song's main body to a verse, or from a verse to a chorus. So rest assured you will not get lost in the 'firestrom' of instrumental technique and musical cosmetics. That is not to say however that The Power Within will prove an easily digestible musical package to begin with.
Unless you have been listening to Dragonforce's previous album on a daily basis over the past four years you will have to play The Power Within over and over before you are able to identify/recall which melody or solo comes from which song. And really there would be no point for anything larger than a 10-track album as each song is an overload of technique and speed at its own right, making it rather easy for one to get lost within its structures unless paying their full attention.
Overall The Power Within is a rather predictable yet 100% authentic Dragonforce album. If you enjoyed previous Dragon-releases or consider yourselves a long-term admirer of their output, you can not possibly be let down by their fifth album.
Genre: Extreme Power Metal
Line Up:
Marc Hudson – lead vocals
Herman Li – guitars
Sam Totman – guitars
Vadim Pruzhanov – keyboards
Dave Mackintosh – drums
Frédéric Leclercq – bass
Track List:
1. Holding On
2. Fallen World
3. Cry Thunder
4. Give Me the Night
5. Wings of Liberty
6. Seasons
7. Heart of the Storm
8. Die By the Sword
9. Last Man Stands
10. Seasons (Acoustic Version)
Band website: http://www.dragonforce.com/
Hardrock Haven rating: 8/10