Jeff Scott Soto | Damage Control
by Erik Tweedy
Staff Writer —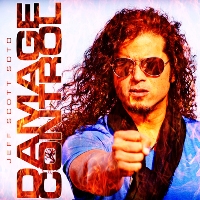 For more than 20 years now, vocalist Jeff Scott Soto has been regarded as one of the top vocalists of the melodic rock genre. After fronting bands like Talisman, Yngwei Malmsteen's Rising Force, Takara, Soul Sirkus, Journey, W.E.T. and most recently the awesome Trans Siberian Orchestra, we find JSS most comfortably right at home as a solo artist. Soto's vast vocal abilities are what most singers dream about having and on Damage Control, Soto's sixth solo studio effort; he drives it home with a killer vocal performance. With a special guest lineup comprised of Robin Zander (Cheap Trick), Dave Meniketti (Y&T), Joel Hoekstra (Night Ranger) and Jamie Borger and Nalle Påhlsson from the terrific Swedish band Treat, and a fistful more, you know this release is going to be great.
From the opening crunchy riffs of "Give a Little More" and the title track, "Damage Control", Soto sets the tone for a well thought out and balanced attack that is more rock than it is melodic. Having sung on more than 60 studio albums, with a 'who's who' lineup of some of the genres best bands in history, it is no surprise that Soto's influences come from all over the map. If you are a JSS fan of any previous recordings, you will surely appreciate the beauty that is Damage Control. This release has been decades in the making and once you hit track three, "Look Inside Your Heart," you will begin to understand how great of a singer and all around terrific artist Jeff Scott Soto is. This track is a perfectly balanced melodic gem that will surely make its way onto many top 10 lists of 2012 and will have you hitting the replay button over and over.
The one and only thing missing from Damage Control is a monster love ballad, which is not necessarily a bad thing as it leaves more room to rock. Tracks like "Krazy World" and "Afterworld" provide the power punch, some of Soto's heaviest in recent memory, while "Tears That I Cry" and "How to Love Again" provide the perfect counter balance with their pure pop sensibilities. Some will say that tracks "Bonafide" and "Never Ending War" are ballads by definition, but they are not of the magnitude of a "Faithfully" by Journey or "Heaven" by Warrant, which Soto is more than capable of writing; songs that drive straight to the heart and pull the listener in.
With top notch mixing by one of the industry's best studio engineers, John Ellis, Jeff Scott Soto has self produced the best release of his storied career. After his solo release, Beautiful Mess, in 2009, it was difficult to tell what direction Soto's musical path was taking, but with Damage Control, you can be assured that JSS is in full control of the melodic rock genre and he plans to stay there for a very long time. Fans of great melodic rock will really enjoy this release and fans of any previous JSS material should indeed love this record. With hardly a flaw insight, this could be the best release of 2012 in the melodic rock world. Perfectly executed and a real pleasure to listen to from start to finish.
Special Guests:
Mike Vanderhule – Drums
Dave Meniketti – Guitar
Robin Zander – Vocals
Joel Hoesktra – Guitars
Casey Grillo – Drums
Jamie Borger – Drums
Nalle Påhlsson – Bass
Track Listing:
1. Give A Little More
2. Damage Control
3. Look Inside Your heart
4. Die A Little
5. If I Never Let Her Go
6. Tear That I Cry
7. Bonafide
8. Krazy World
9. How To Love Again
10. AfterWorld
11. NeverEnding War
Label: Frontier Records
Website: http://jeffscottsoto.com
Hardrock Haven rating: 9.5/10