Overkill | The Electric Age
by Steve Patrick
Staff Writer —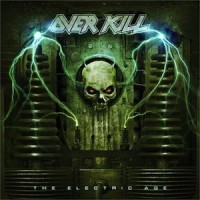 Bobby "Blitz" Ellsworth, D.D. Verni, and company are definite proponents of the "if it ain't broke, don't fix it" mantra and this is by no means a bad thing. Overkill's latest record, The Electric Age, is the third straight album to feature the same line-up. Aside from Blitz and D.D. the band currently consists of Dave Linsk on lead guitar, Derek Tailer on rhythm guitar, and Ron Lipnicki on drums.
The personnel continuity is not the only consistent element present on The Electric Age. The sound of the album is very much in line with the renewed thrash focus present on the record's predecessors: 2007's Immortalis and 2010's Ironbound. While so many metal fans are fawning over the Big Four these days, the Overkill of 2012 sounds rejuvenated and is producing balls-out thrash that rivals the quality of any of their classic early recordings.
The band produced the album themselves and it was recorded in the band's beloved New Jersey. Thanks to some expert mixing/mastering done by Greg Reely (Fear Factory, DevilDriver) and engineering by D.D. and Linsk, The Electric Age is one of the best sounding Overkill albums ever. The rock solid rhythm section of D.D., Tailer and Lipnicki are clear in the mix. Also, Blitz' voice never once has to compete with Linsk's leads. The album cover is unapologetically old-school and really ties the whole "electric" concept together.
From the opening track "Come and Get It," the listener knows immediately that they are going on a relentless ride. D.D.'s ever-present thundering bass propels the entire record from beginning to end. Next comes the album's first single, "Electric Rattlesnake." Only Blitz's distinctive wails could sell the ridiculous (yet perfectly metal) concept of an electricity-charged viper and sell it he most certainly does.
"Wish You Were Dead" opens with a Blitz banshee scream from hell and never lets up. The track also demonstrates Linsk's proficiency on the fretboard by delivering a succinct, but sonically engaging, guitar solo. Linsk's guitar prowess is also highlighted nicely on "Drop the Hammer Down" and "21st Century Man."
The band is in fine form on this album and it's evident that all this time playing together has yielded a synergy that most bands can only dream of. Blitz is singing better than ever and even he professes in the song "Old Wounds, New Scars" that he's "gotta lotta mouth for a Jersey white boy!" This writer is in no position to disagree with that statement.
Overkill has never forgotten the importance of the almighty hook. For example, one listen and you'll undoubtedly be singing the chorus of "All Over but the Shouting" to yourself. Instant memorability is rare in modern metal and, thankfully for their fans, Overkill know precisely how to achieve it. Make no mistake, The Electric Age is now.
Genre: Thrash
Band:
Bobby "Blitz" Ellsworth (v)
D.D. Verni (b)
Dave Linsk (g)
Derek Tailer (g)
Ron Lipnicki (d)
Track Listing:
1. "Come and Get It" – 6:17
2. "Electric Rattlesnake" – 6:19
3. "Wish You Were Dead" – 4:19
4. "Black Daze" – 3:55
5. "Save Yourself" – 3:43
6. "Drop the Hammer Down" – 6:25
7. "21st Century Man" – 4:12
8. "Old Wounds, New Scars" – 4:11
9. "All Over But the Shouting" – 5:30
10. "Good Night" – 5:36
Label: eOne
Hardrock Haven rating: 9/10