by Mark Allen
Staff Writer —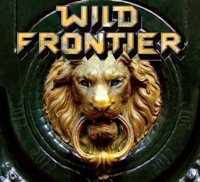 Half a decade has passed since this German band released their last CD. In the world at large, much has changed since then. Obama is the President of the United States. Bin Laden bit a bullet. Miley Cyrus is now legal. But what has not changed in those five years is the sound of Wild Frontier. Catchy melodic hard rock is what they were playing back then… catchy melodic hard rock is what they're playing today.
Wild Frontier's style is in the Bonfire vein, with some Def Leppard (mainly in the layered harmonies) and Scorpions sprinkled into the mix. They are a pure blood melodic hard rock band who give the cold shoulder to modern trends like the prissily pretty cheerleader snubbing a date request from the school dork. They have zero tolerance for current fads, no interest in crossbreeding with other genres. Their guitars are just edgy enough to earn them the "hard" tag, the keys are subtle enough to avoid the "AOR" label, and the slick hooks and slicker choruses elevate this from a solid effort into an excellent one.
Someone could argue the songwriting is simplistic at times, but that someone would be nitpicking, splitting hairs, and just generally being a grump. The arrangements here are focused on creating addictive melodies and alluring refrains, not on impressing anyone with complexity. There are thousands of prog-rock and metal bands out there more than willing to wow you with technical wizardry; Wild Frontier just want you to tap your foot, bang your head, and sing along.
Speaking of singing…the lead vocals are laced with a noticeable accent, but nothing that should faze anyone who grew up listening to European hard rock. If your ears can handle Klaus Meine (Scorpions) or Claus Lessman (Bonfire), then they can handle Jens Walkenhorst. English not being his native tongue, the vocalist received some coaching in proper inflection from a respected rock journalist here in the States and it seems those lessons served him well.
The album is engineered exactly as it needs to be, each element allowed room to breathe; everything sounds open and airy. Those who prefer their production be packed with more beef than a Burger King freezer and enjoy their Sonics thicker than Rosie O'Donnell's thighbone may find the overall sound of this album to be a bit tame, but Wild Frontier are aiming for crisp and clean, not crushing and crunchy.
But that hardly means these guys are lightweights. For proof, look no further than "Stay Tough," an '80s-style anthem that sports the kind of fist-pumping power you expected from a band like Keel or Black 'N Blue back in the day. More evidence can be found in "Long Gone," a full-throttle rocker punched up with gang vocal "whoas," ripping guitars, and a chopping, rapid-fire rhythm. Really, the only duff track is the instrumental opener, which is as unnecessary as…well, as unnecessary as instrumental openers always are. Heck, the band even pulls off a miracle by making ABBA sound cool with a rocking cover of "Gimme Gimme Gimme." Yes, you just read "ABBA" and "cool" in the same sentence and it wasn't a joke.
2012 has already been a banner year in melodic hard rock and it just keeps getting better. At one point Wild Frontier pose the plaintive question, "Why are the good things too hard to find?" Well, if the "good thing " they are referring to is a high-quality melodic hard rock album, then it's not too hard to find—it's right here.
Genre: Melodic Hard Rock
Band:
Jens Walkenhorst (lead vocals, guitar)
Mario Erdmann (bass)
Thomas Ellenberger (keyboards)
Sascha Fahrenbach (drums, guitar)
Nico Fahrenback (drums)
Track Listing
1. 2012
2. To the End of the World
3. It's All Over Now
4. Another Lonely Day Without You
5. Why Don't You Save Me
6. Stay Tough
7. Favorite
8. It's All Up To You
9. Tonight Tonight Tonight
10. Can't You Hear Me Calling
11. Long Gone
12. Why are the Good Things Too Hard to Find
13. Gimme Gimme Gimme (ABBA cover)
Webpage: www.wildfrontier.de
Label: Frontiers Records
Hardrock Haven rating: 8.8/10