Andy Piller 70000 Tons of Metal Organizer
by Chris A.
Staff Writer —
Interview with Andy Piller Organizer/Skipper 70000 Tons of Metal/Barge to Hell
He's the skipper and originator of the first and best of the music cruises, the now epic 70000 Tons of Metal. Andy Piller talks with Chris A., from Hardrock Haven about his dream of a heavy metal cruise becoming a reality. If you thought organizing a metal festival is a tough gig, try doing it on a ship at sea.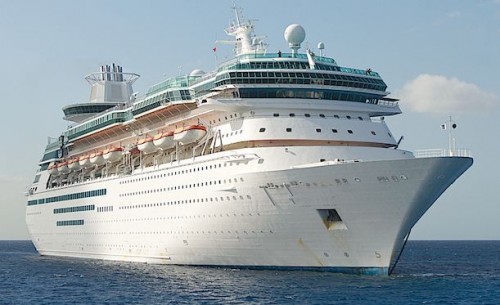 Hardrock Haven: How cool is it that your "idea" for a metal cruise is viewed by many as "must-do," vacation for metal heads?
Andy: I wouldn't say it's a must-do. There are many interesting things to do in life and probably going to metal festivals is like, for a metalhead, you have to go and travel to all of these places but you don't have to be at all of them. I understand the cruise is not for everyone, maybe some people don't like the idea, maybe it's too expensive for them or other things. But yeah, it is definitely, obviously something that is catching on and as we all know there is people who are doing similar things too. We're glad that we're the inventors, the original, we're happy about that.
Hardrock Haven: When you step back and examine the entire 70000 Tons of Metal operation, the logistics, coordination, planning and all the things it took to make it happen, how much harder was it to create the cruise than your concept?
Andy: Well, (Laughing) the thing is, when you have an idea, at first you don't envision all the obstacles that come along. When the idea was born, and we're talking almost six years ago, four years before the first "70000 Tons." You don't think at first, in those first moments, of all that probably could go wrong or what is really needed to put it together. But still, and I said this on the first cruise and it's why it took us a couple years and its getting easier for certain things because you know what you're doing and we have the experience but we always learn and there is a learning curve and we always try to make things better and perpetuate this idea from year to year and from event to event. And for this it's always good that we get good feedback from all of our customers that can help us and everyone to make this even more perfect than it is.
Hardrock Haven: Speaking of lessons learned, what were the three biggest lessons you learned putting the cruise together from a management or organizational perspective?
Andy: Woah, the three biggest lessons that I learned? That's a tough question, to nail it down to three. Well, probably, lessons that I learned also earlier that proved me right are trust your instincts and your long time relationships. And that if you don't succeed at first, try and try again. And the other lesson that I learned, but I knew, but it's a nice reconfirmation, it's probably the biggest one is the fantastic metal family. It's a fantastic family, metal is, metal people, real metal people. Look, we had on this voyage, on the first, 49 or 55 different nations on board so you know it's an amazing feeling. There was no stress, no arguments, no fights, no confrontations, it was everyone just having a good time. People from all over, different type of religions and non-religions, all of these people together, one big party. Metal.
Hardrock Haven: Is that what you're the most proud of? Bringing all of those people together?
Andy: Maybe, maybe, you know, it's bringing these people together and then bringing them back together, bringing knew people together. I mean, this is what such gatherings, I think the biggest thing we take, we of course remember some of the concerts, some more, some less, and some other events from everyone that does this. It's a voyage, even for the people that actually go to it who live in Southern Florida, they drive to the port there. It's a voyage because we go somewhere but it's the encounters with the people and getting to know new friends from wherever they may be.
Hardrock Haven: As the guy who created this how would you explain the 70000 Tons of Metal experience to someone who has never been on it and is thinking about going?
Andy: (Laughing) I have, of course, a very unique perspective at the time of the actual cruise it's not easy for me because I'm getting only two or three hours of sleep each night until the cruise is over and usually a couple of days before so for me this is really no vacation. That's why I tell everyone else to have as much vacation as they can get. Look, imagine a big family get together and our whole world is very mobile so we all probably have brothers or sisters or aunts or other relatives or friends that move to another country or somewhere else far away. Imagine bringing all these people together and all of them bring a couple of new friends with them. All of them have a common interest of going to a heavy metal festival and then putting this into the incredible setting of a cruise ship in the Caribbean at the end and the beginning of the year when for half of the world it's cold and people would rather go onto a sunny beach.
Hardrock Haven: I know you're very busy on the cruise and I know it's no party for you, What kind of things are you typically doing on the cruise Was it big decision stuff or or do you put out little fires all day?
Andy: Well, half and half and much more and there is, of course, a lot of executive decisions to make one way or another way and sometimes certain things don't run the way you expected them or you have to reschedule certain things. Sometimes you have to make hard decisions like move a show time or a band, whatever and that doesn't always go down easy and so on. Loading of equipment doesn't work, that is broken and we have to get something last minute. Afterwards, you're out in the ocean, you can't just send a runner to a music store or wherever to get whatever is missing, or to go to a warehouse, uhh, so it's very different on the first day and on the last day when we have load-in. During the cruise its mostly putting little fires out and doing a lot of representation work too. There is quite a number of (music) industry people that usually sail, some artist management, some agents, some press. We usually have a couple of TV crews on board so I have to give a whole bunch of interviews and so on. So, there is always something to do.
Hardrock Haven: Do you have a formula or a criteria for selecting what bands go on the cruise?
Andy: Well… when you put it that way, we want to make, what we always said, there is, at least on the two cruises that we've run so far, we all know that it's a growing market there is more and more other ones (music cruises) some that try more in the glam-metal direction, older stuff and some probably focus more on new type of American metal, some other cruises. We want to have a big festival and there are bands that are bigger and bands that are smaller of course but there is no one headliner or two. This makes all the atmosphere on the boat. What we've always discussed here with 70000 Tons of Metal and Barge To Hell is all one family but it includes the bands. There is no super VIP treatment or whatever for anyone. It's like everyone is the same, you've got to understand that and the bands have to understand that and the ones that sail with us, they understand that. That's what probably sets us apart from some of the other music cruises that are around. This is also what makes a difference and the bands, well. On the last two 70000 Tons, nobody ever got harassed, none of them, none of the big bands, nobody complained. Nobody. Everything's, cool and the ship is big enough but the sheer amount of musicians. We only sell 2000 tickets so it's 10 percent musicians. When you go to Europe to a big open-air festival and you go backstage there is probably maximum 10 percent musicians or even less. With all the fans and the VIPs and the press and this and that, that is at those big festivals, you have exactly that.
Hardrock Haven: I like that attraction that everyone is a headliner and nobody is.
Andy: Everybody is equal. Everybody is equal, I mean billing wise, of course, it is totally understood that bands that might have gold or platinum classifications in some countries that play on the cruise may have the better slots, nice evening slots on the main stages. Maybe some of the bands have more or nice cabins than the rest but this is how we are going to advertise this or post this but it's a bunch of bands hanging out with a bunch of fans but everyone is the same. Like, check your ego.
Hardrock Haven: Fan/band interaction on the ship has been nothing short of amazing. Have you had bands decline to sail because they didn't want the environment?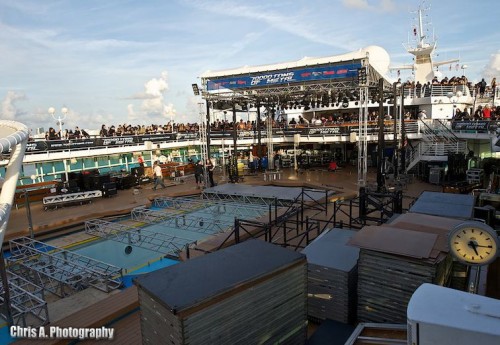 Andy: Very, very rare but yes, from the first year, let's put it that way, on the first 70000 Tons of Metal Cruise when we started actually seriously talking with bands about 18 months before, this was a common concern because at that time there was no track record, no one knew exactly how it would work out and some of the bands declined exactly for that reason. Actually, some of them played on the second 70000 Tons because they got the reaction and talked with other bands stuff and got the right story via the Internet or YouTube, whatever and they changed their minds. A common concern among people is that they don't want to be stuck on a boat. Some people are claustrophobic or get sea sick or maybe they think they will get sea sick, Just like ewwww… you know? Some people just don't want to go on a boat. As you said, we probably can't get a stadium band on a boat. It just doesn't work, we can't fee wise. Can't cannot also just pay somebody a shitload of money, he's only doing the cruise for the money but he actually hates it. He's probably getting sea sick or he locks himself up in his cabin the whole time just for the money.
Hardrock Haven: Imitation is the greatest form of flattery and several companies have snagged your idea and have started rock n roll cruises. Do you plan any change in strategy to keep your cruises special and unique?
Andy: Don't fix something that is not broke. So the principal concept will stay the same. Look, I mean, we've had such fantastic customer feedback from the first two cruises. Repeat booking numbers from year one from 70000 Tons shows me we did something right. I think we improved and on the third one we'll further improve. We're also doing a couple things that other cruises may have a more corporate approach and of course everyone needs to make money, that's all fine. We do a lot of things that you don't see at first. We've not only spent money on some bands because not all of the other cruises build a stage on the pool deck or cover pools. On 70000 Tons and on Barge To Hell, again we will have the biggest open-air stage on the ocean. In addition on some of the cruises, there is assigned seating or benches in the theater. I don't think that's such a cool idea for a metal show personally. You may get older and you don't get into a mosh pit anymore, I have been and so have many other metal heads at some point in their life and I think you shouldn't have any seating or benches in front of the stage. We actually spend a lot of money to take that stuff out you know. It's the little things.
Hardrock Haven: What can you tell me about Barge To Hell, Andy? Is there any intrinsic difference between it and 70000 Tons of Metal?
Andy: I would say it's basically the same concept, similar numbers, similar setup, you can say we copied ourselves. We wanted to make a version that focused a little more on extreme stuff. So simply put there may not be as much power metal or symphonic metal or the kind of softer, more classic heavy metal on barge so we may go a little more into thrash and death metal and black metal and maybe ad some doom and industrial. I still have half the year. I don't know if you know but today we added "Behemoth" and last week we had "At The Gates". So for people who are more into the extremist styles or old European stuff, you know, two huge names and there are a couple more killers to come. It's just a little bit louder and more extreme and more evil a version. Put it that way.
Hardrock Haven: The fans from the 50 plus countries who sailed on the cruse, they offer a lot of opinions and suggestions through social media. How much consideration do you give to the suggestions by your sailers and music fans sir?
Andy: A lot. It's often not so immediately visible to the individual because everybody has an opinion. So imagine you have several thousand guests and several hundred crew, artists, production, security and so on. Everybody has an opinion so you have 2500 opinions. There is a lot of feedback coming and I know there are certain areas production wise that we already improved from the first to the second one and there are things that are still not perfect. The whole merchandise scenario is far from perfect, I think we improved a lot on meet and greet and signing sessions. Also, a lot of the production, you saw the stage on the second year, it was much bigger. But we still had some production issues at load in and it wasn't ready on time so we're not perfect but we'll try to do better next time. There is feedback that is coming that we can consider to a certain degree more or less, you know. Selecting the bands you know is more like a wish list. Everybody that actually sails in the end, was more than happy. If there's 40 bands, you're not going to see 80 shows and you're not going to like them all so whatever. Some people just like bitching!
Hardrock Haven: The next 70000 Tons of Metal is now scheduled. When's that third voyage going to take place and where is it going?
Andy: Well we're not going to tell you yet where we're going. You're going to have to keep holding out on that but we've given out the dates. Its January 28th through February 1st, so again the last week of January, Monday through Friday. I'm not telling you where we're going yet and I'm not telling you who's playing yet but we're trying to make 70000 Tons of Metal III the original and the best and the biggest floating heavy metal festival in the world once again.
Hardrock Haven: Do you plan to create more "music cruises" in addition to 70000 Ton of Metal and BTH?
Andy: There are already ideas and plans that have been put into position and are in the works for more than those two, I also hinted to a few people on the last cruise that there may be a third cruise and maybe even a fourth. Some day and in some place. Cruises may not always be at the same time period every year and they may not happen at the same place. There are many oceans! That's all I can hint you on. It's a long process and you have to start at least 24 months ahead.
Hardrock Haven: Why does it take so long to book the bands and post the act list for the cruise?
Andy: When we announce bands it doesn't always necessarily mean when we booked them. Sometimes we hold back on things for marketing reasons maybe. Sometimes we have restrictions from the artist side because they are playing exclusive announced shows someplace else and they don't want to be announced until a certain date. It's almost always from the artist side you konw. They may have other touring plans and December and January is not a huge festival season. Every heavy metal band in the summer, everybody goes to Europe and hops from one festival to the other.
Hardrock Haven: If it were up to you would you announce them as soon as you signed them?
Andy: Maybe, not always. Sometimes, even though some people disagree on certain things with me, that's inevitable, I have my reasons for keeping certain things for a certain while or stagger the release of information and some people may be like it and some people like it less.
Hardrock Haven: Who are your top five favorite bands?
Andy: Yeah but still then I only have five names to say so that's a question I will gladly decline now in answering because I have such a vast liking of metal and a lot of other music.
Hardrock Haven: Will you have more clinics like the Jeff Waters Guitar clinic?
Andy: Oh yes. Overall the educational part we really tried to develop. This is one of the things where we come back to the customer feedback and they mainly complain or they say "Andy, I had the best time of my fucking life" whatever, you know? Cool, but what information does this give me? Feedback really? Yeah, you make me proud you know all these high-five is really great but I like really thought through feedback and criticism also that I can learn from. It's okay, absolutely.
Hardrock Haven: Going back to merch for a second, what's your plan to improve the methodology or the process for selling merch?
Andy: This is maybe the most delicate, delicate issues and I don't really want to talk bad about someone who isn't around but, let's put it this way, there are a lot of things that don't make it easy. There are exclusive vending rights that the cruise line may have given to some concessionaires on the boat to sell non-food and non-drink products or provide some services. So they have some control over this. They also take commissions, it goes over their sales system and so on and so on. And it's different from ship to ship. Overall, our ship, as much as we like it, it's less used to party crowds and it's not one of those cheaper party boats it's a nice ship! You know. All of the people there not exactly used to (the party crowd). Suddenly there is 1000 people who want to buy a black T-shirt. These people they sell gift shop products, jewelry, tuxedo rental, whatever. This is why in the end, for the actual vending, I have my own people that actually sell the T-shirts. But the whole process of loading and counting and also settling money with us and all the bands is all controlled by a concessionaire on board. Well… there are certain things that are beyond our control. I'm trying. I flew a couple of times down to Miami before the first cruise and it was a mess. I knew it would be a mess. I had a number of meetings about this issue, shoreside and seaside about the merchandise scenario and we will try to make it for Barge and for 70000 Tons, better, but on some things, our hands are tied. Sorry.
Hardrock Haven: A final question for you. Is our next 700000 Tons of Metal cruise ship going to remain the same?
Andy: Yes, the next one will be the same ship but I can't make a guarantee for always like this because from time to time ships have to be serviced and may not be available for a year or we could move to a sister ship. Maybe sometimes ships get retired or sold to another cruise line or whatever. So there may be some future changes in some future years but for the next two we stick to what we know what has proven to be fantastic!
Hardrock Haven: Well Andy, thank you for taking the time to speak with me
Andy: Thank you.