Stuka Squardron | Tales From the Ost
by John Kindred
Publisher —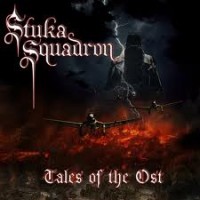 What on oddity to have a band that comprises Englishmen dressed up as Nazi's, portraying vampires straight out of the World War II era. Calling themselves Stuka Squadron, their name is derived from the German two-man dive bomber squadrons from that time period. The band takes historical fiction and propels their back story forward into what can only be dubbed as horror-science-fiction. Offensive as this may be to some, the Nazi part, that is, Stuka Squardron pushes forward with the release of Tales From the Ost.
Heralded as the forerunners of the New Wave of Traditional Metal, Tales From the Ost features 13 songs. The CD was produced and mixed by Paul Miles, who also played lead guitar as his alter ego Der Mastergoth. The album links together each song with a narration, war sound effects, speech from Winston Churchill, radio transmissions and sounds of the undead, all of which is like taking a page straight out of Manowar's playbook.
Although Stuka Squadron has been compared to early Iron Maiden, the music lacks the galloping rhythmic pulse and soaring vocals. Instead, Begley has a throaty-mid-timbre-vocal style that trends closer to the undead conceptual approach of the band and has an Rocky Horror-esque campiness. The guitars march forward in the style of traditional heavy metal, relying on eighth note-muted power chords and twin harmony lead melodies. The bass and drums provide the hammer that fuels the flame.
Set aside the lyrics and the visuals for a moment, and Stuka Squadron quite quickly prove that they are no slouches when it comes to musicianship. Starting off the CD with "Into the Breach," we get the first taste of blood with the CD's opening instrumental interlude, complete with military sound effects and an eerie voice declaring, "… legions of the undead the Stuka Squadron returns …," which ends with wicked laughter. This carries the listener into "Tales of the Ost," which is the album's title track. Duke Fang Begley begins to tell the tales of the Stuka Squadron, which are spun over riffs that are inspired by the likes of Iron Maiden and Black Sabbath. Tales From the Ost features catchy songs that combine melodic and heavy elements, along with the conceptual atmospheric sound effects and narration. It is an album not unlike Pink Floyd's the Wall or Queensryche's Operation Mindcrime that draws you in with the story line and holds your attention with a superb audio soundtrack.
Gimmicks aside, these Brits can rock, and they do it well, albeit disguised as vampiric Nazi's. While the shtick works on their debut album, it will be interesting to see if the concept can hold the same amount of weight on their future sophomore release.
Genre: Heavy Metal, New Wave of Traditional Metal
Band:
Duke Fang Begley – Vocals (ex-Centurions Ghost)
Gravedigger Cox – Lead Guitar
Sir Graveghoul Terrorsound – Lead Guitar
Lord Graham Pyre – Bass
King Kamil Krol – Drums
Track Listing:
1. Into the Breach
2. Tales of the Ost
3. The Last Resort
4. Stuka Squadron
5. A Cross of Iron
6. On the Volga Bridge
7. Tiger 1
8. The Fall
9. Lovecraft
10. Zabulon's Inferno
11. Lord of Valhalla
12. One Eyed God King
13. We Drink Blood
Label: Metalbox Recordings
Web: http://stukasquadron.com/
Hardrock Haven rating: 8/10