Chris Bickley | Tapestry of Souls
by John Kindred
Publisher —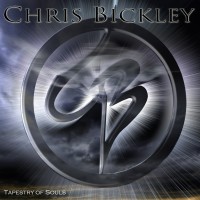 Shredguy Records' latest guitar prodigy, Chris Bickley, has stepped forth from the shadows and has released his debut solo CD titled Tapestry of Souls. Bickley hasn't actually been hidden from view; he has been hammering out an existence as a musician at a regional level. Currently living and working in Connecticut, his skills as a session player are highly sought after in the tri-state area. He also is the guitarist for Terri Lane's band, working alongside Chris Slade (AC/DC, The Firm), Scott Spray, Bobby Torello and Eric Klasstad.
Taking time out for himself has delivered his first CD Tapestry of Souls, which was written over the course of two years. The album contains 11 songs, which comprise a mixture of instrumental and vocal tracks, featuring prominent vocalists from the rock community. There is a long list of "guest musicians" who appear on the album, lending their talents to Bickley's compositions. After seeing the list, you almost have to ask yourself, "Who is not on the CD?"
As with his label mate Toby Knapp, Bickely dabbles within the confines of multiple genres in the rock realm. However, he doesn't fall off into the extreme world of metal. Bickely cuts a path more inside the lines of the melodic hard rock realm. His mastery of the guitar captures the essence of shredders, such as MacAlpine and Satriani. Just listen to the opening instrumental track "Race Car Guy." The song references MacAlpine's inner melodic-shred-demon much like his work on his first two solo albums, 1985's Edge of Insanity and '87's Maximum Security. Jimmy Kunes is the first to take the microphone on the song "This Time It's Gonna Hurt," a '70s-inspired blues-rock tune. The vocals are gritty and edgy, with plenty of melodic overtones guiding the song, which is complete with audible bass fills and catchy vocal hook during the choruses. "Fallen" also starts MacAlpine-like and then gets all bluesy before returning to the intro hook. Bickley lays out some raw emotional passages note after note throughout the song. Eventually picking up the pace and rolling into a Deep Purple-inspired Hammond organ led groove and ending with a lot of shred guitar over the top. Kelly Keeling leads the way on "Crying Shame." The Deep Purple influence makes its presence known during the chorus, a la Glen Hughes, and then follows suit as Keeling taps into his best Ian Gillan impression. "All or Nothing" is a barn-burner instrumental shred fest where everyone gets to shine.
"Chemical Love" finds the listener halfway through Tapestry of Souls and keeps the throttle open wide for another energizing instrumental song with a blazing solo and melodic passages. Chandler Mogel takes over vocals on "Lead You Astray," and the chorus sounds a lot like Robert Mason (Lynch Mob, Warrant, James Byrd Group) was belting out the lyrics. This is another moving, energetic song with a catchy vocal hook. The title track follows up next and opens with a beautiful acoustic guitar melody. As the instrumental song progresses, it smoothly builds into a powerful heavy piece driven by the drums and piano accompaniment with a memorizing solo glazing over the top. "Walk in the Park" leans backward to a '70s rock vibe and has an almost "jam" song approach. Complete with horns and Bickley's unique soloing approaches, we go from shred to bluesy riffs and back again all over the top of palm-muted eighth note chug of the rhythm guitar. This is a moving song, and the horns provided by Bill Holloman on sax and trumpet bring a different energy to the fold. "A Step Behind" re-acquaints us with Mike Vescera. He sings over a heavy, rhythmic pulse that builds into a layered vocal chorus. As this song is the last vocal-led track on the CD, it is a fitting end to this side of Bickley's songwriting skills. Closing out the CD is the final instrumental song "Old No. 9." This is an acoustic-bluesy number with a big '70s snare, Bonham style, and hints of southern rock guitar harmonies appear as the mellow number brings the disc to a close.
So what's not to like? Plenty of energy, solid musicianship by all those involved and music that doesn't drive the listener away with too much syrup or reckless aggression make this an outstanding debut release by Chris Bickely. He is the master of his domain and crafts enjoyable songs that instrumental fans as well as those who like their music with vocals surely will enjoy.
Genre: Rock, Blues, Hard Rock
Musicians:
Mike Vescera – Vocals
Vick Lecar- Guest Guitars
Kelly Keeling – Vocals
Chandler Mogel – Vocals
Eric Klaastad – Bass
Chris McCarvill – Bass
Scott Spray – Bass
Michael K. Smith – Bass
Dino Fiorenza – Bass
Bill Holloman – Sax and Trumpet
Gaetano Nicolosi – Drums
Bobby " T" Torello – Drums
BJ Zampa – Drums
Dom Mauro – Bass
Vic Steffens – Drums
Paul Pedroncelli – Drums
Rick Gauthier – Bass
Mike Giammattei – Drums
Mark Focarile – Keys
Tom Forst – Guitar
Jimmy Kunes – vocals
Track Listing:
1. Race Car Guy
2. This Time It's Gonna Hurt
3. Fallen
4. Crying Shame
5. All or Nothing
6. Chemical Love
7. Lead You Astray
8. Tapestry of Souls
9. Walk In The Park
10. A Step Behind
11. Old No. 9
Label: Shredguy Records
Web:
http://www.chrisbickley.net
http://www.myspace.com/chrisbickley
http://www.myspace.com/terrilanerocks
http://www.myspace.com/therealthunderhead
Hardrock Haven: 8.5/10