by Ron Higgins
Staff Writer —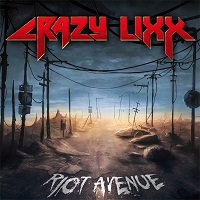 Riot Avenue is the third release from the impressive Swedish outfit Crazy Lixx. It's their second release on Frontiers Records, following their sophomore album New Religion in 2010 (their debut album Loud Minority was independently released in 2007). Although their sound has deviated a bit from their previous efforts, this is another top-notch album that will be sure to please lovers of classic hard rock.
Crazy Lixx formed 10 years ago in Malmö, Sweden and quickly became one of the seminal bands in what has been called The New Wave of Swedish Sleaze along with contemporaries like Crashdïet and Vains of Jenna. Although their earlier two albums had a more pop metal sound drawing comparisons to acts like Poison and Def Leppard, this one is more stripped-back with a more straight-ahead rock sound, more in the vein of AC/DC or LA Guns. Some reviewers have been somewhat critical of this change, citing among other things, the lack of big rock anthems on this new album but when considered outside the context of the other two albums, by itself, this is a very good hard rock record.
The album kicks off with one of the best songs on the album, "Whiskey Tango Foxtrot". It has a raw, gritty sound with obvious AC/DC influences. It's a great song and an excellent way to kick off a new album. And for those not familiar with the NATO phonetic alphabet, Whiskey Tango Foxtrot would be the code words for the classic texting characters, WTF. Clever, huh?
Other standout tracks include "Young Blood," the title track "Riot Avenue" and "Be Gone." "Young Blood" is another AC/DC inspired, slamming tune, with lustful teenage lyrics like "ripping me up with her young blood." This song has a great melody and cool lead solo towards the end. It's probably the best song on the whole album. The next track, "Riot Avenue" is another highlight with yet another blistering guitar lead. These first three songs are definitely the best songs on the album. "Be Gone" is the second-to-last track and is a heavy, up-tempo track with impressive rhythm and lead guitar-work.
Although the first three songs are the best, the rest of the songs are still good, just not as good. The fourth track "Fire It Up" is mostly forgettable but has great production. "Downtown" is a slower song but still rocks and has nice backing vocals. It also features some more lyrical hijinks, "There's a party downtown, and your sister's invited. You know I'd let you come but I know you wouldn't like it." "In The Night" picks the tempo back up and brings back the bluesy AC/DC sound again. "Church of Rock" is musically nice by lyrically cheesy, if not downright sacrilegious. "Heatseeker" is a much slower song but, again, features some nice guitar work with a catchy chorus. The title is interesting given the new AC/DC inspired direction of this record since, of course, Heatseeker is the name of both an AC/DC song and album. "Sweet, Bad & Beautiful" is probably the most pop-oriented song on the album with some more party-rockin', sophomoric lyrics like, "sweet, bad and beautiful, shake your money-maker across the floor… you're a dirty dancer I'm your stripper pole, you rock my body and you shake my soul." Musically and lyrically, think Danger Danger for this one.
The final song is a bit of a head-scratcher. "Only the Dead Know" is a very slow ballad and a strange way to wrap up such a hard rocking release. However, it showcases Danny's vocals as he's not screaming throughout the song and also highlights the guitar playing again. It's kind of "Ballad of Jayne" meets Martika's "Toy Soldiers". Definitely interesting though and it shows that he really can sing. Maybe it's not such a bad closer after all.
Missing is the slick glam sound of their first two albums, which is either good or bad depending on your preference. If you like good solid hard rock, you won't care. Although the songs themselves tend to vary a bit with respect to songwriting, one thing that comes through loud and clear is the incredible guitar work featured throughout. Another highlight with this album is the top-notch production. Overall, this release continues to show the rest of the world that the small European country of Sweden has more to offer than just hot blonde girls.
Genre: Glam, Sleaze, Hard Rock, Metal
Band:
Danny Rexon – vocals
Andy Dawson – guitar
Edd Liam – guitar
Loke Rivano – bass
Joey Cirera – drums
Track Listing:
01. Whiskey Tango Foxtrot
02. Young Blood
03. Riot Avenue
04. Fire It Up
05. Downtown
06. In The Night
07. Church Of Rock
08. Heatseeker
09. Sweet, Bad & Beautiful
10. Be Gone
11. Only The Dead Know
Label: Frontiers Records
Web: www.crazylixx.com www.facebook.com/crazylixx
Hardrock Haven Rating: 8/10