Fatal Smile | 21st Century Freaks
by Mark Allen
Staff Writer —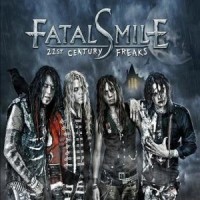 When none other than Blackie Lawless calls a band "kick ass" but then follows it up by calling them crazy, you can guarantee you're not listening to music that has the Southern Baptist Convention seal of approval. Fatal Smile does indeed kick ass on this album—they say so right in the first song: "We ain't got no limits / We're gonna kick some ass"—and any fan of heavy-edged sleaze metal would have to be crazier than a peyote-popping chimpanzee to ignore them.
While you can lump Fatal Smile in with the current Swedish Sleaze Metal Movement exemplified by the likes of Crazy Lixx, Crashdiet, Baby Jane, etc., they bring a little more beef and balls to the game and a little less polish and melody. That does not mean Fatal Smile are raw or grungy, just a little less slick than their genre brethren. While those aforementioned bands use '80s hair-metal as their foundation, Fatal Smile take their inspiration from the heavier '80s metal; in other words, they are more Leatherwolf or WASP than Poison or Trixter.
21st Century Freaks sports some serious metal crunch, bursting out of the gate with the kind of primal intensity that causes cute little kittens to spontaneously explode and sends AOR fans running for the hills. Fatal Smile likes it hard and heavy and they bring that hardness like a horny teenager after chugging a bottle of Viagra. Sure, there is melody here and the band reins in the hard rock smack-down for a ballad or two, but even during these subdued moments, Fatal Smile manage to imbue their songs with a metallic edge. Their balladry owes more to Skid Row than Bon Jovi; this ain't pretty boy stuff.
Attitude is what fuels Fatal Smile's music, not to mention their writing, concerts, and, judging from eyewitness reports, their life. The sleaze-soaked songs rip and tear along on the strength of loud guitars, pounding drums, power-hooks galore, and shout-it-out choruses. And gang vocals. Tons of 'em. Seriously, if you get off on gang vocals, you're going to need at least two boxes of Kleenex every time you listen to this album.
The band's closest comparison would be Lordi, albeit it with better vocals. Blade's singing may be aggressively raspy but it is far cleaner than the gravel-guzzling approach Lordi uses. Aside from the lead vocals, their music is strikingly similar: heavy guitars cranking out hooky hard rock, catchy chorus anthems, and lots of big backing vox. There is also a lyrical difference; Lordi employs a monster/horror gimmick while Fatal Smile sticks to standard sleaze metal tropes, and is the better band for it.
While the song quality is consistently high—there are no true fillers—there are certain tracks that rise above, starting with "Raise Some Hell in Heaven" which is one of the best heavy hard rock songs of 2012 thanks to its bone-bruising rhythm, headbanging groove, and powerful chorus. "Nailed to the Wall" is a hot-blooded hard rock anthem that could have come straight out of '88 with its Keel-meets-Accept vibe. "Scarecrow" opens with gang chants of "Hey! Hey! Hey!" before oozing into somber melodic lines that gradually escalate into heaviness until the chorus erupts like a keg of gunpowder soaked in gasoline and dropped in a bonfire. Really, every track is a winner, with any quality variances shifting between "good" and "great" rather than "good" and "bad."
You have to wonder what's in the water over there in Sweden. Surely someday this whole Swedish Sleaze Metal Revolution will give serve up a bad album that makes fans and critics snort in derision and mutter, "What the hell were they thinking?" But today is not that day and 21st Century Freaks is not that album.
Genre: Hard Rock, Sleaze Metal
Band:
Mr. Y (guitars)
Blade (vocals)
Alx (bass)
Philly (drums)
Track Listing:
1. Welcome to the Freakshow
2. Nailed to the Wall
3. Raising Hell in Heaven
4. Judgement Day
5. Broken Heart
6. My Private Hell
7. Scarecrow
8. Innocent
9. Break These Chains
10. Take It To the Limit
11. For the Last in Line
Label: FS Records/GMR Music Group
Webpage: www.fatalsmile.com
Hardrock Haven rating: 9/10