Leather Leone & Sandy Sledge
by Deb Rao
Staff Writer —
Former Rude Girl members Leather Leone and Sandy Sledge are finishing what they started with their new band Sledge Leather. The band has just released a new CD entitled Imagine Me Alive that incorporates all of the hard edge, dark tones, and driving rhythms of Rude Girl. In this Exclusive interview for Hardrock Haven Leather Leone and Sandy Sledge discuss in depth the making of the new album; pay Tribute to Ronnie James Dio, and the metal scene today.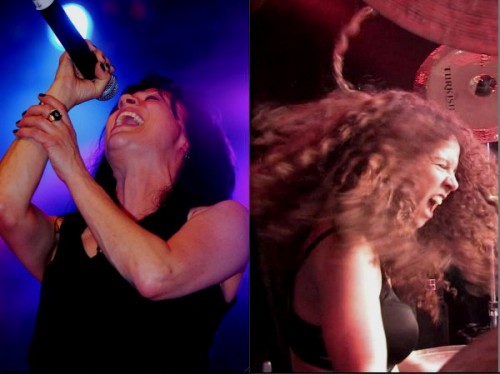 HRH: Leather, Thank you for checking in with Hardrock Haven. Tell us how your new project Sledge Leather came into fruition. I understand that former Rude Girl drummer Sandy Sledge is also in the band.
Leather: Yes she is in a very big way. She is the foundation of the new project due to all her musical experiences during our years apart. We still have a lot to say. We went through a loss together that has changed us forever. It made me personally decide that it was time.
Sledge: Hi. I'm listening to you guys. I'm right here behind the drum set.
HRH: Sledge Leather has just released your new album Imagine Me Alive. What does the title denote to you?
Leather: Some people leave us too early. They may be asking us not to forget their contribution. They don't want to be forgotten.
Sledge: Don't be sad that the dead don't appear here. Close your eyes and imagine them back into your life. Just close your eyes and you'll find them. They know no time, they will not rust.
HRH: Tell us about the writing process for the album. How does it encompass the sound of the Rude Girl days?
Leather: The writing comes in different ways. Mostly Sledge has a basic song; sometimes we come up with lyrics while walking down the street. We may hear a guitar line. Not a set pattern, but Sledge writes like rain.
Sledge: And, as we know, Leather is the rain. She brings it. The sound started back in Rude Girl. We'd come up from rehearsing in a storefront basement, it'd be 3 in the morning and the San Francisco streets were filled with fog. Empty, but for a few vagabonds, ex-hippie panhandlers, and us just kids. We'd roam the fog filled danger. We cut our eyeteeth out there, and it shaped who we are and the songs we're writing. That was Rude Girl, and the metal is still in our blood. The dark tones, the driving rhythms, the ghostly lyrics, the cynicism, the otherworldly respect. That place, San Francisco, is haunted. We inhaled it.
HRH: What was it like working with producer Juan Urteaga?
Leather: Juan was challenging and amazing at the same time. He is a bundle of energy, extremely honest and had some great ideas. He is a total Metal head. Sledge spent more alone time with him; she may have a different story.
Sledge: I'm pretty sure he hates me. Call and ask him. (Laughter) I have some intensely strict production practices from my days producing radio spots and promos. Deadlines are tight and I learned to work fast, and with a system, to get the level of excellence I needed. Juan has that inside of him, but he wasn't' used to doing it with someone else in the room. We worked it out though and he ultimately offered me a job there. We'll do our next CD with him. It's a match.
HRH: Also, I understand that former Dio members Scott Warren and Jimmy Bain appear on the album. Is that correct?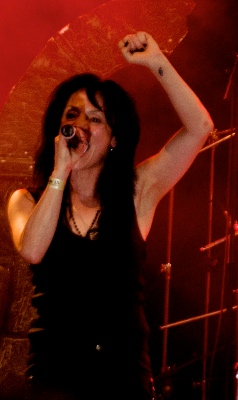 Leather: Yeah, we were blessed to have our paths cross. Sledge is responsible for luring them in.
Sledge: Dio is responsible for bringing them our way. It was my dream to play with Jimmy Bain way back in Rude Girl when Howie Klein and Sandy Perlman told us that we might have other musicians on the album. I had seen him around town (LA) but specifically, the night I was saying to someone that I needed to find Jimmy Bain's phone number but that meant calling some guy that I didn't want to call— I literally was walking into a grocery store– and Jimmy Bain passed in front of me headed to the cheese section. I freaked. It was actually a scary moment because I knew it was by design. It was Dio.
HRH: What was your goal when entering the studio to record Imagine Me Alive?
Leather: To express ourselves the best we could. To show we are worthy of stepping back in the ring. To try different things. To open up and let it happen.
Sledge: And to get some of this stuff out from inside of my notebooks! I have songs that I wrote 20 years ago for Leather to sing. Her voice is so amazing; no one else could sing them right.
HRH: Was Ronnie James Dio a huge influence in your career? Did you ever get to meet him?
Leather: Yes and yes. The privilege began in 82. Sledge as usual got us on the bus. We had a beer, listened to the "Rude Girl" demo. He was magic. I remember just listening and watching him. Ronnie was always supportive of me. He is missed.
Sledge: We had a lot of moments with him. He'd put his arms around us and look at us both intently and tell us to keep doing what we're doing.
HRH: What is it like returning to the metal scene after two decades in Los Angeles-San Francisco bay area?
Leather: The economy sucks, so there are more limitations on playing out and touring. But as far as the people, radio, press, they have all been very welcoming. Thank you!
Sledge: Metal heads are still really cool people. It's great seeing and playing with old friends like Geoff and Larry from Vicious Rumors, Jim from Brocas Helm. Jim was the unofficial¥official Rude Girl photographer, and there he was at the Keep It True festival with his band. Amazing!
HRH: In April 2011, you had the opportunity to perform at the Keep It True Festival in Germany? How do you feel U.S. audiences differ from European fans?
Leather: It was actually my first time playing Europe. But they were quite hungry and extremely appreciative after all this time. That audience had a lot to do with us continuing on.
Sledge: European audiences go out to more shows! But the passion is the same. Especially with metal. It's a universal language, huh?
HRH: Who are some of your influences as a singer in metal?
Leather: Dio, Dickinson, Tate, Dio.
Sledge: Leather. (Laughter)
HRH: It is so inspiring to have you return to the metal scene. What do you hope to accomplish with your new project Sledge Leather?
Leather: To make good music that we and you are proud of.
HRH: Are there any tour plans in the works?
Leather: We have a lot of talking going on. Eventually something will come of it. Touring is a priority!!!
Sledge: And we have a local Los Angeles show at the House Of Blues on Sunset Blvd on June 15. Come out and party with us!! Thanks for your support, Hardrock Haven. Contact us at sledgeleather.com. Metal UP!!!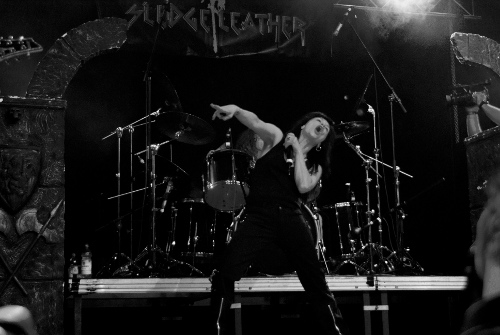 VISIT SLEDGE LEATHER ON THE WEB:
sledgeleather.com
facebook.com/sledgeleatherproject
youtube.com/sledgeleather