Daniele Liverani | Eleven Mysteries
by Joe Mis
– Columnist —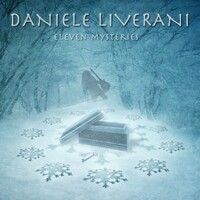 Multi-talented multi-instrumentalist Daniele Liverani will be releasing a solo instrumental effort entitled Eleven Mysteries on 20-July-2012. Normally credited as a keyboard player and songwriter, Liverani is also an impressive guitarist, as this Lion Music release will prove.
Liverani is best known as the keyboard player and musical mastermind for the Italian progressive metal act Twinspirits and for the keys / guitars / bass of Khymera. He has decided to show the world that he can shred with the best of them, and thus has released Eleven Mysteries with the help of some friends. This is a true labor of love for Liverani, as he wrote ten of the eleven tracks and also mixed, mastered, and produced the album. He even contributed to the cover art. Despite his keyboard background, Eleven Mysteries is very guitar oriented, although the fine keyboards of Marco Zago are prominent in many tracks. Zago also is the songwriter of "Giving." Tony Dickinson contributes excellent bass, and Paco Barilla' delivers complex and appropriate rhythms on the drums.
Musically the album hangs together quite well, and the tracks are tied to one another by a small amount of spoken word – generally a very quick introduction to the song. There are many moods, numerous tempo changes, varying intensity, diverse styles, and excellent musicianship. Liverani's songwriting skills and overall sense of melody are nicely displayed by crisp and careful production and engineering, and this quartet is simply overflowing with raw talent. The tracks carry a good deal of emotion, and there is enough of a variety of styles to keep the listener interested throughout – something not easily accomplished on an instrumental album. As Liverani himself says, "The whole musical journey of the album runs through some basics of human life and spirituality, in particular 3 aspects which are interaction of Body, Spirit &Personality and their involvement in life's events."
Musical highlights include: the incredibly creepy feelings generated by the opening phrases of "Mysterious Impulse," and carried throughout by the guitar, bass and keys; the ripping hot guitars and intense drums that fade into lively keyboards in "Inspiration;" the almost "Malmsteen-ish" rhythms of "Nervous Forces;" the haunting simplicity and high-emotion of the melodic "Supreme Gladness;" Zago's fluid keyboards on "Giving;" the massive complexity of "Humiliation;" the awesome old-school hard rock groove of "Freedom;" and the jazz-inspired riffing and blistering solos of "Survive."
Daniele Liverani's Eleven Mysteries is a fine album by a truly talented bunch of musicians and is highly recommended for fans of guitar oriented rock, shred, or progressive metal. Unlike many other shredders, Liverani actually performs complete and well defined songs rather than just chaining bunches of notes or speed runs together. This album could very well vault him into the rarefied air shared by Vinnie Moore, Tony MacAlpine and Joe Satriani. Whether the musical journey takes the listener where Liverani intends (or not) is open for discussion, but no matter the outcome Eleven Mysteries makes for stylish and enjoyable listening.
Genre: Instrumental, Shred Metal
Band:
Daniele Liverani (guitar)
Marco Zago (keyboards)
Tony Dickinson (bass)
Paco Barilla' (drums)
Track Listing:
1. Mysterious Impulse
2. Inspiration
3. Nervous Forces
4. Supreme Gladness
5. All Is Pure
6. Giving
7. Humiliation
8. Regeneration
9. Freedom
10. Survive
11. Eternal
Label: Lion Music
Website: www.danieleliverani.com
Hardrock Haven rating: 9/10