Chris Bradley, Andy Dawson & Kristian Bradley of Savage
by John Kindred
– Publisher —
Hailing from Mansfield, England and formed in the late '70s, Savage is one of Britain's NWOBHM bands that pioneered the way for such lofty giants such as Metallica. Their 30-plus year career has produced six albums. Starting with 83′s Loose 'N Lethal and continuing on with '85 Hyperactive; 95′s Holy Wars; '96 Babylon; 01′s Xtreme Machine and finally '12s Sons of Malice. Original founders Chris Bradley and Andy Dawson continue to deliver their brand of "heavy rock" alongside drummer Mark Nelson and new guitarist Kristian Bradley.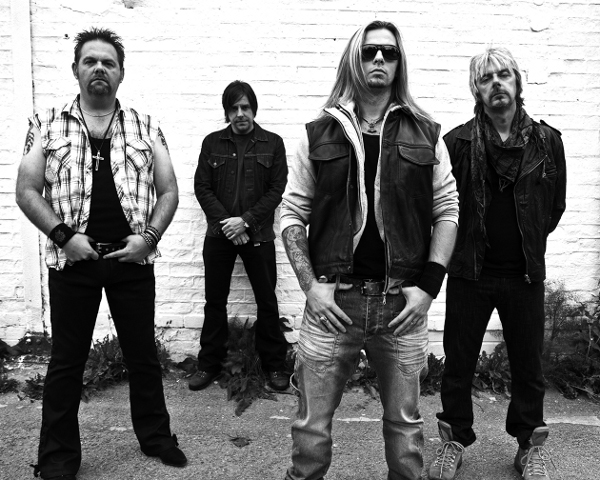 Hardrock Haven: Thanks for taking time out for Hardrock Haven today.
Chris Bradley: No problem.
Andy Dawson: The pleasure is all ours.
Kristian Bradley: Word.
Hardrock Haven: For those that haven't heard of Savage, the band was started way back in the late '70s I believe? Can you tell me about the early history of the band?
Chris Bradley: I started the band in 1978 although there had been a one off line up in 1977 that played one gig before disbanding. The 1978 line up was me on bass guitar and lead vocals, Andy Bradbury on guitar, Andy Dawson on guitar and his brother Simon Dawson on drums. Andy was in the band because he came as a package deal with his brother and it was Simon I was after as drummers where and still are hard to come by in our neck of the woods (all the good ones have been in Savage at one time or another). Andy was very young and not that great a guitar player but the first guitar player left very soon after we had got the line up together and in that time Andy D had practiced like a man possessed and had become a real whiz kid. We came across Wayne Renshaw in 1979, he turned up to a rehearsal and really looked the part, he had better gear then all of us so Simon asked him to join there and then, the next rehearsal when he turned up to play we found out he wasn't that good a player but none of us had the heart to get rid of him at that point, laughs, he did improve a bit through Andy's mentoring but was never in the same league. Simon left later that year and we went quite some time trying to find a drummer. Dave Lindley joined on drums in 1980 and it was around this time mine and Andy's songwriting partnership had really started to take off. We did a couple of compilation albums (both we and the rest of the bands had to pay to be on them). We started to get some good press because of these appearances and where building up quite a local following, at this point we did the double 'A' side single which we released on Ebony though paid for it all ourselves. It was after the release of the single Dave Lindley left (he had quite a volatile nature) and we recruited Mark Brown from another local band Tyrant who had also appeared on the first compilation album 'Scene of the Crime', it was at this point Darryl Johnston at Ebony asked us to record the very first full blown artist album for Ebony which was 'Loose 'n' Lethal', and the rest is history, laughs.
Andy Dawson: I joined at the tender age of 15. My older brother Simon came to see me and said he's answered an ad in the local music shop for a drummer and guitar player. Simon was a drummer so it made sense. A few weeks later, we were learning covers but soon started on our own stuff. We were just kids.
Hardrock Haven: I get the vibe that you are a cult band, kind of like Anvil … one of those groups who influenced some of metal's more recognizable bands, but you never really had your day in the sun. Is that a fair assessment?
Chris Bradley: Yes, maybe, who knows? You can go mad thinking about this stuff, you got to just keep moving forward, I ain't gonna make a movie moaning about it! As we Brits say 'Keep Calm and Carry On.'
Andy Dawson: We are a bunch of cults! We definitely influenced Metallica but have never been able to capitalize on it enough, or make any money from it. We didn't get the breaks but that's the way it goes, maybe bad luck but we've always made good records. Still waiting for the sun to shine!
Kristian Bradley: More like 'Spinal Tap' than 'Anvil'. 'Anvil' were shit. "We never got a break." What do you call touring with Scorpions and Def Leppard then!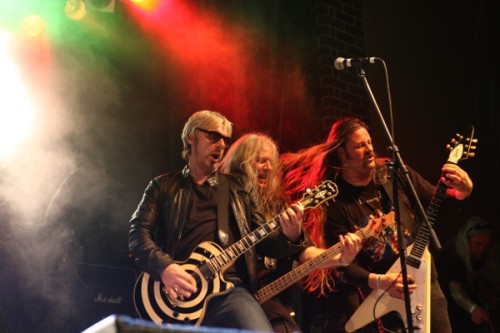 Hardrock Haven: You just released your latest studio album Sons of Malice. It's been 11 years since you released Xtreme Machine (2001). So why release an album now?
Chris Bradley: Well it wasn't an intentional gap, we had always planned to follow 'Xtreme Machine' straight away but a lot of deeply personal stuff, un-related to the band just seemed to keep getting in the way, you could say we have had a pretty bad decade!
Andy Dawson: It's not something that was planned not to do, we went away from it, life threw its stuff at us in a personal sense, dealing with shit. Me and Chris were always in touch through our family connection and Mark the drummer suggested we get our arses in to gear and here we are and have delivered one of our best albums ever!
Hardrock Haven: After all these years you and Andy Dawson are still writing music together. Is it hard to come up with fresh ideas?
Andy Dawson: Not really, it has always worked the same way. I have to blow Chris's mind with a killer riff and then it works or, not. It's relatively easy but it took a while to get the motor back up to full revs, so maybe a little hesitation but once the first 3-4 songs took shape it becomes easier
Chris Bradley: Yeah sounds about right, generally Andy's riff and my melody and lyrics, occasionally the other way around. But we produce our best work when we do this in a rehearsal situation with the entire band, bouncing off each other.
Hardrock Haven: Is there a lyrical theme that ties the music together on Sons of Malice?
Andy Dawson: Ask Chris!
Chris Bradley: Well it's not conceptual, but the songs are generally commentaries on society and the human condition, but they always have been, I don't do demons and wizards! I find there is far more scope and inspiration in the real world to go at! Occasionally I write songs that are almost short stories or mini movies, Andy does like those and I have to keep him happy too.
Hardrock Haven: What do drummer Mark Nelson and new guitarist Kristian Bradley bring to the band?
Kristian Bradley: Handsomeness!
Chris Bradley: They each have their own unique talents. Mark is a great drummer, tight, solid and keeps time well, which may sound a little obvious but believe me a lot of drummers have a habit of changing the tempo in a live situation, his engineering skills obviously go without saying. Kristian is the first guitar player in the band that can play the riffs that Andy comes up with while adding his own nuances, his influences are heavier than Andy's so makes for a great combination, oh and yeah they both better looking and younger, Laughs!
Andy Dawson: Mark is the best drummer I have ever played with and therefore has brought a great deal to the table, let alone his engineering skills on this recording which have produced the best recording of our career. Kristian brings a modern twist because of his youth and for the first time it feels we have 2 guitars working off each other. Usually it would be me double tracking the guitars, which is not the same.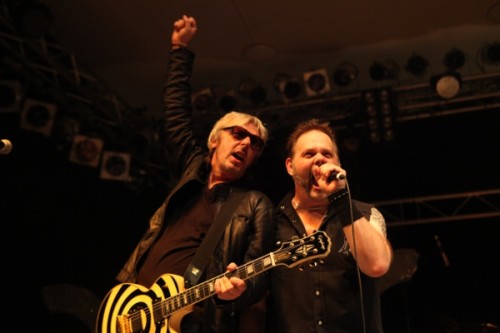 Hardrock Haven: Your earlier releases where described as pushing the envelope into the realm of speed/thrash metal. The new album is a heavy-rock-metal album. Did you steer away faster metallic tempos on purpose?
Chris Bradley: No, I don't know why we have this reputation for thrash? Most of our stuff is and always has been mid tempo. We generally have 2 or 3 fast songs per album, for me the mid tempo stuff allows more scope and tends to be a lot heavier, playing fast doesn't always produce the best songs.
Andy Dawson: We have only ever done a hand full of fast songs, one or 2 per album but people see 'Let it Loose' as our signature track and expect more and faster. Maybe on the next album we will up the tempo for sure. We have always done mid tempo stuff such as 'Ain't No Fit Place', AC/DC were a big influence.
Kristian Bradley: the faster stuff is great to play live. But it's also great to play songs with a groove. Music doesn't have to be played at 400bps!! And this is coming from a dude who is also in a Thrash Metal band *cough* METAL CROSS *cough*
Hardrock Haven: Are there plans to tour in support of the new album?
Chris Bradley: Absolutely we got a couple of festivals lined up for the end of the year, and we are looking into other possibilities, so come on promoters get dialing!
Andy Dawson: Hard Rock Hell here in the UK and a festival in Belgium in December are already on the cards and more to come next year.
Hardrock Haven: Who influenced you as individual musicians?
Chris Bradley: I guess it was old school bands for me, I loved Ian Gillans voice, and of course there was Freddie Mercury, then along came Dave Lee Roth, I just loved all that Screaming, laughs. As far a bass players there where loads I listened too and admired like Stanley Clarke but for me the bass was about laying down the foundation over which the vocals could sit and the biggest influence there would be Phil Lynott, his bass lines sat between the vocals which I loved, most other bands bass players that were not singers so their lines would inevitably be more involved but for me I just loved the way Phil was able to sit the two neatly together!
Andy Dawson: Back in the day I would have said Michael Schenker without hesitation (hence the white Gibson Flying 'V'). Then along came Edward Van Halen, Wow no one had heard anything like this and it certainly pushed me in a different direction. But as I have developed my playing over the years I have found myself drawn back to listening to some of those great players before the time of Heavy Metal again, like Pat Travers and Gary Moore.
Kristian Bradley: These two dudes who got me into playing in the first place! Then James Hetfield (Riff master), Zakk Wylde (Pinched harmonics – this dude may as well have it patented!), G.O.D (Eddie VH obviously), Brian May, Glenn & KK, Nuno Bettencourt. The list is endless!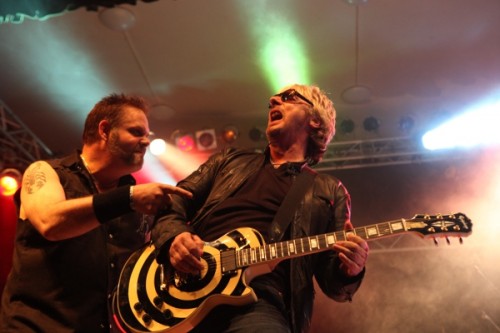 Hardrock Haven: What kind of gear are you using?
Chris Bradley: I'm still old school, I use Trace Elliot AH250SMX amps from the late 80's (the old ones with the ultra violet light on the front) they have awesome power, reliability and the sound is unbeatable, I've never found anything better. With the amps I use the classic Trace Elliot 1 x15 and 4 x 10 combination and these are also from the late 80's. Back in the 'Loose 'n' Lethal 'era it was a couple of Marshall Supa Bass 100's and matching Marshall 2x 15's. My Basses are still the same from back then a 1979 USA Fender Precision bass, black with Maple neck, though now fitted with Seymour Duncan active PB pickup and chrome scratch plate (Oh Yes!) and a 1980 Kramer DMZ 4001 aluminum neck, now refinished in White with a Hipshot 'D' Tuner and Reflex Red active PB pickup (may have to change that tough because they are no longer available). I've also got the NADY 950GS wireless form the 90's (Andy does not trust wireless systems, and always uses a lead) but can't seem to find a damn manual for it anywhere, so if anyone got one, send me a copy. Have to be careful with wireless systems though because Governments keep changing frequencies around for digital TV and such shit! The only effect I use is my trusty Boss Flanger.
Andy Dawson: Me and Kristian are both using Randall MTS heads which are huge in size and sound. The guitars I am playing are a Gibson Les Paul standard and Flying 'V' and a fender telecaster.
Kristian Bradley: The Randall's are awesome! Axe wise I play a Jackson RR24 flying V and an ESP EC1000 deluxe. Bonza!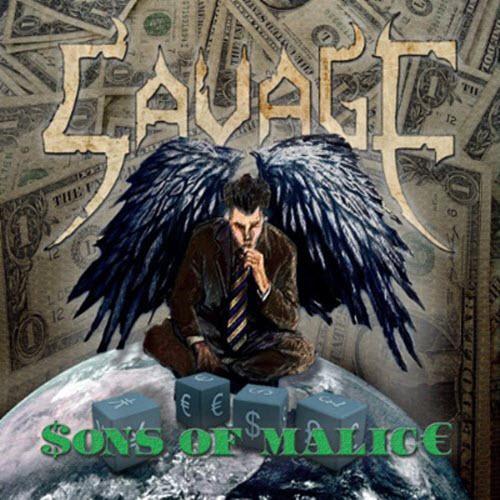 Hardrock Haven: Anything you want to talk about that I may not have asked you about?
Chris Bradley: I'd just like to say thank you to all our fans over the years that have stuck with us through thick and thin (mostly thin!) and welcome to the gang to all our new fans. Looking forward to seeing you all at a show.
Andy Dawson: It's important for bands to do new stuff and not live on the past but fans need to be open to that.
Kristian Bradley: I agree with Andy, progression is the key; all my favourite bands – Metallica, Priest and Machine Head – have all been able to take things to the next level. Not always successfully but at least as musicians they were willing to push the envelope. Savage has always done the same thing.
Hardrock Haven: Thanks for taking time out and chatting with Hardrock Haven today.
Chris Bradley: Enjoyed it, thanks
Andy Dawson: Yowzer.
Kristian Bradley: Thanks for having us!
Visit the band on the web: http://www.reverbnation.com/savagemusicuk
Read Hardrock Haven's review of their new CD Sons of Malice.
Video of Savage, Chris Bradley and Andy D., live in Germany with NWOBHM covers band Roxxcalibur at the Keep it True festival: