by Justin Gaines
– Senior Columnist —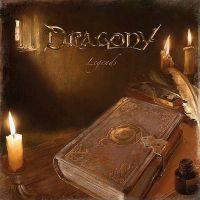 Legends is the debut offering from Austrian power metal band Dragony. The album was originally self-released in late 2011 by the band, but has been picked up for larger distribution by the Limb label. Given Dragony's old school melodic power metal approach, it's quite fitting that they ended up on the label that launched the careers of power metal stalwarts like Rhapsody, Luca Turilli, Mob Rules and Black Majesty. Dragony's sound would have fit right in with the rest of Limb's late '90s offerings.
Dragony sticks pretty close to the power metal formula here, specifically the Italian power metal formula. Legends kicks off with an obligatory symphonic instrumental introductory track (the throwaway "Of Legends…" and then it's nine solid songs full of virtuoso guitar shredding, lavish keyboards, galloping leads, soaring melodies and grand vocals. All set to the themes of mystic lands, mighty warriors and of course dragons. If you own at least one Rhapsody album you've pretty much heard the blueprint Legends is based on. They left out the melodramatic narration though, so that's a point in their favor.
To be fair, Dragony does this kind of power metal very well. The musicianship on Legends is very tight, the vocals are solid (not quite Fabio Leone strong, but decent), the songs are simple, melodic and catchy, and with the exception of the 8+ minute "The Longest Night" most of the songs stick to the 5-minute mark. The production is nice and shiny, and more or less "by the numbers" for the genre. It's ear candy, and that's not always a bad thing, even if Legends is not going to stack up well to this year's releases from Iron Fire, Clairvoyants or Iron Savior.
Even in a genre that is not known for progression and evolution, Legends seems like a deliberate throwback to another era. Of course, when you consider the lackluster recent releases from once-reliable power metal bands like Edguy and Hammerfall and the split in the Rhapsody camp, maybe Dragony is onto something with their uncomplicated, old school power metal approach. Forget moving forward. Grab your flowing shirt and a shiny sword and party like it's 1999!
Genre: Power Metal
Band:
Herbert Glos (b)
Frederic Brunner (d)
Andreas Poppernitsch (g)
Daniel Stockinger (g)
Georg Lorenz (k)
Siegfried Samer (v)
Track Listing:
1. Of Legends…
2. Burning Skies
3. Land of Broken Dreams
4. Dragonslayer
5. Wings of the Night
6. Vaults of Heaven
7. The Longest Night
8. Hero's Return
9. The Ride
10. Alcador
Label: Limb Music
Website: www.dragony.net
Hardrock Haven rating: 7.5/10