by Justin Gaines
– News Editor —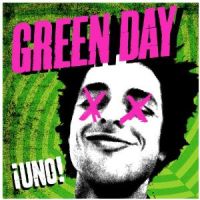 It's been three years since we've seen a new studio album from Green Day, and given the success of their ambitious 2009 concept album 21st Century Breakdown it's safe to say that expectations were pretty damned high for the eventual follow-up. Well, the album is finally here and true to form, the godfathers of the California pop-punk sound have once again defied expectations. Instead of another rock opera or concept album along the lines of American Idiot, the new album – titled Uno – is the first of three planned releases, with Dos and Tre following in November and January, respectively. Another notable shift is that Uno is the first Green Day album ever to list a fourth band member – second guitarist Jason White.
The band made a conscious decision to make Uno a back-to-basics, classic Green Day album, and from the very start you can tell they've succeeded. "Nuclear Family" is the opening song, and it takes all of ten seconds for it to seem like you're hearing an old favorite instead of a brand new song. Green Day has always been brilliant at making the punk rock style more melodic and accessible, and they have that going big time here. Songs like "Stay the Night," "Loss of Control" and "Angel Blue" take the formula the band perfected way back on Insomniac and give it a modern energy and perspective similar to some of the catchier b-sides from the past few years (like "Lights Out" and "Too Much Too Soon"). The terms 'catchy' and 'melodic' simply don't do justice to how infectious these songs are, or how quickly you find yourself singing along and repeating favorite tracks. Uno doesn't all go down that easily though. The second single "Kill the DJ" is as annoying as it is repetitive, and that's saying a lot. "Troublemaker" is another one that's more annoying than endearing, and probably should have been left for another Foxboro Hot Tubs record.
Musically, the band is as tight as ever on Uno. Having a second guitarist really pays off, and Mike Dirnt and Tre Cool prove once again why they're one of the best rhythm sections in pop music. Billie Joe Armstrong gets a little more experimental with the vocals, using electronic filters and enhancements on a few songs, but not enough to alter the core Green Day sound. Lyrically, the snotty narcissism and adolescent restlessness of Dookie has been replaced by the frustration and barely controlled anger that comes with growing older. The profanity is dialed way up and we get a window into the mindset that found Armstrong throwing tantrums and bundled off to rehab. It's a far cry from songs about boredom and masturbation, but Uno does have its more tender moments, like the bittersweet "Sweet 16" and the simple, moving first single "Oh Love," which closes the album effectively enough to have you checking your calendar to see how many days are left until Dos is released.
After a pair of ambitious and unforgettable albums as American Idiot and 21st Century Breakdown, it's hard to go back to the simpler, more straightforward pop-punk Green Day sound. In the end though, Uno is just too damned hard to resist. Fans who found the last two Green Day albums too political or too pretentious (or both) will rejoice to have the old Green Day back, and Uno is so enjoyable overall that it's unlikely to disappoint anyone who has ever enjoyed a Green Day album over the years.
Genre: Punk Rock, Pop-Punk
Band:
Billie Joe Armstrong (g) (v)
Mike Dirnt (b) (v)
Tre Cool (d) (v)
Jason White (g)
Track Listing:
1. Nuclear Family
2. Stay the Night
3. Carpe Diem
4. Let Yourself Go
5. Kill the DJ
6. Fell for You
7. Loss of Control
8. Troublemaker
9. Angel Blue
10. Sweet 16
11. Rusty James
12. Oh Love
Label: Reprise Records
Website: www.greenday.com
Hardrock Haven rating: 8.75/10