by Joe Mis
– Columnist —
Soulspell is the Brazilian metal opera project created by drummer Heleno Vale, and the "cast" has recently released their third full length album entitled Hollow's Gathering. Once again, Soulspell uses an number of well know vocalists as characters in the story, and this CD is a veritable "Who's Who" of talented rock singers. The band's main lineup is: Heleno Vale (drums), Jefferson Albert (vocals), Leandro Caçoilo (vocals), Daisa Munhoz (vocals), Marco Lambert (guitar), Rodolfo Pagotto (guitar), Wanner Maurício (bass)
Project creator and drummer Heleno Vale has graciously volunteered to answer a few questions for Hardrock Haven.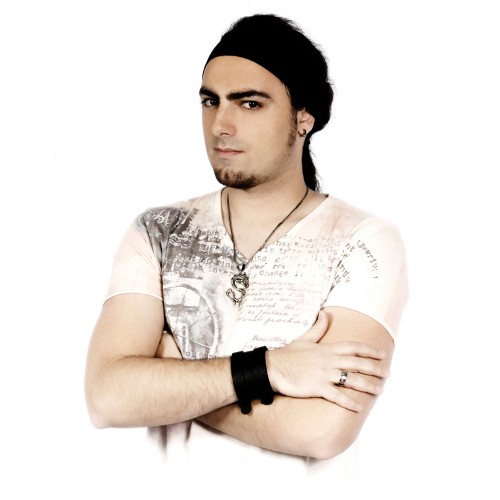 Hardrock Haven: Hi Heleno! Thanks for taking the time to visit with Hardrock Haven. Congratulations on the release of Hollow's Gathering – a solid album. Tell us a little about Soulspell and its current band members.
Heleno Vale: Hi, thanks a lot for this interview. We have just released our third album and I'm sure it is our best album so far. Of course I love all the three albums and the thirty songs we have so far and I'm sure we can now set a magic 20 songs set list for our concerts :) Also, we are trying to set a different, great and special show for our fans here in Brazil and maybe worldwide. Actually we did some shows before, since 2010, they were very nice musically but simple visually. We want to create a bigger concert, an unique and theatrical spectacle with narratives, changing background, fantasies (clothes), orchestra, choir, snow, rain, fire, audience participant etc. I think Soulspell and the other interesting Metal Operas have all the tools to disseminate Heavy Metal to more and more fans by creating great and interesting concerts. Let's see what happen.
Hardrock Haven: Soulspell is not a brand new band. Please tell us a bit about how the "metal opera" was conceived, and a bit of the band's history.
Heleno Vale: Ok! We are not so "new" (lol). We have three albums and here in Brazil it is very difficult to "survive" three albums. We want to go much more far. This metal opera was conceived based on a true story a friend of mine told me. I thought it was a fantastic story to write and I started writing it in the same day I heard it. Until that moment I didn't know I would write it musically, but somehow I knew I should write it. Then, I can't remember how exactly, I started to write songs for a band and, in parallel, I start to write the songs for Soulspell. Of course it became much more interesting than the songs I wrote for common bands (lol) because I felt very great writing these songs, I knew I could do it well. So I like it so much that soon I wanted my idols to sing and play it and a good producer to guide me musically. It was hard (very very hard) but I think we survived and can give much more to those who like fantasy, good stories and good music.
Hardrock Haven: What was the inspiration for the story of Hollow's Gathering?
Heleno Vale: First, there is not a Hollow's Gathering story. Soulspell is based upon an unique story I wrote some years ago. Hollow's Gathering is the third act when the princess Judith dies and tries to help his son from this new strange world she is now. Timo, her 15 y.o. son, is finding his special gifts he didn't know he had and dealing with his mother's death and his father's disappearing. He finds his mother's diary and find out what all the truth regarding his father and some incredible truth regarding the world we live (that is just a grain of sand to all the timeless standing universes "surrounding" us). In this act Timo will deal spiritually with the game of Banneth (Blaze Bayley) to reach to sacred Dead Tree (Tim Ripper Owens) while, in parallel, Judith deals with Charon (Michael Vescera) and Samael, the prince of devils (Nando Fernandes) to help his son. Also in parallel, on Earth, a very big and hidden communion begins its great and evil plan. You will have more about this plan on act 4 :)
Hardrock Haven: Soulspell lays down some great power / symphonic metal tracks with a mix of styles and tones. Who are the band's biggest influences?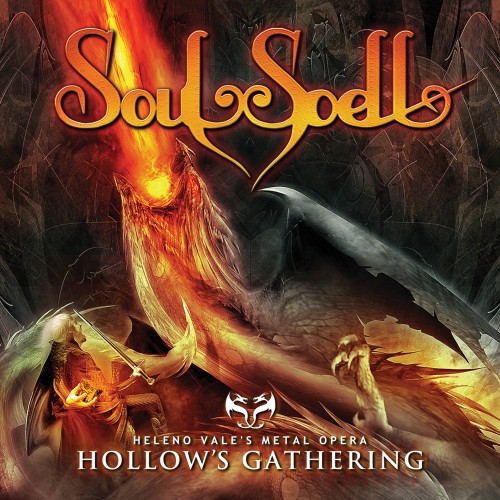 Heleno Vale: I have a big list of bands which have influenced me and it is not made just by Heavy Metal bands (do not be surprised – lol). I think it contributes to Soulspell naturally creates, in my opinion, very different music from other Metal Operas. Pointing just a few: Iron Maiden, Blind Guardian, Metallica, Judas Priest, Tears For Fears, Slayer, Ayreon, Avantasia, Sepultura, Rhapsody, Alanis Morissette, Maná, Angra, Michael Jackson, Sonata Arctica, Helloween, Kamelot, Primal Fear, John Denver, Celine Dion, Roupa Nova (from Brazil), Walt Disney soundtracks etc.
Hardrock Haven: How did you manage to hook up with such internationally known vocalists, and what was it like working with them?
Heleno Vale: I have a lot of friends who are musicians and they help me a lot to find the singers I want to some character. Internet helps a lot too. It is fine to work with all of them. Each one is very different from the other; some of them became very close friend of mine and they are very talented professionals. It was a pleasure to work with each one and to learn so much working with them. I hope I can continue to make so good friends and to work with such great musicians.
Hardrock Haven: You have three terrific singers in the band now. How did they feel about working with so many "outsiders," and does that make it difficult for Soulspell to find and express its own identity?
Heleno Vale: Jefferson, Leandro and Daisa are some of the great singers in the whole world. Jefferson has the unique powerful voice. Leandro is the most complete singer I ever met and Daisa is the best singer in the world (together with Celine Dion and so much better from the other Heavy Metal girls – very very far – pay attention to her Vandroya's album – January 2013). I'm very glad they embraced Soulspell so tight. Like I said we are learning how to set a great concert. We did some concerts here in Brazil and we are preparing a very big, different and special concert for the new tour. I want to have some great special participants like we had the pleasure to work with Zak Stevens last time. Our fans will not believe what they will see. I hope to bring this new concert out of Brazil too.
Hardrock Haven: Obviously the story is important to Soulspell. What is your songwriting process like, especially if you are trying to write for a guest vocalist?
Heleno Vale: I do love to write fantasy stories and music. I write every time in everywhere. First I write a general context, then I write the characters and then I detail the story. We are preparing a complete book. I hope to release it worldwide. Regarding the guest vocalists I study their previous works to write adequate vocal guidelines to each singer. Also, of course, based on their timbre I offer them some adequate character. All of them liked my choices so far and did great jobs for every character. They are really good!
Hardrock Haven: And what are the challenges, particularly since you are a drummer, of writing and arranging such complex vocal lines?
Heleno Vale: I'm a drummer but I had classes of harmony and piano some years ago and I continue to study it myself. There are no challenges; I love it much more than I love the drums.
Hardrock Haven: What is your favorite track on the album, and which is your favorite to play live?
Heleno Vale: We didn't play live the songs from Hollow's Gathering yet. I think "The Dead Tree" is a good one to play live (maybe with Ripper Owens on the stage). It is difficult to point a song I like more from this album, because we tried to balance things here. Maybe I could point you "Hollow's Gathering" as one of the best songs I wrote so far, with beautiful choir and melodies, powerful voices, a different and beautiful beginning (of an album), a special, very different and hard to write ending part (Actually, I'm very proud of this ending part. There are such a lot of things and ideas going on and all explodes in just one single point. It chills me). Also, the beginning and the ending part of "To Crawl or to Fly" chills me, when the princess Judith realizes all the choices we make are based on dishonest knowledge. The last song – "Whispers Inside You" (from the mid part to end ending) chills me, when the princess Judith is trying to find some energy, writing in her new diary, to keep fighting in the underworld "recall your purpose of life, let your flame burning inside – reborn from all this rot, we're not the same, not anymore". "The Dead Tree" lyrics are the best one I wrote so far. Finally it is a good and emotional album.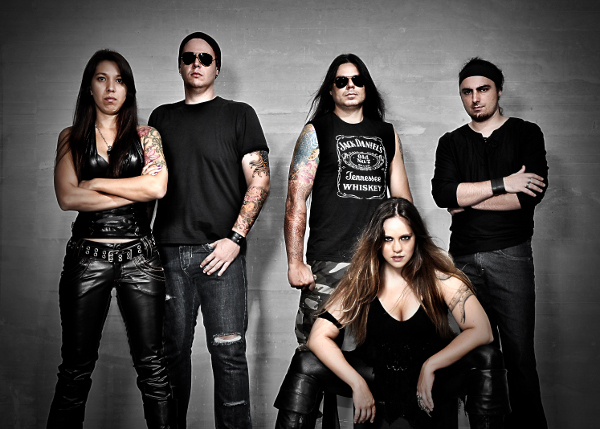 Hardrock Haven: And speaking of "live," how do you handle the vocals without your album guests? Do your three singers play all parts, or do you recruit voices as needed?
Heleno Vale: I intend to have our great guests with us of course. Jefferson, Leandro, Daisa and some well-known guests may be enough together with a magic, special and "visually" concert.
Hardrock Haven: Tell us a bit about the metal scene in Brazil – something we don't hear that much about in the States.
Heleno Vale: Ok. The metal scene here is a strange one. We have a lot of international concerts happen every week (every Monday, Tuesday, Wednesday…believe, if someone create an "eighth" day of the week, someone will schedule an international artist to play in that day). Here we love and respect international metal bands. We fill almost every international concert, every day. We pay something like USD200 to see each international concert how many times it is necessary per month. If necessary we invest all our earnings. Of course almost every international band deserves it, because they are always well talented and they have an excellent structure. But Brazilian bands have not same structure. We have so many well talented musicians, but we can't compete with the high quality and high cost of an international concert. At the same time, it is not fair to ask the fans to leave the perfect international bands and to start encouraging the Brazilian bands. So we have a sad "deadlock" here.
Hardrock Haven: So what comes next for Soulspell?
Heleno Vale: We intend to create a "perfect" concert so we can differ from the other national and international bands. We want to have our big guest on board. We want to release a special book. We want to record another album (I'm doing it already of course). We want to travel for an international tour. I want to organize another Brazilian singers' contest (the third one) to choose the best Brazilian singers for our fourth album. We want a lot of things.
Hardrock Haven: And finally, is there anything else you like to share with our readers?
Heleno Vale: Yes! Soulspell Metal Opera is just beginning its journey. We are not just one more 3 CDs project. We are a band which intends to (and certainly will) make international concerts and release many, many albums to come. Also, I have to say that Soulspell fits perfectly the term "metal opera" but we have our own music style, with so different influences and much different sonority from the other "metal operas". Besides that, we are preparing a special and unique kind of concert that I'm pretty sure our fans will like. So, please, I ask everyone to follow Soulspell and to respect all the Brazilian Heavy Metal bands which are improving their quality and will certainly reach the world in the next years.
Hardrock Haven: Thanks for taking the time to visit with Hardrock Haven. Congratulations again on a great release, and we wish Soulspell much continued success!
Online: http://www.soulspell.com/