Hellsingland Underground | Evil Will Prevail
by Derric Miller
Managing Editor —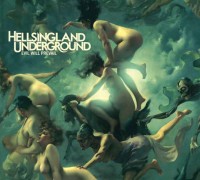 "Everybody seemed so depressed, yet nobody sang the blues. Except for this little band … we made the music feel new." While that at first glance appears a grand claim, it just isn't. It's accurate, it's a fact (not an opinion) and it's also quite self-aware for this introspective and innovative band from Sweden, Hellsingland Underground, and their timely release, Evil Will Prevail. They have redefined exactly what "new" music means, and there is not another band on the planet capable of creating this music. "New" enough for you?
On their debut, Madness and Grace, Hellsingland Underground brought you into their realm that is at once bleak, stark, and hopeful. Finding beauty in despair and finding life's affirmation in death (like on "A Short Time in the Sun") is that umbilical dichotomy between hope and hopelessness. They have expanded on this idea with a seemingly dark theme that is also uplifting and celebratory.
For instance, "Singing While the World Dies" is the opening track. You'll hear a clean, acoustic composition at the onset, with Mats Olsson and Peter Henriksson playing off each other on guitars while Charlie Granberg, a true poet and singer, tells this tale with an earthy, smooth and casual delivery that is melodic and conversational. Lyrically, the band calls us all to "Keep on singin' through the hard times. Keep on singin' while the world dies." It's hard to laugh while crying, but sometimes it's the only game in town, and Hellsingland Underground captures that sentiment completely.
The title track "Evil Will Prevail" is possibly the biggest draw on the album, simply because it seems impossible to write a folky, upbeat, danceable track about Evil destroying the world … and yet they do it. The hyper-melodic chorus of "If there's a God in the heavens above, He better come out and show His face. Because idiots rule, stupidity reigns, no matter what anyone's trying to say, Evil will prevail," is just catchy as … Hell. If you are not a person akin to deciphering lyrics, it doesn't matter, because you'll pick up a jug of whiskey and dance around like a fool just hearing the expert songwriting and delivery, but you can't ignore the ominous albeit somehow upbeat ending of "Evil will prevail … the good ones, always fail."
Hellsingland Underground takes you into a dream world on "Black Clouds on the Horizon." It's Pink Floyd-ish, kind of, maybe even like The Doors back in the LSD days. It's mesmerizing the way the vocal melodies ride step-by-step with the organ during the chorus, which as you should be able to guess by now is foreboding and perfect. Drummer Patrik Jansson shines on this artfully crafted song, showing a deft, groovy touch.
But it can't be all doom and dance-y gloom on Evil Will Prevail, and that's where you run into "You Shine the Dark Away." Anyone with a significant other (that they actually love) or a child can feel this one haunt somewhere under the sternum. While bitingly sarcastic with lines like "And if I had a heart, I would want it to be like yours," Hellsingland Underground is once again pointing out the Yin and Yang of life … that with the impending darkness there's also an omnipresent light, if you just remain human enough to look for it and embrace it.
Not a Queensryche cover, "I Just Don't Believe in Love" is a story of not remaining human enough to embrace that aforementioned light … or just being beaten down by so many destructive and parasitic relationships dying alone is a better way to go. You've probably felt this way at some time, and if bad relationships are your expertise, you'll glom onto lyrics like "They only waited long enough to leave, to make sure they'd make me cry" or the happily depressing refrain of "I'll get high on my own, gonna die on my own."
The last song, "They All Grew Old While I Grew Young" is a haunting, slow acoustic composition that is looking back over life and knowing the band, over the actual album they just created. Art is life, life is art, all that jazz. You can't hear words like "I could empty all my pockets now since they contain no secrets anymore … I have spilled my last drop of blood," and not tie those words to both. Being authentic and true to their music, it all ends with "And so my journey begins." So with Hellsingland Underground, no matter how dark it all becomes, there is never a fat lady to sing, unless you let her.
Like most artistic, groundbreaking and innovative bands today, Hellsingland Underground may be dismissed or misunderstood because of their obvious talent, and odds are they won't reach the global heights they deserve. But obstacles aside, Hellsingland Underground does make the music feel new, which is more than you can say for damn near every other band in the world making music today.
Genre: Southern/Folk/Rock
Band:
Charlie Granberg – Lead Vocals & Harmonica
Mats Olsson – Guitar & Backing Vocals
Peter Henriksson – Guitar & Backing Vocals
Martin Karlsson – Bass
Henning Winnberg – Piano & Organ
Patrik Jansson – Drums & Percussion
Track List:
01. SINGING WHILE THE WORLD DIES
02. THE LOST RIVER BAND
03. EVIL WILL PREVAIL
04. BLACK CLOUDS ON THE HORIZON
05. YOU SHINE THE DARK AWAY
06. KING OF NOTHING
07. IN THE EVENING
08. MIDSUMMER'S WREATH MELTDOWN
09. I JUST DON'T BELIEVE IN LOVE
10. THEY ALL GREW OLD WHILE I GREW YOUNG
Label: Killed by Records
Web: www.hellsinglandunderground.com
Hardrock Haven rating: 9.1/10