Jason Fuller of Blood Duster
by Cameron Edney
– Guest Columnist —
Aussie Extreme Metaller's Blood Duster are back on the touring scene, currently hitting Australia as part of the Bastardfest line-up featuring an array of Australian bands from various sub-genres of metal. Having formed in 1991 Blood Duster are one of Australia's longest running extreme metal bands and they have built up one hell of a reputation as a live act to be seen!
The band recently finished recording the follow up to 2007's Lyden Nå and that is something that has Blood Duster fans very excited. The upcoming album is titled KVLT and will be sure to blow away all other bands in this genre! I had the pleasure of catching up with Blood Duster bassist and only original member Jason to talk about the current run of live shows, upcoming album and more.
Here is what Jason had to say….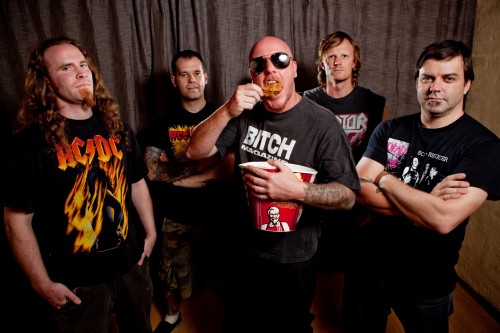 Hardrock Haven: Jason; thanks so much for putting time aside to speak with us today, how's thing going?
Jason Fuller: Good, not much to report really, everyone is happy and healthy as far as I can tell. As long as no one is dead we're cool.
Hardrock Haven: Let us talk firstly about these Bastardfest shows… You're billed on five of the nine shows taking in the country, you guys must be happy to be a part of this great festival celebrating Aussie metal?
Jason Fuller: Sure, it's a good excuse for us to get pissed with people we haven't had a chance to catch up with since the last round of BF shows. Be much better than hanging around Soundwave all day hoping to see a band that's any good. While we're at it: Why are fuck all Aussie bands on there if any? And why is no one jumping up and down about Soundwave pretty much taking a shit on the local scene by not including locals?
Hardrock Haven: I honestly have no idea… that is a question best reserved for the promoters to answer. Jason Getting back to Bastardfest though… for the metal fans that will be attending these shows, what can they expect when Blood Duster hit the stage, got anything special planned for these shows?
Jason Fuller: We never really plan anything special, or at least haven't for a long number of years, we will just do what we do and we're glad that people still bother to turn out to see us. But that said something generally always happens, its Blood Duster you know…
Hardrock Haven: I have had the pleasure of seeing you live a number of times over the years and you always put on a killer show! What in your opinion have been some of the highlight shows you have played to date?
Jason Fuller: Fuck man… there are too many, we've pretty much done everything we ever set out to do! We played ping pong with Metallica (and won) we've been nude, been in fights, fingered some people, been fingered, we've done pretty much everything a band can do within the law… and sometimes outside I guess. We've definitely enjoyed ourselves and if that doesn't get me in to some kind of heaven with a few virgins then fuck it, at least I've had a ball while I was here.
Hardrock Haven: You are one Australian band that really has had the pleasure of sharing the stage not only with great Aussie bands but some of the best metal bands from around the world! Whilst touring who's given you the best advice and what was it?
Jason Fuller: I can't remember really getting any specific advice, I guess Rich from Brutal Truth was pretty spot on with eating whole cloves of garlic to avoid getting a cold.
Hardrock Haven: The current Bastardfest bill has plenty of great Aussie metal bands billed, no doubt some if not all are friends, who are you looking forward to checking out and playing alongside?
Jason Fuller: I exist are always fun to see as Josh Ex-Blood Duster/ Pod People is with those guys. I helped with their last couple albums, so we've got to know them pretty well… there are tons, Extortion are good to see, Fuck I'm Dead are playing some shows this year so that will be good to see them again, The Kill are always good…. Wait til people hear their new album it's a fucking killer. Broozer and King Parrot will be killing people; they are two of the best live bands Australia has right now I think.
Hardrock Haven: Yes, both great live bands indeed mate! With such a killer back catalog, tell us about the set list for these upcoming shows, no doubt, as time goes on the task of putting together a set that makes not you guys but fans happy must be a pain in the ass!
Jason Fuller: We only do this for us so we generally do exactly what we want to do. Certain songs really work live and some just die in the ass, we generally go the scientific route of do what works and don't do the shit that doesn't. It's not an exact science but the laws that govern it are pretty solid.
Hardrock Haven: Jason you had a massive run of shows there for a while then decided to take a little time out, do you think it was critical to keeping the band together to have that time apart?
Jason Fuller: Well… I wanted to break the band up as I've never really had the pleasure of killing a band and wanted to know what it feels like… twenty years doing something gets a bit tiring, but everyone wants to continue so I guess that is what we will do… at least for the time being. We have the new album coming out and we've finally found a way to present it that has really made me happy and want to do new things. So we will be around for a little while yet it seems.
Hardrock Haven: You've been in the band from the very beginning… what comes to mind when you looks back on those crazy crowds that have come out to see you! You have some insane fans what's the craziest shit you've seen happening in the crowd whilst playing?
Jason Fuller: I've seen a dude eating glass while we played with blood squirting out of the side of his mouth, I've seen tits of all shapes and sizes, shit dude I've seen people fucking on stage in front of us… we've seen some crazy shit. All of it is more than welcome, you've gotta keep shit interesting.
Hardrock Haven: [Laughs] yes you do. Mate it's been sometime between studio albums… you have a new album on the way what can you tell us about that?
Jason Fuller: Got a new album ready to be unleashed, I'm really excited to see the reaction. It's called KVLT and will be available on limited edition vinyl only, no downloads, no CDs, no fucking way I want any posers listening to it.
Hardrock Haven: You are no stranger to working in a studio, and no doubt you've learned many lessons over the years whilst recording. What advice do you have for those upcoming Aussie rockers who are entering a studio for the first time?
Jason Fuller: Rehearse the fuck out of your shit, and if it's your first time, book a couple days and demo your stuff. There will be nothing worse than going to make your grand entrance onto the recording world and fucking it up. Demo all the songs roughly, so you know what works and what you need to work on, do not expect the demos to rule- but you will learn more than trying to do it in one hit. Also don't try and be the engineer and the artist, it rarely works. Ask me I know from experience. All it will do is hold up your band while your learning something new, focus on your playing and making good music- leave the recording to some other fuck.
Hardrock Haven: Mate just before we wrap it up as we said the current run of Bastardfest shows will see you guys take in most of the Aussie states in October, what other immediate plans are in place for the band?
Jason Fuller: Not much, we will do a few shows in Melbourne and then start working on our follow up recordings for mid-next year… "hopefully".
Hardrock Haven: Sounds great man! Jason thanks again for your time mate, have a blast out at these shows, do you have any last words for our readers?
Jason Fuller: Thanks for reading, I hope it wasn't too boring, come to the shows and buy us beer, its always appreciated and you will make a friend. Look out for the new album KVLT. Out very very soon!
To keep up with all the latest happenings from Blood Duster head to the following website.
Check them out playing across Australia right now on the Bastardfest Line-up with Psycroptic, Fuck I'm Dead, I Exist and many more. Full event details can be found here