Andrew Klein co-author of the book Randy Rhoads
by John Kindred
– Publisher —
Authors Steven Rosen and Andrew Klein have recently released their 400-page tribute to the late Randy Rhoads. Together they have delivered the most comprehensive historical look into the world of Randy Rhoads from the beginning to the end. Randy Rhoads features hundreds of rare photographs and samples of memorabilia and chronicles an oral history of Rhoads' life through the words of the people who knew him. The book is packed with poignant stories about the guitar icon. Hardrock Haven was fortunate enough to interview author Andrew Klein and find out more about this amazing tribute to Randy Rhoads…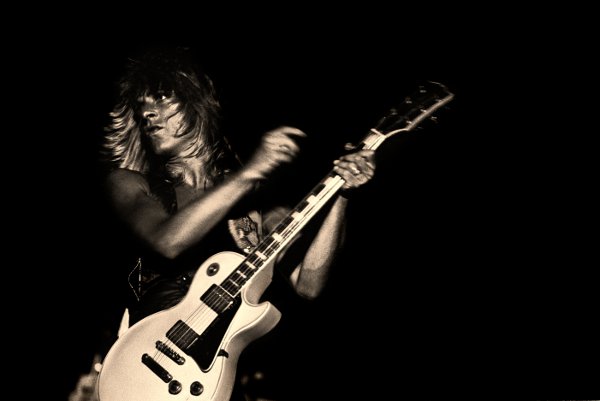 Hardrock Haven: There are several books out today about the late Randy Rhoads so what motivated you to write this book?
Andrew Klein: Well, when we began the process, only one book had been published about Randy Rhoads. It was Rudy Sarzo's book entitled, "Off The Rails," which isn't really about Randy. It's about Rudy. The book chronicles his time playing in Ozzy's band with Randy.
I am a guitarist. I've loved Randy since 1981. When I was 12 years old, I used to cut all of his pictures out of magazines and place them into photo albums. I kept waiting and waiting for a comprehensive book to be published. As of 2008, one had yet to be written, so I took a shot at it. I knew I could do it. I learned a lot about Randy over the course of my life. My good friend Peter M. Margolis was a friend and guitar student of Randy's. Through his connections to Randy's closest friends and band mates, we were able to get them on board. Peter is also the Senior Editor of our book.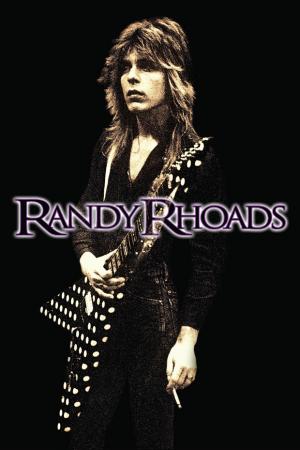 Hardrock Haven: How did both you and Steven Rosen become partners in this project?
Andrew Klein: I am not a writer by trade. After writing for more than 3 years, we felt we had something that was pretty good. We were very happy with it, but we knew it needed to be better. I called a friend of mine who is an accomplished writer, and he wasn't interested due to his busy schedule. He then introduced me to Steven Rosen and suggested that Steven would be perfect. Peter and I met with Steven to show him what we had done. Fortunately, Steven has had an illustrious career. He's seasoned and very experienced. More importantly, he had already interviewed some of the people that we hadn't. Some of those interviews helped us tell a more complete story. Steven then began working with me to improve upon what I had already done. He elevated the book to his level. It is intelligently written and somewhat poetic. I am proud to say it's great! It's great because of Steven Rosen. He is brilliant. I was amazed when I began reading what he was sending us.
Hardrock Haven: For those that haven't seen or purchased the book, can you explain how you made this book special when compared to other recent books published about Randy?
Andrew Klein: The other books are soft-cover paperbacks with a handful of photos. Our book is hard cover, more than 400 pages, weighs 7 lbs. and contains one full color page after another, crammed with photos. Randy is extremely photogenic. The first thing you must do if you want to create a book about Randy that people will appreciate, is to build it around the images. Randy's fans, love to look at his pictures. They also measure everything by its rarity. If it doesn't contain something new, it means almost nothing to them. I understand why they feel that way. No one has really done anything to honor Randy other than the 1987 Tribute album. He only recorded 19 songs with Ozzy and there is virtually no video. He was only interviewed a few times. Fans got tired of hearing, seeing, reading the same things over and over again. They will love our book because there are interviews with the people who were closest to him. None had ever spoken publicly about Randy before.
Hardrock Haven: How long did take to compile the stories and photographs into one cohesive story?
Andrew Klein: The process was fun at times, but it was very painful most of the time. Like any endeavor such as this, it came with a price. I have paid that price dearly; emotionally and financially. The writing process took a total of 3 years. The layout and design was a little more than 4 years. I was constantly visiting with photographers and reviewing / licensing images while we were writing. We were basically laying it out while we were writing, which, in retrospect was a huge mistake. To create a book like this, the smart thing to do would be to make sure the writing is completely finished before attempting the design. Every time we made an edit to the text, it altered the page. Everything shifted. The page before the edit and the page after would be affected by the change. We were constantly redesigning pages that we thought were done, all because a word or two had changed within a sentence. Our Graphic Designer, Denny Anderson had the patience of a saint. But I could see that look in his eyes when I would tell him that Peter or Steven had made yet another change within the text. We both knew what that meant. We both have day jobs. Having been working night after night from 7:00 P.M. until 1:00 A.M. for four years, the whole thing became overbearing. It was painful. We thought it would never end. We felt like we were in a prison and that the book would never be finished. When it was finally done, it was shelved for more than a year. Imagine our frustration.
I wish I could put it in a more positive light, but I am being honest. It was a lot of hard work. We all made sacrifices, none greater than the ones made by my wife and children. I tried not to let the book interfere with our lives, but at times it did. When I began writing, my daughter was 2 years old and my son was 6 months old. We will never get that time back.
In the end, I helped to create something special for a guy who has meant everything to me. I feel honored and privileged to have been the one chosen to do it. Whatever the consequences are or were, I have and will accept them because I love Randy and would do anything for him, after all he's done for me. I never got to meet him, but words cannot describe how much he has influenced me as a musician and more importantly, as a person.
Hardrock Haven: As you interviewed people and the story unfolded did you debunk any myths that surround the legendary guitarist?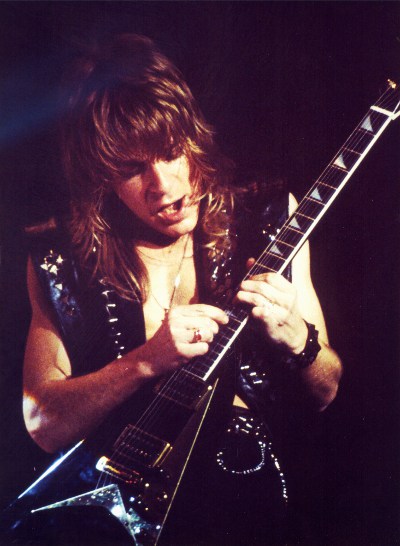 Andrew Klein: What we learned was, the myths were all true. He was everything that history made him out to be. He was one in a billion. Not to say he wasn't flawed. He was. We all are. Randy made mistakes as we all do. Randy hurt others as we all have. When he quit Quiet Riot, he left for England without even calling his drummer Drew Forsyth to tell him he was leaving the band. There were no goodbyes, hugs, handshakes, apologies, or explanations. He just left. There was not even a phone call. That is not because Randy was a terrible person. It was because he was too sensitive to face it. He couldn't look at Drew in the eye and say 'I'm sorry for walking out on you.' He couldn't bring himself to do it. It was easier for Randy to say nothing than to say goodbye. He had to be forced to audition for Ozzy because he didn't want to hurt his band.
One debunked myth is the cause of the accident that took his life. Others have surmised the pilot committed a murder-suicide. We have learned that this was not the case at all. The pilot, Andrew Aycock, was not a monster. He was a family man and someone who admired Randy very much. That said, flying at treetop level is extremely irresponsible. But we know with no uncertainty that it was simply a horrible and tragic accident. Chapter 10 of our book chronicles all of the specific details of that terrible day.
Hardrock Haven: Do you feel after compiling the back story of Randy that his "legendary" status has been embellished? Even from first hand witnesses?
Andrew Klein: Quite the contrary. Randy is under-appreciated. On the one hand, I think its great that he's never been forgotten. But when the 'experts' dissect the greatest guitarists of all time, I cannot understand why Randy is not closer to the top of the list. He was an innovator. He forever changed the way the guitar will be played. His music is blared every week at every major sporting event. Walk into any guitar store on any given day, and you will find a young teenager sitting on a stool and playing "Crazy Train." Randy accomplished all of this by the time he was 24 years old. I have many copies of guitar lessons that he gave. He was so much better than people realize. I don't want to say he held back on the records. He gave it all he had. Ozzy told him to be the best Randy Rhoads he could be. But he had to do so within the confines of an Ozzy Osbourne song. Had Randy been given the necessary time to record solo albums and make guest appearances, he would have carved out a career for himself much like Jeff Beck's.
Hardrock Haven: What era of Randy Rhoads life did you find to be the most revealing about him personally?
Andrew Klein: I find every moment of his short life incredibly fascinating. Most everyone is familiar with the events surrounding his time with Ozzy. However, most fans know very few details of his struggles on the Sunset Strip for 5 years. His close relationship with Kevin DuBrow is what got Randy out of his garage and into Hollywood. Recently, I produced and co-wrote a documentary film about his time with Quiet Riot for Redmatch Productions (www.redmatchproductions.com). The film is entitled, "Randy Rhoads, The Quiet Riot Years." We are really excited about it. Peter M. Margolis is the Executive Producer and Ron Sobol is the Director. Ron was Randy's dear friend, and personal photographer. It was very well done. The film contains a plethora of Ron's photos and video footage. I was shocked to see how many photos Ron had stashed away. I asked him why he never published them and he told me that he and Kevin DuBrow were in the planning stages of creating a book at the time of Kevin's passing. Luckily, Kevin's family was kind enough to let us include all of Kevin's memorabilia that he had saved over the years.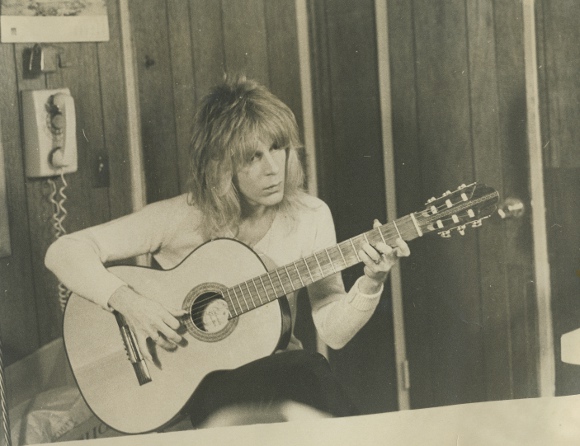 Hardrock Haven: Having read Rudy Sarzo's book Off the Rails, which was very insightful to the inner workings of Ozzy's band and his perspective of Rhoads… I found your book to be a concise history of Rhoads, his life and death. The photos in there are amazing as well as the stories. I have to believe die-hard fans will treasure this book for years to come. As a fan thanks for putting it together.
Andrew Klein: That is very kind of you to say, thank you. That's what we wanted to do. As a fan, I wanted to create the book I've always dreamed of having. Randy's fans will hopefully love it as much as we do. It's something that was long overdue. I believe that future generations will utilize our book as a major Randy Rhoads resource. It's the definitive book on Randy because the stories were told by those who knew him best.
Hardrock Haven: What did Rhoads mean to you personally? Did you find what you were looking for as you put the book together?
Andrew Klein: Randy meant everything to me when I was 12. Through my teens, when all the high school kids were at parties and having fun, I was at home organizing my photos of Randy and practicing with my guitar. He was everything to me. There wasn't a whole lot getting through to my brain at that time if it wasn't somehow funneled through Randy Rhoads. Today, he means no less to me. I am 43 years old. I own a small business and I am married with two beautiful children. I don't obsess over Randy like I used to, but he will forever remain close to my heart.
I can't honestly say I was looking for anything when we started writing. My objective was to present his life story, chronicle his career, provide an accurate portrayal of the circumstances surrounding his death, and explore his legacy and why he is still important 30 years after his death. As an added bonus, I decided to also showcase his gear, and devote an entire chapter to the photographers who shot him. The reason why I wanted to do that is because some of these guys are extraordinary. They are behind the cameras and we know very little about them other than their photo credits. I wanted to talk to these guys about what it was like to shoot those pictures. Their stories about shooting Randy are just as interesting to me as their photos. All in all, I believe we accomplished our goals. I hope that everyone who loves Randy will check it out. We only printed a small number of books. Once they're gone, they're gone. I'm not convinced there will be a second print run. This book was very expensive to produce.
Hardrock Haven: I am sure there are many more questions to be asked, let's wrap this up by letting you add something that I may not have asked… the floor is yours.
Andrew Klein: We were very fortunate to earn the trust and friendship of those closest to Randy. It was because of them that this book is special. To name a few, Lori Hollen, Jodi Vigier, Kim McNair, Ron Sobol, and Drew Forsyth. This was Randy's inner circle. These are the people who he loved dearly and they were kind to share the memories, their stories, and their photos. I once expressed my sadness to Lori that I never got to meet Randy. She said, "The friendship you have with us is Randy's gift to you." That really made me stop and think about how lucky I am. Randy's closest friends have become my dear friends. That's one of the greatest gifts I have ever been given.
Hardrock Haven: Thank you for your time.
Andrew Klein: This was a real treat for me. Thank you so much.
Get your copy at Velocity Publishing Group.
Product Details:
Hardcover: 420 pages
Publisher: Velocity Publishing Group, Inc.; First edition (June 29, 2012)
Language: English
ISBN-10: 1450727212
ISBN-13: 978-1450727211
Product Dimensions: 13.5 x 9 x 1.4 inches