Andy Rock | Into the Night
by Nikiforos Skoumas
– Columnist —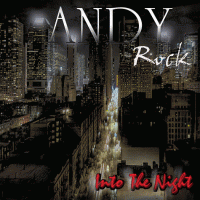 Those following the melodic rock scene closely would probably agree that Greek AOR group Wild Rose delivered one of the greatest underground releases the genre has enjoyed lately through their debut album Half Past Midnight. It's been well over a year since their album was released internationally by Retrospect Records so-safe to assume- most fans would be looking forward for a follow up release by Wild Rose and their remarkably-retro brand of adult oriented rock.
Well, instead of a second Wild Rose studio album we get a solo debut by their guitar player Andy Rock in 2012. It is not a stretch to assume that the quality of Half Past Midnight has a lot to do with fact that Andy was offered a solo contract by one of the leading labels of the genre AOR Heaven; which also stands as a guarantee that this solo debut is not going to stand too far apart from Wild Rose.
As a matter of fact Into the Night couldn't have come closer to Wild Rose musically. Andy Rock utilizes the very same songwriting and equivalent melodies to those found on the Wild Rose debut into making an album whose sole area of differentiation (from the group) are the vocals. The title Into the Night makes direct reference to the Wild Rose album, Half Past Midnight while the artwork concept retains the panoramic view of the city at night. That's probably a way of saying that the new album is more of the same great melodic stuff.
Honestly it is remarkable how close Andy comes in recreating the Wild Rose sound; with the obvious exception of the vocals, being handled by the guitarist, the guitar tone, the keyboard sounds/effect and the drum production all seem to come out of the Wild Rose album. The end result is definitely up to standards though understandably Andy is nowhere the lead singer George Bitzios is; never the less he manages to pull the whole album off remarkably well, through his reserved-yet-melodic style, sounding considerably more mellow than the band. Aside of the vocals, one has to also give credit to Andy for handling the keyboards and bass as well as the production of Into the Night; the only other major contributor is drummer Giannis Papavasiliou. Songs like "It's not Over, "Lonely Heart", "Crying Every Night in the Rain" and "Waiting for your" love could have easily been included on a forthcoming Wild Rose album.
Overall Andy Rock's solo debut is as relevant an offering in melodic rock as the Wild Rose album hence if you are into 80's retro-AOR, Into the Night is a must for your collection. It does not get any more old-school than this!
Genre: Melodic Rock
Line Up:
All instruments & vocals: Andy Rock
Drums: Giannis Papavasiliou
Track Listing:
Love is not a Game
It's Not Over
U Belong to me
Lonely Heart
Cryin' Every Night( in the Rain)
I Wanna Be With You
Waiting for Love
Without You
Emotions (Instrumental)
Out on the Streets
Into the Night
Label: Cargo
Hardrockhaven Rating: 8.5/10