by Nikiforos Skoumas
– Columnist —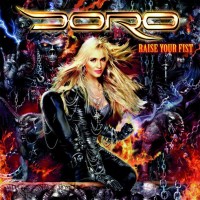 German heavy metal queen Doro Pesch is back with her 12th studio album Raise Your Fist. It has been three years since her previous album Fear No Evil which celebrated the front-woman's 25 years in the music industry. Raise Your Fist also marks a change of record label for Doro now under Nuclear Blast Records, and a very relevant Billboard Heatseekers chart entry.
You would be right to assume that Raise Your Fist follows the same musical direction as its predecessor in a long standing heavy metal tradition. Once again Doro offers a collection of anthemic heavy metal tunes with the occasional few being sung in German (in this case "Freheit" and "Nackenbrecher") that could have just as well come out of the previous album or even the album before that, Warrior Soul. It is only natural that an artist with these many years in the industry would have formed a style and sound of their own, though it does get predictable and for that matter Raise Your Fist holds few surprises even for those new in the realm of Doro.
Like its predecessor, Raise Your Fist has its share of guest appearances including a duet with rock n' roll legend Lemmy Kilmister on the mid-tempo balladic "It still Hurts" along with lead guitar parts by Gus G. on the furious "Grab the Bull." One has to also address the closing song of the album, "Hero," a tribute to Ronnie James Dio, who, as most are aware, was a close friend of the singer.
The line up on this new album features beyond Doro, long serving rhythm section Nick Douglas and Johnny Dee, keyboardist Luca Princiotta and new guitarist Bas Maas.
The limited edition of the album comes in a book-like cover, (the patent Nuclear Blast has been using extensively over the past couple of years) featuring two bonus tracks, being the English version of "Human Rights" and "Strong and Proud" and offering fifteen tracks in total. There is also some bonus on-line content to be found on this version, but when compared to the ltd editions of the previous albums which featured an additional disc, or in the case of Fear no Evil, a couple of additional discs, Raise Your Fist is bound to fall short. Overall if you are a fan of Doro you already know what to expect from this 12th studio album and, judging by its chart performance, you have already added it to your collection.
Genre: Heavy Metal
Lineup:
Doro Pesch – Vocals
Nick Douglas – Bass
Johnny Dee – Drums
Luca Princiotta – Guitars, Keyboards
Bas Maas – Guitars
Track list:
1. Raise Your Fist In The Air
2. Coldhearted Lover
3. Rock Till Death
4. It Still Hurts – feat. Lemmy
5. Take No Prisoner
6. Grab The Bull (Last Man Standing) – feat. Gus G
7. Engel
8. Freiheit (Human Rights)
9. Little Headbanger (Nackenbrecher)
10. Revenge
11. Free My Heart
12. Victory
13. Hero
Label: Nuclear Blast Records
Hardrock Haven rating: 7/10