by Mark Allen
– Senior Columnist —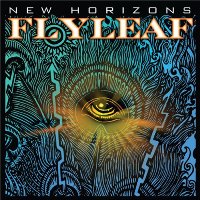 It seems like only yesterday the Christian rock world was stunned by the news that Lacey Sturm, the distinctive voiced front-woman for Flyleaf, was flying the coop. Even as fans collapsed into mourning and lamentations, they began to ponder if the quality of this new album would suffer or if Lacey and company would knock it out of the park for her swan song. After all, following a heavy-edged and well-received debut, the band's last effort (Memento Mori) left a lot of fans cold by incorporating progressive flourishes and theatrical elements. Would New Horizons continue down that experimental path…or return Flyleaf to the hard-hitting rock style that won them legions of followers in the first place?
And the answer is…
New Horizons is equal to—if not better than—the band's acclaimed debut. Perhaps inspired by Lacey's imminent departure, Flyleaf seem to have poured their hearts and souls into this release, crafting a catchy modern rock album that conforms to the commercial rock format while coloring outside the lines enough to avoid sounding like just another corporate clone. The variety here is welcome; you have blistering metal songs, mid-tempo radio-ready tracks, and "safe rock" tunes perfect for Christian radio. Variety also provides verve in the lyrical department, with some songs blatantly professing Flyleaf's faith-hope-love message, while others are more symbolic
The band has always used Lacey's powerful pipes as a focal point and this album is no exception. Sturm is front and center, her voice comprised of both strength and fragility, a yin-yang syndrome if you will, and while this delicate-meets-dangerous tone may be nails-on-chalkboard for some listeners, this is album number three from these guys (and gal) so you should know by now whether you enjoy her voice or not. While she does not cut loose with any banshee screams like she did on the debut, she makes up for their dearth with that fragile power that is so unlike most other female rock vocalists. She is not Doro Pesch or Lzzy Hale; instead, she sounds like Alanis Morissette might sound if Alanis ever converted to hard rock.
Matching the strong vocal performance is some strong songwriting. Not perfect, mind you—some tracks meander off into mediocrity—but many of the songs are equipped with ear-pleasing hooks and a sharp catchiness factor. "Fire Fire" gets the album off to a red-hot start, a spiffy little spitfire of a rocker with the kind of urgent chorus hook that sticks in your brain. "Call You Out" cranks it up with a headbanging rhythm monstrous enough to bruise brontosaurus bones. The album's highlight is "Saving Grace," an earnest, prayerful, mid-tempo track with a big sing along chorus that has more hit single potential than Solomon had concubines.
Lacey's farewell to Flyleaf firmly cements the band's status within the Christian modern rock community, an album infused with invigorating energy and freshness of spirit. New singer Kristin May will have her work cut out for her trying to top this one, but that is a ways off in the future, barely a speck on a distant musical horizon. The Flyleaf of the future may be uncertain and loaded with questions that cannot yet be answered, but the Flyleaf of the here and now has given us an album worthy of Lacey's legacy.
Genre: Modern Hard Rock, Christian Rock, Female-Fronted Rock
Band:
Lacey Sturm (vocals)
Sameer Bhattacharya (lead guitar, backing vocals)
James Culpepper (drums, percussion)
Jared Hartmann (rhythm guitar)
Pat Seals (bass, backing vocals)
Track Listing
1. Fire Fire
2. New Horizons
3. Call You Out
4. Cage on the Ground
5. Great Love
6. Bury Your Heart
7. Freedom
8. Saving Grace
9. Stand
10. Green Heart
11. Broken Wings
Label: A&N/Octone
Webpage: www.facebook.com/flyleafmusic
Hardrock Haven rating: 7.7/10