by Mark Allen
– Senior Columnist —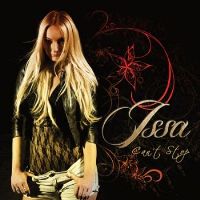 Norwegian melodic rock princess Issa Oversveen returns with her third album in as many years. This time she's hopping on the covers album bandwagon and while that bandwagon is as overdone as a kielbasa left on the grill for too long, Issa's particular bandwagon rolls in a slightly different direction. Instead of covering a bunch of moldy oldies or overplayed hits, she has delved deep into the vaults of cult AOR and dusted off some little-known gems from the likes of Aviator, 21 Guns, and Tangier, to name just a few. Diehard melodic rockers will be familiar with at least several of these songs, but this will seem like new material to more casual fans.
Unfortunately, not all this material is of equal quality; far too often while listening to Can't Stop you will come to the conclusion that a song was decent enough, but ultimately nothing all that special. "Underwhelming" is the adjective that most often comes to mind. There are exceptions—for example, Issa's versions of "Just a Wish" by 21 Guns and "I Won't Surrender" by Steelhouse Lane are really good—but for the most part this album lacks pizzazz and pales in comparison to Issa's original compositions.
Compounding the problem is the fact that the pristine production that was a crucial component of Issa's earlier work is absent here. This album should sound immaculate and forceful but instead just sounds… average. While it would be overly harsh to call the mix muddy, it certainly does not sound as crisp and clean as it should. Really not helping matters is the lack of control Issa occasionally exhibits when it comes to her vocals, especially when reaching for those high notes. Most of the time she is perfectly fine, her vocals as angelic as ever, but every now and then a note screeches through the speakers that may put a wince on your face instead of a smile.
That said, it is testimony to Issa's melodic rock skills that even with all this damnation laid at her feet, this album is still a safe — though nothing more — purchase for AOR aficionados. Sure, it could have, perhaps even should have, been much better, but it also could have been the sonic equivalent of liquefied dog crap. It's not an essential purchase, but nor is it a total waste of money like so many other covers albums released by more famous bands (yeah, we're looking at you, Poison and Def Leppard).
Bottom line, Can't Stop is neither debacle nor delight. Issa fans who approach this album with their expectations on a short leash will find it serviceable, but serviceable does not suit this AOR goddess. Her debut was excellent, her sophomore effort was good, and now her third outing is just okay. If she can't stop these diminishing returns when it comes to the quality of her albums, she'll be in danger of becoming just another forgotten footnote in the annals of melodic rock history. While Can't Stop is not bad enough to make fans flee like rats from a sinking ship, it is her weakest effort to date. Here's hoping she comes roaring back in a year or two with a big dose of bombast that makes everyone forget just how average this latest album is.
Genre: AOR, Melodic Rock
Band:
Issa (Isabell Oversveen)—lead vocals
Alessandro Del Vecchio—keyboards
Mario Percudani—guitars
Anna Portaluppi—bass
Alessandro Mori—drums
Track Listing
1. Can't Stop
2. Power Over Me
3. Wherever You Run
4. Just a Wish
5. If You Ever Fall
6. Do You Ever Think of Me
7. Dream On
8. Stranded
9. Heat of the Night
10. I Won't Surrender
11. State of Love
12. These Eyes
Webpage: www.facebook.com/issa.oversveen
Label: Frontiers Records
Hardrock Haven rating: 7/10