Lucid Fly | The Escape Stage
by Joe Mis
– Senior Columnist —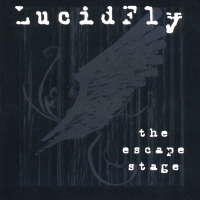 Lucid Fly is not a new band, but it is probably a new name to most. The Florida-based trio has been kicking around the music scene since 2001 and is at long last preparing to release a full-length CD. For those who are into the darker, more Gothic side of metal – close to the Evanescence vein, then Lucid Fly's 2009 EP, The Escape Stage, will provide a teaser to the full CD.
The band's name is best explained by the band itself on its web site: "…a friend stumbled over an old newspaper with a headline that read "Lucid Flies Into The Record Book," featuring an article on astronaut Shannon Lucid, who had broken the record for the longest duration in space by an American, as well as by a woman. From that headline, Lucid Fly was born." The act was originally a duo – vocalist Nikki Layne and guitarist Doug Mecca – and they released their debut EP Adapting To Gravity in 2005. The pair headed out to L.A. and added bassist Go Nakabayashi to the lineup, and the now three-piece Lucid Fly released The Escape Stage in 2009 to solid feedback. Their continued efforts earned them a nomination for the 2012 Los Angeles Raw Artists RAWards prize.
The overall quality of The Escape Stage shows that Lucid Fly is a veteran act. Don't let the fact that they only have two EPs out there fool you. Their music is tight and polished. The songs are well-written and well-delivered, and the production values of the EP are high. There are marked similarities to Evanescence, but Lucid Fly is not a sound-alike band. Rather than driving off the vocals, Lucid Fly's music is much more about rhythms and flows. Nikki Layne has a fine voice and keeps within her range. While lacking the raw power of Amy Lee, her diction and enunciation perhaps are stronger. She has a deft touch and adjusts her vocal power and intensity to suit the tone of the song. Doug Mecca is an excellent rhythm player and works very well with Go Nakabayashi's intense and fluid bass work. These two play off each other very well and make for a very dynamic and lively rhythm section. If you are looking for lead guitar heroics, you won't find those fireworks here as Mecca keeps himself in check with very brief and precise solos, allowing the band's overall musical composition to stand clear and uncluttered.
Intense, driving bass opens the aptly titled "Dirge," and Nikki Layne does a nice job with numerous self-harmonies, and Doug Mecca manages to get some intriguing squeals from his guitar. Neat, almost bell-like tones from the guitars and a bouncy drum line (from an drummer not credited) lay nicely under Layne's slick vocal lines, but Go Nakabayashi's bass is the driving force on "Dramatis Personae." "Alohum" opens with an almost punk rock groove, but it becomes a sweeping mixed tempo track that features introspective lyrics, with Layne's best vocals, the strongest bass on the EP and a truly fine (but brief) Mecca guitar break. "Back & Forth" has more alternative/pop rock feel to it, while the band saved the best for last. "Means to an End" is the strongest track on the release – everything just works. This last song is the band's true demo piece – everything is there; nice technical performances, solid lyrics and composition, wild but not distracting tempo changes, and most of all, passion and enthusiasm.
Fans of Gothic or progressive metal, particularly Evanescence fans, will find a lot to enjoy. Their music is dark but not depressing and highly polished. The three members of Lucid Fly prove themselves to be a class act, and they play together as a veteran team. With neither missed chords nor botched notes to be heard, The Escape Stage hopefully is a taste of things to come – that Lucid Fly's upcoming full length release will be a barn burner.
Genre: Alternative, Progressive, Rock
Band:
Nikki Layne (vocals)
Doug Mecca (guitar)
Go Nakabayashi (bass)
Track Listing:
1. Dirge
2. Dramatis Personae
3. Alohum
4. Back & Forth
5. Means To An End
Label: Independent
Website: http://www.lucidfly.com
Hardrock Haven rating: 8.5 / 10