Sister Sin | Now and Forever
by Mark Allen
– Senior Columnist —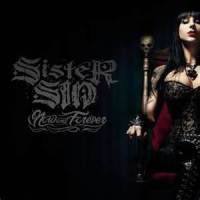 If a male metal vocalist sang with as much attitude as Liv Jagrell unleashes on this album, we would be calling him a badass motherf***er. But since Jagrell is a woman, we'll just have to call her a badass sister. Doesn't have quite the same ring to it, but you get the idea.
Jagrell injects fury and aggression into damn near every note and while she is backed by very good musicians, it is her vocal power that steals the show. Imagine Lzzy Hale fronting an '80s heavy metal band and you've got the general gist. Except that where Lzzy's attitude is tempered with a sexual edge, Jagrell is all spit and venom. Seriously, this album couldn't have more snarls on it if you dropped it in a pit of starving Rottweilers and then tossed Michael Vick in after it.
So vocally Sister Sin has got the chops, but what about the music? Well, thanks be to the gods of metal, the music is none too shabby either. Now and Forever consists of one head-banging anthem after another, influenced by classic bands like Saxon, Motley Crue, and Judas Priest. In other words, it's metal that isn't afraid of melody and comes fully decked out with shredding guitars, monster riffs, bone-jarring drums, and all the shout-'em-out gang vocals you can ask for.
This is chains and leather metal, not mousse and spandex, and therefore the hooks are heavy metal hooks, not the pretty boy pop-metal variety. Sure they're catchy, but they're also heavy; you will not mistake Sister Sin for Bon Jovi. Not that there's anything wrong with Bon Jovi, mind you, but the odds of catching a soccer mom singing along to Sister Sin while cruising in her minivan are about a million to one, especially when you consider lyrics like, "F*ck you, f*ck them, and f*ck the world too / Do I look like some kind of bitch to you?" Clearly this album is not approved by the Catholic Association of Musicians…but you probably knew that from the band's name.
But hey, even the Bible says sin can be fun, and fun is what Sister Sin is. The band gets right down to rocking and doesn't ease off the throttle until the closing ballad. "In It For Life" tears up the sound-scape with a snotty punk edge to accompany the rampaging metal while the gang vocals drive the chorus into the stratosphere. "Hearts of Cold" keeps the kickass coming, the kind of song guaranteed to get your fist raised high and your head banging like you're trying to liquefy your brains against the inside of your skull. "I'm Not You" features buzz-saw guitars and powerhouse rhythms and dusts off those beloved gang vocal "Whoas!" to great effect. Honestly, the only questionable song is "The Morning After," the lone ballad. It gives Jagrell a chance to prove she can soften her tough girl sneer into something softer and more melancholy, but the song itself just isn't that memorable. Still, it's the only hiccup on an otherwise top notch album.
Sweden right now is cranking out great melodic sleaze rock and more melodic death metal than one person can keep track of, but Sister Sin aims to be the Swedish sensation that specializes in that vintage '80s metal sound. Now and Forever is not only the best album of the band's career, but one of the best retro-metal albums of 2012. Those who fail to indulge in the hard rocking pleasures that Sister Sin has spread-eagled before our metal-lusting ears won't be able to forgive themselves.
Genre: Hard Rock, Metal
Band:
Liv Jagrell (vocals)
Jimmy Hitula (guitar)
Strandh (bass)
Dave Sundberg (drums)
Track Listing
1. MMXII
2. End of the Line
3. Fight Song
4. In it for Life
5. Hearts of Cold
6. Chosen Few
7. Hang 'Em High
8. I'm Not You
9. Running Low
10. Shades of Black
11. Morning After
Label: Victory Records
Webpage: www.sistersin.com
Hardrock Haven rating: 8.5/10