Kane Roberts | Unsung Radio
by Mark Allen
– Senior Columnist —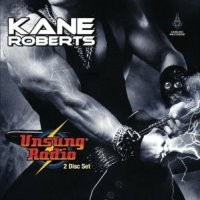 William Shakespeare once wrote, "A rose by any other name would smell as sweet." Well, to paraphrase the bard, a Kane Roberts album by any other name would still sound as sweet. You see, when the Rambo-emulating guitarist who gained a following by slinging an axe for Alice Cooper released his 3rd solo effort in '99, he didn't call it a Kane Roberts album, he called it Phoenix Down. Maybe he was trying to shed the '80s "stigma" of his name or maybe he just thought Phoenix Down sounded cool, but whatever the reason, the album was released with minimal buzz and failed to make much of a splash.
Following the release of Phoenix Down, Kane took a hiatus from which he has just recently emerged and picked up right where he left off—literally. Unsung Radio is a 2-disc set, of which disc #1 is a reissue of Phoenix Down, the only difference being that "Rebel Heart" from the original Phoenix Down has been replaced by "Walking on Shadows (Remix)." Now most Kane Roberts' fans should already be well acquainted with Phoenix Down, but here's a quick recap for the one or two that might have been in a coma the last 13 years, which is the only acceptable excuse for not owning this gem. Phoenix Down features some of the most modern tunes Kane has ever released while fully retaining melodic hard rock credibility. Even when the heavy guitars and aggressive vocals kick things up a notch or two, Kane never forgets to keep the catchiness high. And the non-modern tracks are pure melodic masterpieces, with choruses that soar high with slick harmonies and commercial hooks.
But you already knew that, so let's move on to disc #2, which consists of unreleased songs, demos, guitar bits, and quick snippets of trivia from the mouth of Kane himself. Since the songs are the main selling point, the inclusion of all the commentary and guitar wanking may come across as indulgent and definitely affects the pace, but few people noodle on the guitar better than Kane and the conversation pieces offer insight into the songs as well as some humorous vignettes, including one involving the crotch of Stevie Nicks' pantyhose. C'mon, who doesn't want to hear that tantalizing tale?
Most of the songs sound like they could have been outtakes from Kane's debut, meaning they are firmly entrenched in that '80s hard rock style, and while they lack a big, bombastic production, they don't sound all mucked up and muddy either. In terms of songwriting quality, there is little here that rivals the best of Kane—think of these tunes as B-sides rather than hit single material—but they still showcase his ear for a good hook and skill with a guitar. You get gang vocal power on "City of Pain," moody summertime angst on "Guns of Paradise," hard-hitting heaviness on "Wrong" (which also features Kip Winger), head-banging riffs on "Louise," and stacked harmonies and a sing-along chorus on "One Step to Heaven," which just happens to be the album's highlight.
No Kane Roberts fan will feel gypped if they spend some of their Christmas cash on this set. Unsung Radio gives you a lot of '80s bang for your buck and even if not every single track is a gem, you cannot accuse Kane of holding out on his fans. This collection will take you back to a time when radio played good music and Kane Roberts was hailed as a god of the guitar. And of course, to those of us who have good taste in rock 'n' roll, he still is.
Genre: Melodic Hard Rock, '80s Metal
Musicians:
Kane Roberts (vocals, guitars)
Jim Peterik (guitars, keyboards, backing vocals)
Gene Allen (guitars)
Vinny Burns (guitars, keyboards)
Mike Slammer (guitars)
Dave Jonzz (guitars)
Steve Steele (bass, backing vocals)
Mike Davis (bass)
Danny Boy (bass)
Jim Jetski (drums, backing vocals)
Steve Deboard (drums)
Vassell Fundell (drums)
Cha Cho Rodriguez (drums)
Greg Morgan (drums)
Arthur Funaro (keyboards)
Sam Blue (backing vocals)
Steve Borden (backing vocals)
Chang Shapiro (backing vocals)
Laughing Boy E. (backing vocals)
Rob Athas (backing vocals)
Bubba Cashdollar (backing vocals)
Track Listing
(Disc #1)
1. Reckless
2. Walking On Shadows (Remix)
3. I Want It Again
4. Walk
5. Love Gone Wrong
6. In Another Life
7. Blind
8. Rain
9. Neverland
10. Alive and Well
(Disc #2)
1. Commentary #1
2. City of Pain
3. I Bleed For You
4. Guitar Stroke #1
5. Guns of Paradise
6. Commentary #2
7. One Step To Heaven
8. Blue Highway
9. Commentary #3
10. Wrong
11. Rain (Demo)
12. Guitar Stroke #2
13. Self Control
14. Commentary #4
15. In Another Life (Demo)
16. Commentary #5
17. I'm Waiting For You
18. Louise
19. Commentary #6
Webpage: www.kaneroberts.com
Label: Unsung Records
Hardrock Haven rating: 8.5/10