Brett Walker | Nevertheless
by Justin Gaines
– News Editor / Senior Columnist —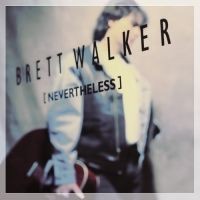 Originally released in 1994, Nevertheless was the debut album from melodic rock singer/songwriter Brett Walker. For this effort, Walker, who himself was a seasoned songwriter, having penned Alias's top 10 hit "Waiting for Love," got some songwriting support from some notable melodic rock veterans, including Jonathan Cain (Journey, Bad English), Stan Bush, Jim Peterik (Survivor), Carl Dixon (Coney Hatch) and Nick Gilder. Obviously, 1994 wasn't the best time to debut if you were a melodic rock artist, but while Nevertheless was largely ignored here in the US, it did quite well in Europe, particularly in the Scandinavian countries.
It's a shame this album never caught on here in the US, because it's about as perfect an AOR album as you'd ever hope to hear. If Nevertheless had debuted just a few years earlier, it would have been all over radio and MTV. Imagine Bryan Adams when he still rocked a little, with a solid Journey meets Stage Dolls vibe. It shouldn't be a surprise, given the writers involved, but literally every song on this album sounds like a top 10 caliber hit. Lead-off rocker "Hard to Find an Easy Way," "No Fire Without You" and "Didn't Mean to Say Goodbye" are good examples, but you can pick any song on Nevertheless and be totally blown away. Beyond the gorgeous melodies and the smooth production, Walker's vocals are what steal the show. He's got a fantastic range, plenty of power and you can hear tons of heart, soul and emotion in each song.
If you're a fan of melodic rock, particularly the artists on the AOR end of the spectrum, and missed Brett Walker's debut the first time around, you are in for a treat. Nevertheless is an absolutely dynamite AOR album, especially now that it has been remastered, and is nothing short of a must have album for anyone who's a fan of artists like Bryan Adams, Stage Dolls, Mitch Malloy and smooth AOR in general.
Edition Notes: Divebomb's 2013 reissue of Nevertheless not only puts this long out of print album back in fans' hands, it gives it a nice upgrade. The reissue boasts a new digital remastering by Jamie King (who remastered Divebomb's Casanova and Sargant Fury reissues, among many others), and the results are incredible. There's also a new remix of the song "Midnight Angel" added as a bonus track, and the booklet features a new interview with Walker as well as behind the scenes info and rare photos. It's a deluxe reissue all-around, which is what we've come to expect from Divebomb.
Genre: AOR, Melodic Rock
Track Listing:
1. Hard to Find an Easy Way
2. Lecia
3. Everything I Want to Do
4. Take Me Home
5. Never Gave Roses
6. Quicksand
7. Didn't Mean to Say Goodbye
8. Bring Back the Night
9. No Fire Without You
10. Bad Time for a Goodbye
11. More Than a Memory
12. Give a Little Love
13. Midnight Angel (2012 remix)
Label: Divebomb Records
Hardrock Haven rating: 9.5/10