Kobra and the Lotus | Kobra and the Lotus
by Craig Newman
– Columnist —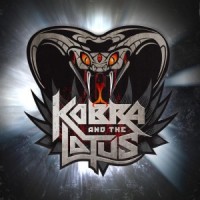 Canada's new metal band, Kobra and the Lotus strike metal venom with first International album.
Canada music scene has given the world of rock bands such as Rush, Triumph, April Wine and Helix. Kobra and the Lotus was formed during 2008 with beautiful and power singer Brittany (Kobra) Paige (could be that is her favorite snake) with guitarist Chris Swenson and drummer Griffin Kissack. She completed Grade 8 in vocals and Grade 6 in piano and she studied classical music with The Royal Music Conservatory of Canada. Their first album Out of the Pit was released during 2010 which is now hard to find. During 2012 they attracted the ears and eyes of Gene Simmons (KISS) and he signed them to his Simmons Records. This is their first international album with 10 songs, 11 on other countries releases.
The album is non-stop pounding, fast guitar riffs and energize metal from the opening song "50 Shades of Evil" to the last song. Other songs on the album are: "Heaven's Veins," "My Life," "Nayava," "Sanctuary" (the slower song on the album), "Lover of the Beloved," "No Rest for the Wicked," "Aria of Karmika" and "Dark Passenger" (extra track).
The official videos from the album are: "Welcome to My Funeral," "50 Shades of Evil" and "Forever One." On YouTube their videos and concerts are from festivals and small venues from Europe with conversations and acoustic sets with Kobra and the band.
Their second home has been Europe playing at the music festivals and small venues. At the end of 2012 they did a short US tour with Sonta Artica. They are currently are working on their next album for 2013 and another tour. This group has long term potential to headline their own shows as well opening for others with their energy and with fresh metal sound. They can energize the crowd while holding their own as either opening for other bands or headline shows. When they come to where you live, go see them as Kobra and the Lotus will strike you their energy. Even the metal cruises such as 70,000 tons of fun should consider having them on the ships.
US rock radio should take notice of this band and others with female singers of this music and play their music!
Genre: Heavy Metal, Power Metal, Thrash Metal
Band:
Kobra Paige – Vocals
Jasio Kulakowski – Guitars
Charlie Parra Del Riego – Guitars
Pete Dimov – Bass
Griffin Kissack – Drums
Track Listing:
1. 50 Shades Of Evil
2. Welcome To My Funeral
3. Forever One
4. Heaven's Veins
5. My Life
6. Nayana
7. Sanctuary
8. Lover Of The Beloved
9. No Rest For The Wicked
10. Aria Of Karmika
11. Dark Passenger (bonus track)
Label: Universal Music/Simmons Records, Spinefarm Records
Online: http://www.kobraandthelotus.com / https://www.facebook.com/KobraAndTheLotus
Hardrock Haven rating: 9/10