Richie Scarlet & Peter Gallinari
by Alex Barbieri
– Columnist —
Return of the Emperor: An Interview with Richie Scarlet
One of the things Hardrock Haven prides itself on is letting you know about bands and artists you should know about, but who may not be on your radar. They may not be on the charts or "commercial," but they're authentic—the real deal, damn good rock 'n roll.
Richie Scarlet, aka the "Emperor of Rock," is one of those cats. He's recorded and toured with Ace Frehley, Alice Cooper, Sebastian Bach, and Mountain, among others. He's also a prolific singer/songwriter in his own right, and just released his sixth kick ass solo album, I Plead the Fifth, which just made this writer's Hardrock Haven's Top 10 of 2012 list.
Scarlet and his keyboardist/co-writer, Peter Gallinari—also with an impressive musical resume—talked to Hardrock Haven about the past, present and future—through scarlet-colored glasses, of course.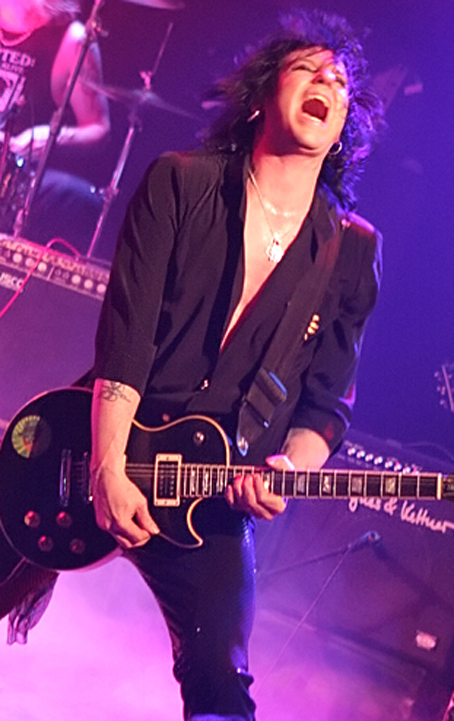 HRH: Richie, thank you for taking time to hang with Hardrock Haven. You have a new CD called I Plead the Fifth, recorded with producer Tarik Solangi at Prime Time Sound in Mt. Vernon, NY. Tell us about the new album, and who played on the album.
RS: Yes, I have a new CD, I Plead the Fifth, which I'm really proud of. I feel it is one of my stronger musical statements. The CD is full of tons of talent, including Peter Gallinari, who did keyboards and sang and wrote the track "Lost in My World." The drumming on all tracks was done by drummer extraordinaire, Russage Wilson. The guests include bassist John Regan (Peter Frampton, Rolling Stones, David Bowie) on tracks 4 ("I Don't Wanna Die") and 5 ("Lost in My World.") Track 9 is an instrumental called "Carousel" in which I am joined on lead guitar by Ron Thal, otherwise known as Bumblefoot, from Guns N' Roses, Dez Cadena of The Misfits and Louie Spagnola. The song was written by me and Peter Gallinari. It also features insane Hammond organ solos by Peter. And, last but not least, one of the greatest bass players in rock history, and the essence of cool … Dennis Dunaway from The Alice Cooper Group and Blue Coupe. The backup vocals on the CD were provided by Joey Molland of the legendary band Badfinger, Sal Scoca, Peter Gallinari, Tarik Solangi and Joann Scarlet. The horns on track 8 ("King Heroin") are done by Jonathan Walsh on trumpet and sax legend, Arno Hecht. The CD was produced, engineered and mixed by Tarik Solangi of Prime Time Studio in Mt. Vernon, NY. The front and back cover photos were shot by legendary photographer, Len DeLessio.
HRH: What are some of your favorite tracks and why?
RS: "Love Will Find a Way" and the single, "Without Your Love," which is now being picked up by many radio stations and Internet websites across the U.S.
HRH: Where can people buy or download I Plead the Fifth?
RS: On my website http://www.richiescarletmusic.com/ and on iTunes as a download.
HRH: You've played with Ace Frehley, Alice Cooper, Sebastian Bach, Leslie West of Mountain. You've got to have some great stories. What interesting, funny or crazy things have happened over the years?
RS: There are too many stories, but it will be all in the book!
HRH: You're known as the "Emperor of Rock." I've got to ask—how did you get that nickname?
RS: It was given to me by Ace Frehley.
HRH: In addition to being a smokin' guitar player, you also have a great look on stage—all black hair, eyeliner, Les Paul and attitude. Who was your inspiration or mentor for putting on a great live show?
RS: It boils down to, as someone with a big pair of lips once said, "IT'S ONLY ROCK AND ROLL!" Besides liking it, I have LIVED IT, which I feel has contributed to my live performances.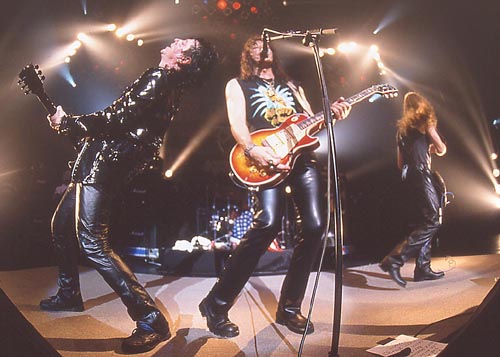 HRH: Peter, you wrote two songs on the new Richie Scarlet album, and sung lead on one, "Lost in My World." Tell us about them.
PG: Yes, I made a contribution to Richie's new CD with my song "Lost in My World," and also co-wrote "Carousel." These are two completely different types of songs. "Lost in My World" is more of a power ballad heartfelt song, whereas "Carousel" is a straight ahead rocker, along the lines of Deep Purple with a heavy sound on the keys. It was a privilege and an honor to have such great artists perform on both of these songs. As Richie mentioned we also had John Regan on bass, Ron 'Bumblefoot' Thal on guitar, Dez Cadena on guitar, Russ Wilson on drums, and Louie Spagnola on guitar. This was also my first appearance on Richie's CD's as a lead vocalist, and I was grateful for that opportunity.
HRH: Peter, you've also received national recognition for writing and performing inspirational songs for some tragic disasters, such as "Tell Me Why" for the Oklahoma City bombing, and "Lives Will Begin" for the Japanese tsunami and Hurricane Sandy. What inspires you to write these songs?
PG: I have always been the type of writer who needs to have a reason to write a song. Something that I have experienced on my own or, something that inspires me, such as an event. The songs that you mentioned are very special to me. Just feeling the impact of what happened to those people who were actually involved in such disasters is something that no one can explain or feel. We see the visuals and imagery of what happened, but to actually be a part of these horrific events is something unexplainable. The only thing I am able to do is just imagine the pain that is going on, and transfer that into a song. It's my way of dealing with this. And if the songs help those who were there, then that's all I have ever wanted to happen.
HRH: Question for both of you: Of all the shows you've played, what is the most memorable, and why?
RS: They are all memorable. Some more than others, but I'll tell you, I try to play the same for 20 people as I do for 20,000.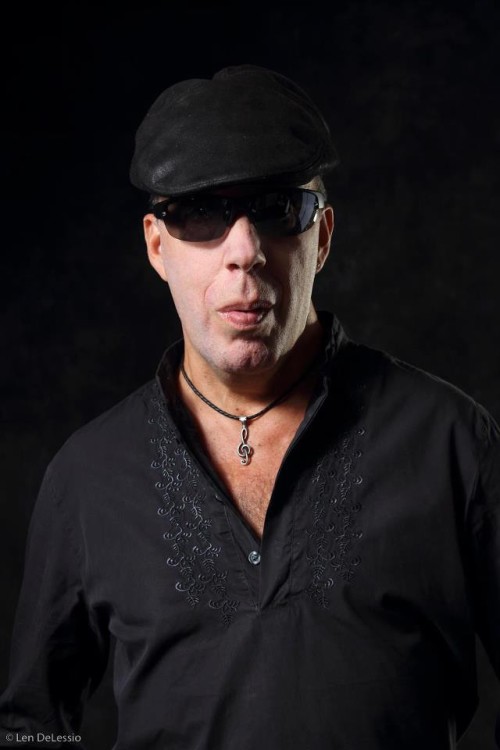 PG: I would say for me is when I received a phone call from Richie and he asked if I could bring my keyboards to one of Mountain's concerts. Obviously, I said yes, no problem—to only find out that I was asked to perform that night with Leslie West and Mountain in concert!
I didn't know what to say or do—I was so taken with the opportunity to get on stage with a legendary band. I was asked to perform at the remainder of their shows in the New York tri-state area. It's something I will always cherish and thank Richie Scarlet for.
HRH: The Richie Scarlet Band recently played an American Red Cross Hurricane Sandy benefit concert in New York, which Peter organized. Any more upcoming shows we should know about?
RS: Yes on Feb. 16, we'll be performing at The Chance Theater in Poughkeepsie, NY. And on Feb. 22, we'll be performing at The Cutting Room in NYC.
HRH: Is there anything else you want to say to your fans, and Hardrock Haven readers around the world?
RS: I would like to wish them all a Happy New Year and hope that all their dreams come true for 2013. Also, thank you Alex, for including me in your Hardrock Haven Top 10 Albums of 2012. Love and respect from Richie Scarlet.
PG: I do have one last thing for the fans. Never stop going for something that your heart tells you to do. No matter how tough it gets, or how unreachable you may think it is to obtain your dreams. Thirteen years ago, I was found at a friend's annual house party where a gentleman walked up to me and said, 'I like the way you play and sing.' He then asked for my contact info. And three months later he introduced me to 'The Emperor of Rock,' Richie Scarlet.
The person who introduced us was Ed Roman of Roman Guitars. Because of this hookup, I have had the incredible opportunity to either play on stage or record with people such as Leslie West (Mountain), Dennis Dunaway (Alice Cooper Group), Carmine Appice (Vanilla Fudge), Ron 'Bumblefoot' Thal (Guns N' Roses), John Regan (Frampton, The Stones, Bowie), Anton Fig (The Letterman Show), Dez Cadena (The Misfits), Denny lain (Wings, Moody Blues), Sandy Gennaro, Charlie Gracie, and so many more.
Richie has been more than just a good friend and great musician to me, but a real brother who I love. The journey still continues. A lot more rockin' before we are done.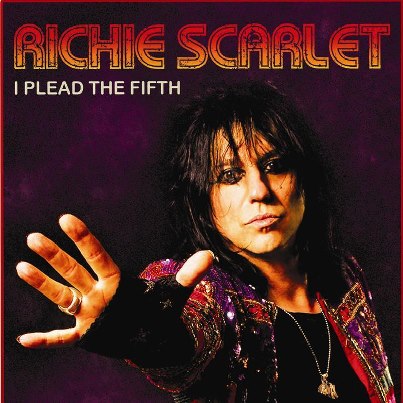 HRH: Richie and Peter, thank you both again for stopping by. It is musicians like you who keep giving us great music to listen to. All the best and please stay in touch.
Order a signed copy of I Plead the Fifth on the official Richie Scarlet website:
http://www.richiescarletmusic.com/
Friend Richie Scarlet on Facebook: http://www.facebook.com/pages/RICHIE-SCARLET-The-Emperor-of-Rock-n-Roll/342044355456
Friend Peter Gallinari on Facebook:
https://www.facebook.com/peter.gallinari