Mark Zonder of Warlord & Fates Warning
by Justin Gaines
– News Editor / Senior Journalist —
Hardrock Haven recently caught up with Warlord (and former Fates Warning) drummer Mark Zonder, who filled us in on the new Warlord album and the band's upcoming – and first ever – live performances.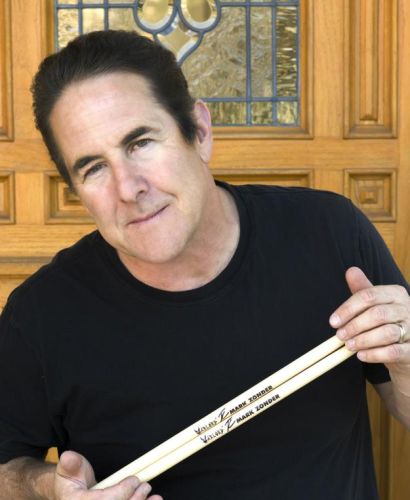 Hardrock Haven: First thing's first: Warlord has a new album, titled The Holy Empire, scheduled for release soon. What kinds of versions are available, and where can fans get their hands on it?
Mark Zonder: Here is the site for the album order (http://www.warlord-band.com/). We started our own label and are doing things ourselves. There will be disc, iTunes, and vinyl. Probably a picture disc as well. Sorry no cassettes!
HRH: It's been just over a decade since we've seen a new Warlord album. What brought you all back together, and how did you decide the time was right for a new Warlord album?
MZ: It is always the right time for Warlord as far as I am concerned. I have always been in contact with Bill. I told him if he ever wants to do anything, regardless if it was Warlord or other music, I am always ready. Bill and I were talking and he said he had some Warlord ideas rolling around and I said to send them to me and I would put drums to them. We started very slow, just to see where things would go. We were not even really concerned about any other players at the time.
HRH: Warlord briefly returned in 2002. Do you notice a big difference in the reception you're getting now versus a decade ago? Does the traditional heavy metal scene seem more energized now?
MZ: Yes it does. Also for some strange reason a lot of Warlord fans were not into Joacim Cans singing for the band. Both Bill and I thought he did a great job, both on the record and live. Still don't understand it, but I think a lot of people obviously associate Joacim with Hammerfall and since they were not big fans of HF, they cast a negative response to him. Again, Bill and I thought he was spectacular.
HRH: Can you talk about what led you and Bill to bring Rick Anderson (aka Damien King III) back into the fold? Did that result in a different dynamic than you had on the prior album?
MZ: It was Bill's idea as he had been in touch with Rick and worked with him in the past. Bill felt very comfortable with Rick and it was important to have a singer that would follow instructions from Bill. Bill writes the words, melody lines and knows exactly what he wants. The voice is looked at just like another instrument and needs to be played exactly like Bill has written it. This was a perfect match.
HRH: What can fans expect from the new album?
MZ: This is a very mature, deep record. It has all of the classic elements of Warlord, which people know as well as a natural musical progression from musicians who are constantly striving to improve and advance in their playing as well as song writing. But don't get me wrong, it is 100% Warlord.
HRH: Judging from the 20-minute preview video of the new album, The Holy Empire seems to have captured the classic Warlord sound. Was it difficult to get back into "Warlord mode" after so much time away? Or after spending so much time in more progressive minded bands?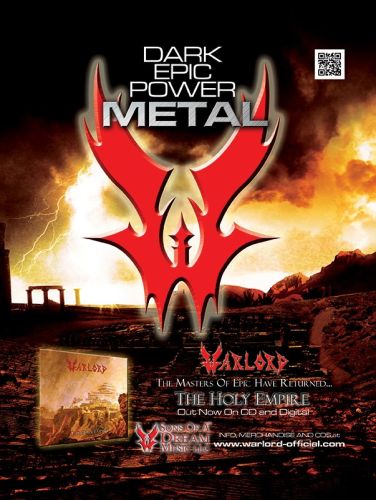 MZ: Absolutely not. Warlord is the most natural music I have ever played. It is just a perfect fit. It is heavy and strong, but can also go a bit sideways and be a bit progressive as well as having serious grooves and feels to the songs. The best part of Warlord to me is that it flows so well. There were actually a couple odd time bars that I didn't really notice until the record was done, as I was just playing along melodically and never sat there and broke out the calculator to see what time signatures are going on. This is attributed to Bill's great writing. I have never heard him write a bad or even mediocre song. It's always memorable from the first listen. None of this "I had to listen to it 23 times to get into it" stuff – just good and catchy from the start.
HRH: The Holy Empire appears to be – at least to some degree – a conceptual album. What can you tell us about the general themes on the album?
MZ: It's not really a concept album, just a variety of great songs. Some "epic" style, more of the movie soundtrack kind of songs, some traditional Warlord shorter songs, and some songs that are a bit more on the prog side of things. Not heavy prog, but some interesting stuff. Let's just put it this way, I feel sorry for anyone trying to cover these songs correctly, as there is a lot there. I sort of learned that lesson when I had to go back and learn the old stuff for the shows. Not as easy or simple as I thought.
HRH: Warlord is slated to headline the 2013 Keep It True festival, and I understand there are a couple of additional European dates planned. Are you looking forward to finally bringing Warlord's music to live audiences, and are there any plans for eventual live performances in the US?
MZ: We are playing KIT and then two shows in Greece the next week. It actually looks like the Athens show is selling out and might add another. Yes, so very excited. We are bringing out the big stage show as well. We have a lot of stuff planned and are looking forward to giving the fans more than they would ever expect. Remember, it has been 30 years in the making. We are finally in a position to present it the way we want.
HRH: Do you foresee Warlord ever playing any US shows? There are a few metal festivals in the U.S. Obviously they're on a smaller scale than the European fests, but they do have dedicated audiences.
MZ: Absolutely. We are in the middle of trying to work this out. We would love to. It is just a matter if there is the demand for it. Hopefully with the new album, the DVD that we are doing and the word of mouth, the excitement will grow to the US as well.
HRH: Beyond Warlord, what other projects are you working on?
MZ: At the moment Warlord is pretty much a full time gig. Sort of looking at these shows as the Olympics. We are going to be filming for a blu-ray, surround sound DVD that we will make with the footage from the shows, so we better be prepared.
HRH: Thanks so much, and good luck with the upcoming live shows.
Warlord's new album The Holy Empire is available March 15 here.